I started researching the best Amazon Lodges in Peru before I left for South America. As a solo traveller on a budget my choices were somewhat limited. After many google searches, and reading online reviews, I decided on the Muyuna Amazon Lodge.
The lodge is located deep in the Amazon jungle in the Tamshiyacu-Tahuayo Reserve, a 3 hour speedboat ride (140 kilometres/87 miles upriver) from the nearest city (Iquitos). The remote location makes for a more authentic Amazon experience and increases your chances of spotting wildlife.
Muyuna Amazon Lodge got excellent reviews and was one of the top recommended lodges in the Lonely Planet guide. It's Peruvian owned and run. The lodge actively employs people from the local community of San Juan de Yanayacu and all the bilingual guides are Peruvian. It was good to know my money would be going back into the local economy.
It also offered single rooms, something that unfortunately a lot of the other lodges didn't. The price, while not exactly 'backpacker friendly' was still within my 'once in a lifetime/blow the budget' range.
At the beginning of February 2019, after spending 2 nights in Iquitos, I headed off on my 4 day Amazon adventure.
Staying at the Muyuna Amazon Lodge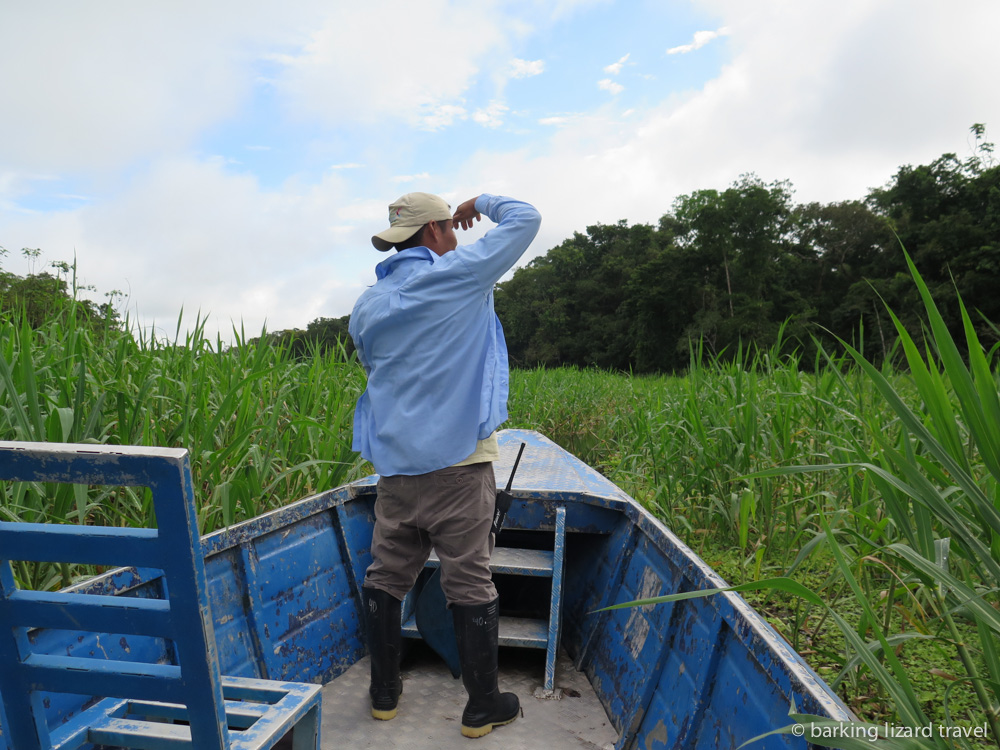 Day 1 – Welcome to the jungle!
I was picked up at my hostel in Iquitos by mini-van and, after collecting a few other tourists from their hotel, brought to the Muyuna Office in central Iquitos. There, we were kitted out with rubber boots and a souvenir Muyuna aluminium water bottle to bring with us instead of plastic bottles. You could also leave luggage there if you wanted to.
Once ready we made the short stroll to the river bank to board a small speedboat for the 3 hour journey to the lodge. We arrived at around lunchtime and were given a welcome juice and introduced to our guides. Meanwhile our luggage was delivered to our rooms, this was far from my usual backpacker experience!
My guide, Roger, bombarded me with information about the activities and the lodge and I felt a little overwhelmed. As I was to discover over the next few days, despite his sometimes hesitant English, Roger liked to talk!
We sat down to a lovely lunch buffet and were told to meet back at 3pm for our first activity, canoeing through some of the nearby lakes.
A little slice of rainforest luxury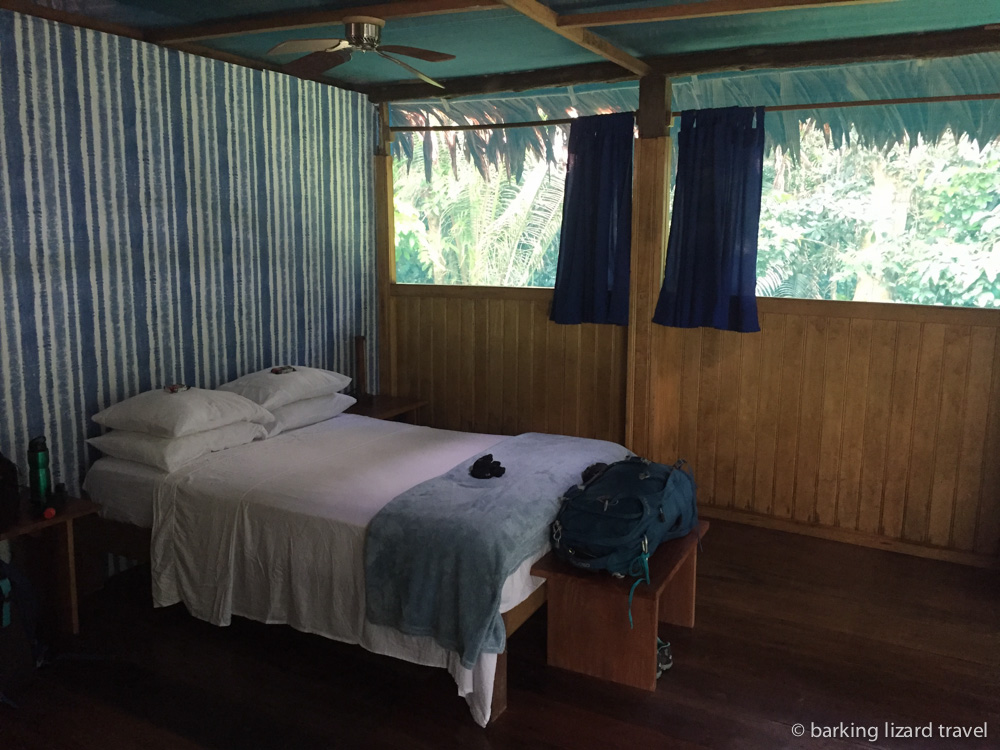 Then we finally got to see our rooms. Mine was located at the very end of the boardwalk. Despite being deep in the rainforest, you are in no way roughing it. The lodge is a little slice of jungle luxury, especially having come from a grubby hostel dorm in Iquitos. There was a large very comfortable double bed with little cookies on the pillows and a fan directly overhead. The room was spacious and had plenty of room for my stuff.
There were no windows, instead at the top of the wooden walls, and at the back leading out to the balcony, there was strong mosquito netting. Although there was a wooden roof covering the buildings, the room itself had no ceiling and was also covered in netting. This essentially means you are sleeping in the 'open' with the sounds of the Amazon all around you.
Each room had a little private balcony with hammocks but unfortunately due to the incessant mosquitoes, day and night, I didn't spend much time on it.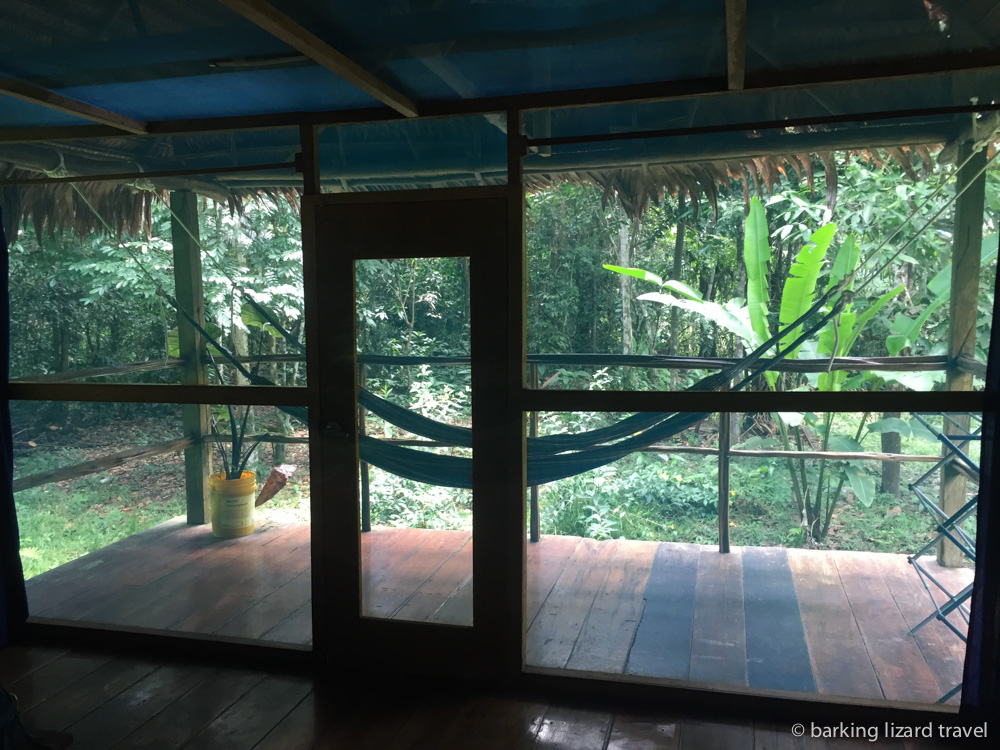 The electricity and hot water were all solar powered. It wasn't strong enough to charge phones or tablets but there was a common charging point in the recreational and dining area. I also brought a portable charger. As you might imagine there is no WiFi or phone reception. With such phenomenal surroundings and busy activity filled days I was more than happy to have a digital detox.  
At 3pm we headed out in canoes with a small group and a few guides. We didn't see much wildlife but it was exciting to be out on the water paddling through the flooded rainforest.
After about an hour and a half we headed back to the lodge and had time to relax before dinner at 6pm. All the food was served buffet style to try and minimise waste. It was fresh and well prepared and there was plenty to eat including veggie options for me.
Frog chorus and the Amazon symphony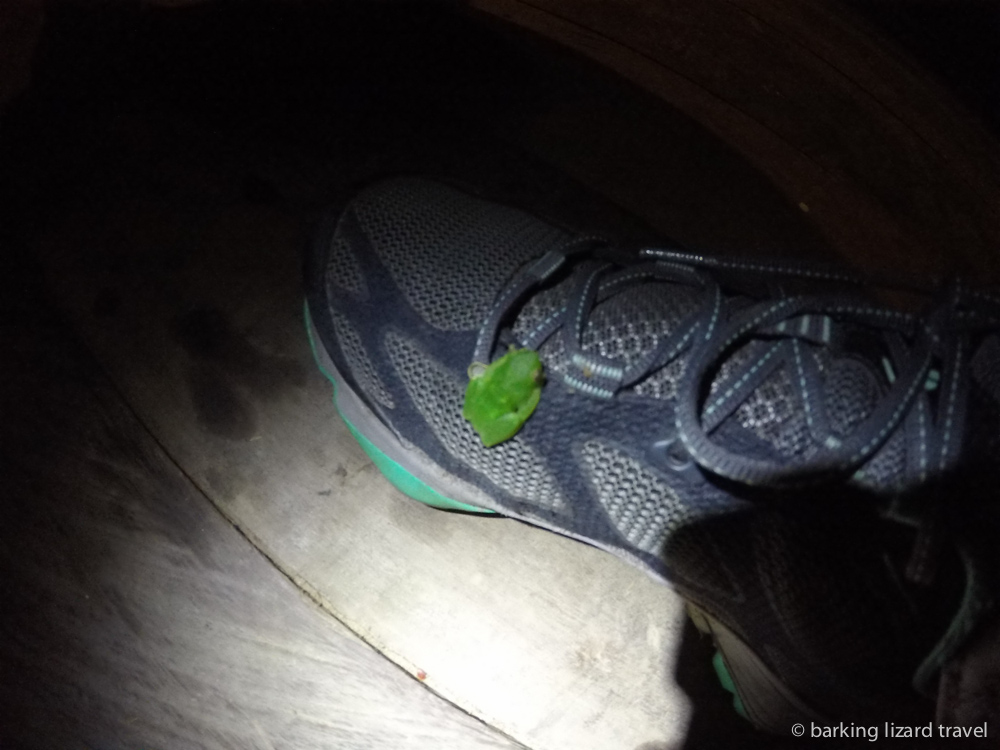 At 7.15pm we headed out again in canoes to do some night exploring. It was dark and the rainforest was alive with the sounds of thousands of tiny frogs, birds and other jungle dwellers. The fireflies flickering along the river bank were so bright I thought they were lights.
The fireflies flickering along the river bank were so bright I thought they were lights.
Paddling along in the pitch black with only a headlamp and the guides torch was an exhilarating and slightly scary experience. You are only inches from the water and whatever is in it!
As we headed back to the lodge a tiny green frog hops into the boat and lands on my shoe. He stays there until we get back and I take a few photos before gently moving him on.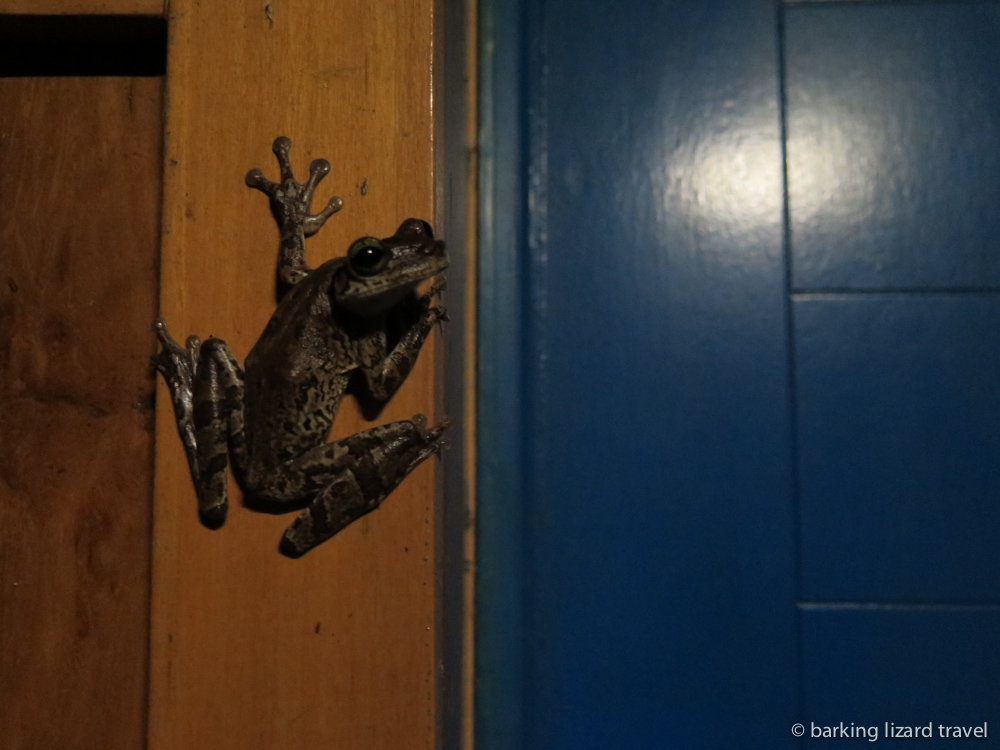 On my way to my room, a woman is too scared to go into her room because a big frog is sitting on the door frame. She asks would I mind moving it. The frog, about the size of my hand is fantastic, with large bulging eyes and big sticky pads on its feet. It doesn't seem too bothered by us so I take a few photos before gently hooshing it away with a magazine. It's slow to move at first but then suddenly leaps off, startling us a bit.
Day 2 – Mud, mosquitos and marmosets
A cooked breakfast buffet was served at 6.30am and we headed out at 7.15am on our first tour of the day. This time we travel in small motorboats which were more comfortable than the canoes. We have more success spotting animals; a squirrel monkey with her baby, howler monkeys and dozens of different birds including beautiful blue and yellow macaws. We also see a group of 3 sloths, which the guides tell us is very unusual and that the female must be in heat.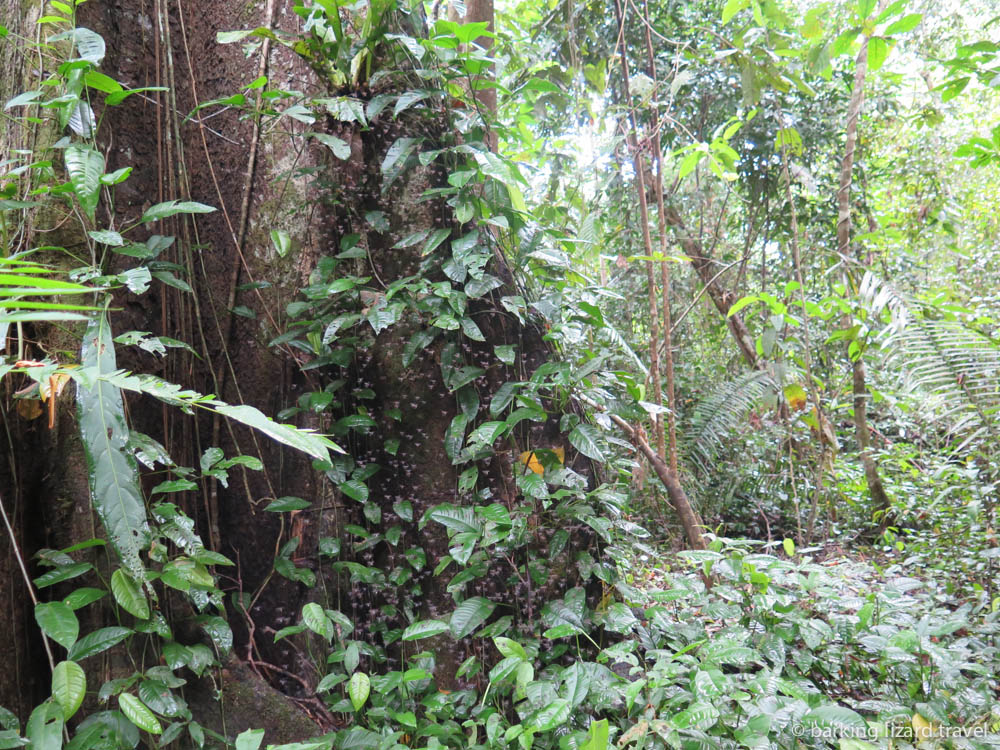 We stop off to go on a forest walk and pull on our rubber boots as it very muddy and slippery underfoot. Despite being the high water season the forests are not as flooded as they would usually be, apparently this has been the case for the last few years.
Our guide Roger tells us about the different forest plants and shows us how to make fans from the leaves. The air is alive with buzzing insects, mainly swarms of large mosquitoes.
I feel myself being bitten through my trousers and long sleeve top and also end up with bites on my hand.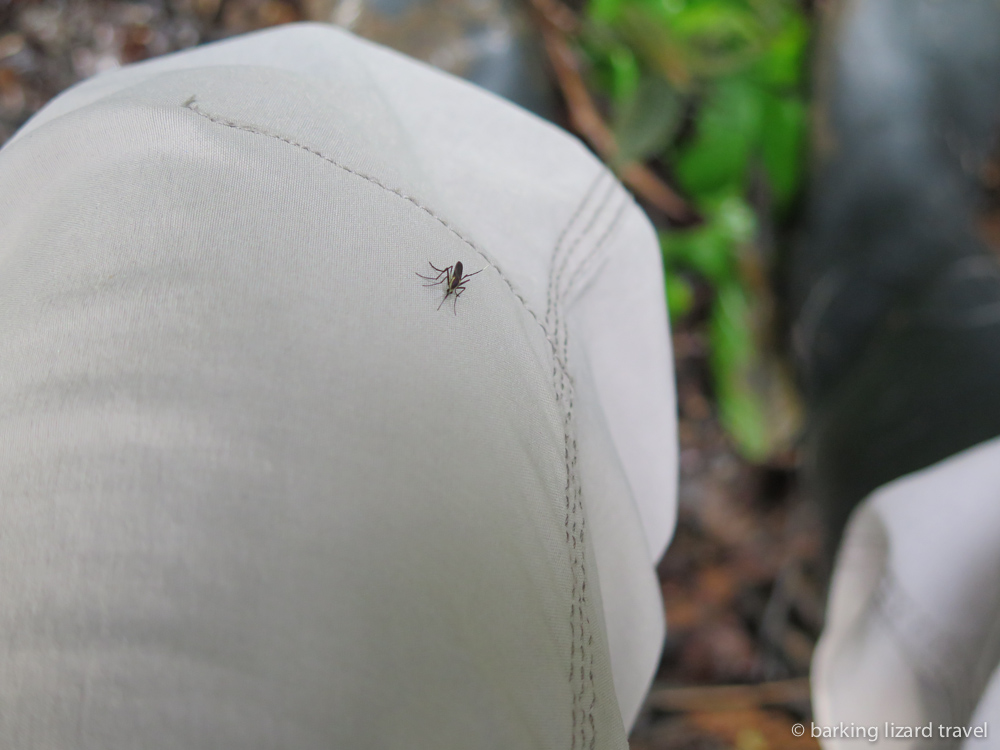 The air temperature was around 30c/85f but the humidity was intense. I was constantly dripping with sweat but annoying mosquitoes asides it wasn't too uncomfortable.
We head back to the lodge by boat for lunch and have a couple hours to relax before the afternoon tour.
This time we walk into the forest behind the lodge. Roger shows us the large rubber trees and cuts into one with his machete. Sticky white rubber oozes out and we roll it around in our fingers until it starts to harden. He enthusiastically teaches about the different forest fruits and picks them directly from the trees for us to taste.
There are lots of insects flying and crawling around but nothing too freaky although we do come across a huge spiders web! We are lucky enough to spot a cute little pygmy marmoset sitting on a tree branch and a huge electric blue morpho butterfly.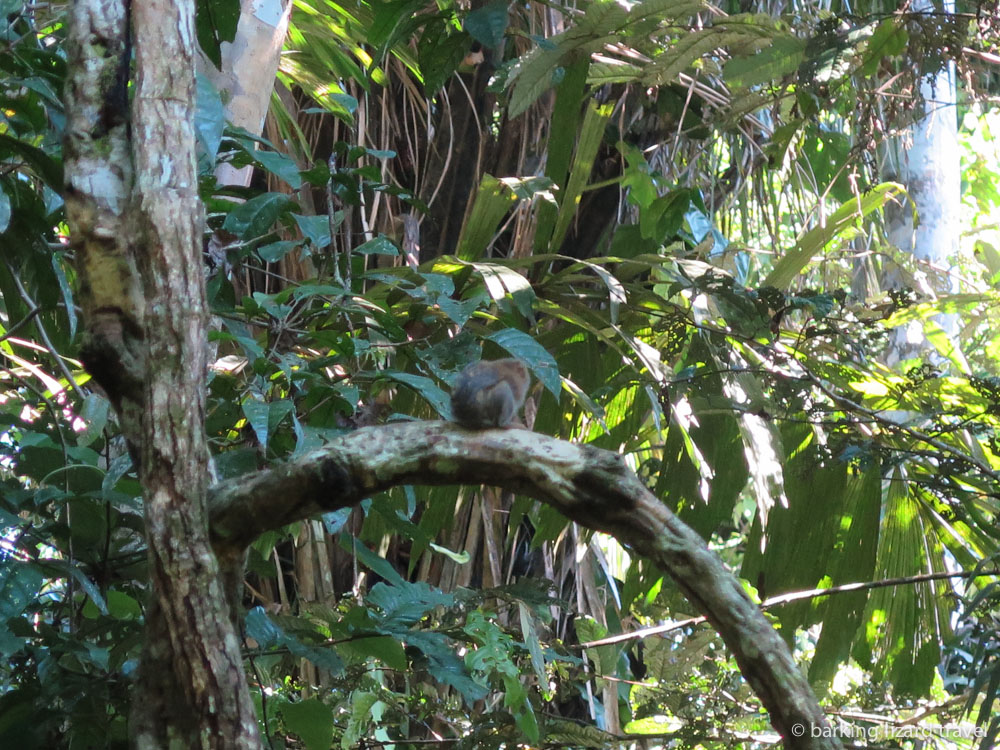 In the evening we head back out in the motorboats to search for caiman. It doesn't take long for the guide to find one. He reaches into the water and just pulls a young caiman out! The animal was surprisingly calm and we all got to hold it before releasing it carefully back into the water.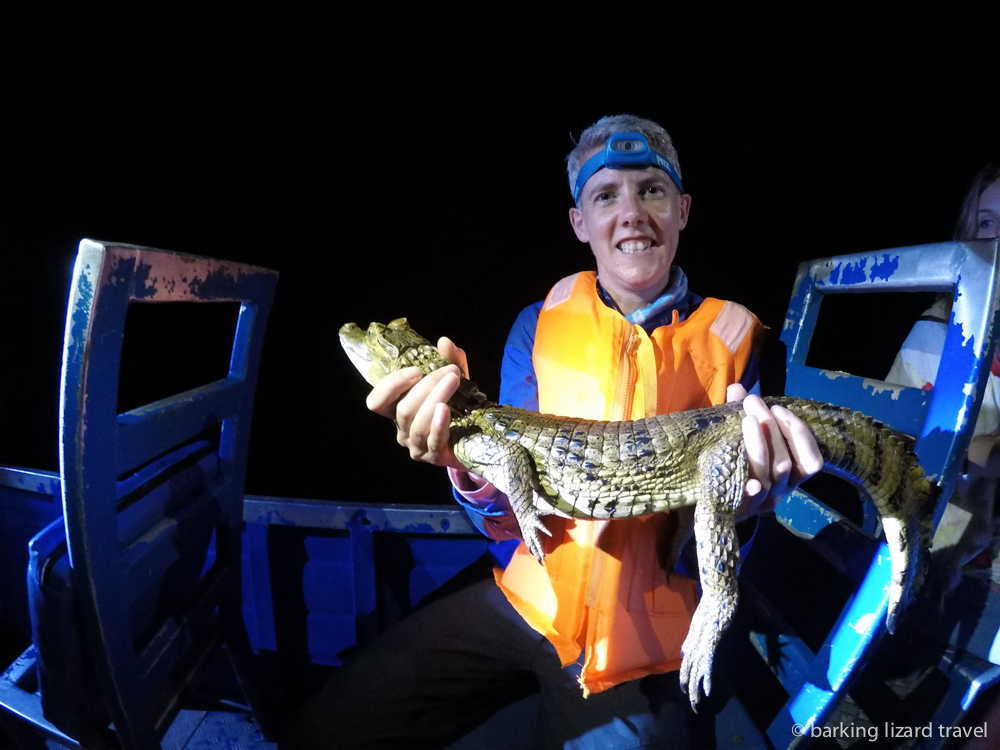 Day 3 – Swimming in the Amazon River
For the morning tour we go out in the motorboats driving into flooded forest. We find the funny looking Hoatzin bird, aka the Punk Chicken due to its mohawk like crest. This pheasant-sized bird is also known as a "stinkbird" due the foul odour it emits, caused by the fermentation of food in its digestive system.
We catch a glimpse of more sloths and see giant lily pads (Victoria Regia, the largest aquatic plant in the world). Driving on further into the Amazon river we search for the fabled pink river dolphins. We spot some at a distance but aren't lucky enough for them to pay us a visit.
Then we get to swim in the Amazon River! The river is murky brown and I'm a bit apprehensive about getting into it. However there is no way I'm going to miss out on this opportunity.
Some of the group decide to dive or jump in but as I'm wearing contact lenses I use the boat's ladder. I want to avoid putting my face in the water but end up going under while getting in. I try not to think too much about the potentially awful eye infection I might end up with or what exactly is swimming in the water beneath me!
The water is a very comfortable temperature, not too cold or warm. It feels pretty unbelievable to be actually swimming in the Amazon river. We spend about ten minutes in the water before climbing back on the boat and heading back to the lodge for lunch.
Village life and an Amazon Sunset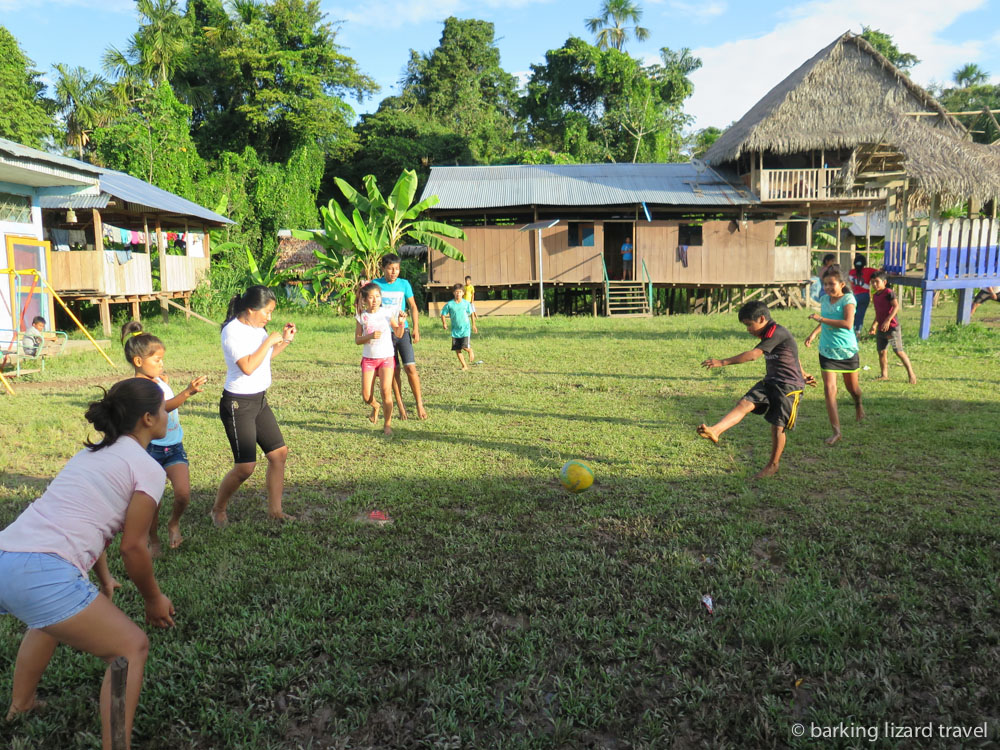 The afternoon's activity is Piranha fishing. As an animal lover and vegetarian I don't want to take part. Instead, Roger takes me on an extended trip to the nearby village of San Juan de Yanayahu, a five minute boat ride from the lodge.
I watch the locals play football and observe village life in this remote place. We hang around for an hour or two before driving further into forest to watch the sunset.
Roger stops the boat in a beautiful clearing and we sit there waiting for the sun to set. What strikes me most is the incredible peace and natural beauty. There are so few places left on earth that are truly untouched by humans and it feels otherworldly.
What strikes me most is the incredible peace and natural beauty.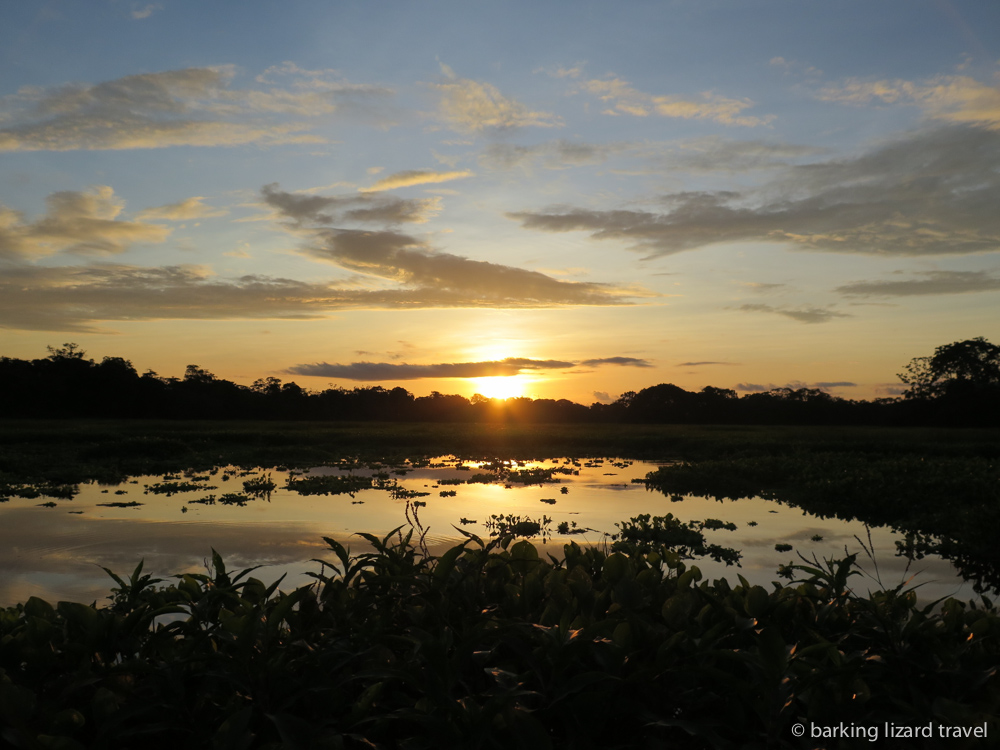 That evening I head out alone with Roger on a night walk through the forest behind the lodge. With only headlamps for light we head into the dark forest. After a few metres we come across a large pink toed tarantula sitting on a tree trunk. There are lots of insects buzzing around. At one point Roger tells me to quickly turn of my light. We are being chased by night wasps attracted by our lights. I begin to feel a bit jumpy and nervous.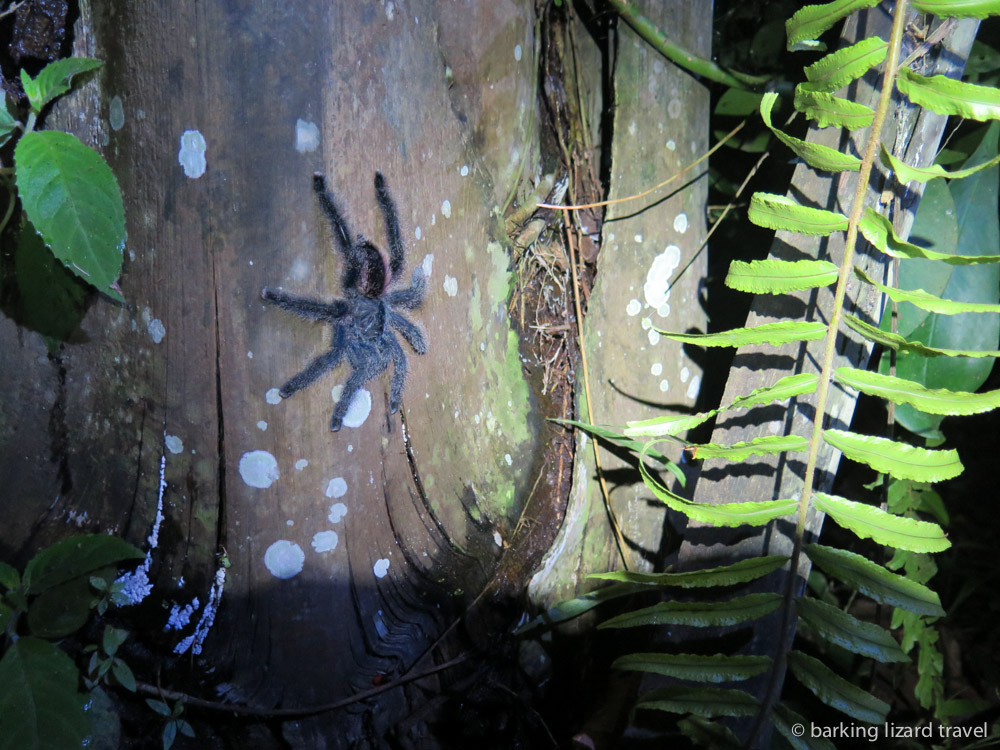 We slowly walk further in and catch a glimpse of an Amazonian tree rat, an opossum and noisy night monkeys in the trees. Then we come across my most memorable Amazon animal encounter, a giant frog. This frog, the size of a rabbit, was unbelievable. It looked unreal, like something out of sci-fi movie. Roger moved towards it and, suddenly, it leaped off, startling me. For days afterwards I can't stop laughing about it. Welcome to the weird and wonderful Amazon!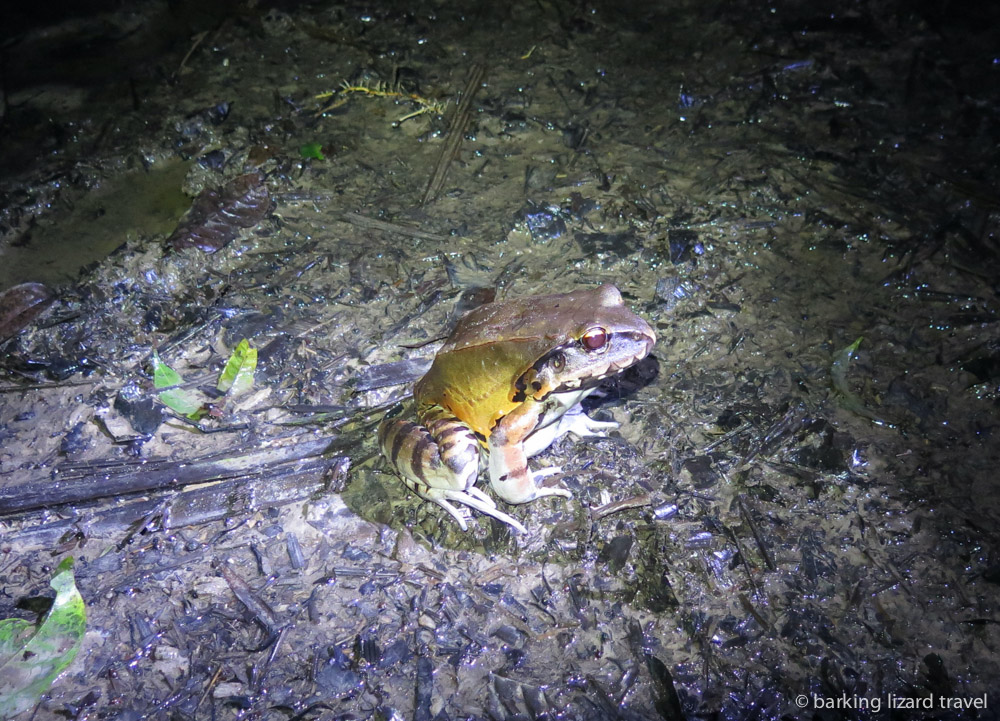 Day 4 – Heavy rain keeps the Anacondas away
It's my last day and I'm really hoping to catch a glimpse of an anaconda. Several other groups have seen them during the previous few days. Unfortunately, it's raining heavily and doesn't look like it's going to stop anytime soon. The guides tell me it's unlikely we will see any in that weather. Since I arrived it has mainly only rained at night. This was the only really wet day
A small group of us head out in the motorboat down through the tributaries. The group is largely silent and it's a bit dismal. We manage to spot a titi monkey, sloth and a caiman. One of the group also spots a red headed Iguana sticking out of the water. Otherwise there isn't much wildlife around. The animals obviously prefer to shelter from the rain too. After an hour or so we head back to the lodge.
Time to head back to chaotic Iquitos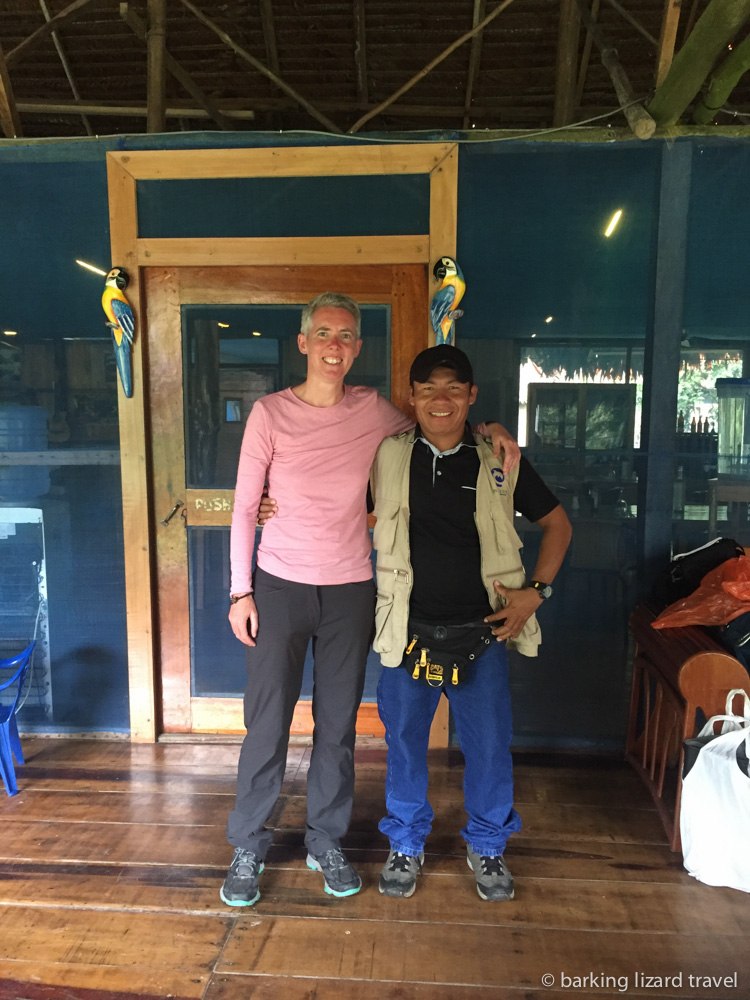 I have lunch and say my goodbyes to the guides and staff. Roger asks me to keep in touch and send him some photos. Throughout the four days the guides were excellent. They were incredible knowledgeable about the Amazon wildlife and highly skilled at spotting the animals no matter how well disguised they were. It was clear they are very passionate about their jobs and protecting the local environment.
The staff working in the lodge were also very professional and helpful. They went out of their way to accommodate everyone's needs.
After four busy and intense days in the jungle it was time to head back to city life. It was an absolutely incredible experience.
Trip information
How to get to and from Iquitos
You can only get to Iquitos by boat or plane. There are several flights a day to and from Lima and a regular service to Tarapoto. It's also possible to travel there by boat from several Peruvian cities or from Leticia in Colombia.
Booking
The Muyuna Amazon Lodge office is in central Iquitos. It's possible to book online before you get there but unless it's during a very busy time you can usually book the day before. Tours leave every day of the week.
Cost
The total cost for my 4 day/3 night trip was €605 for a single room. This included a 5% credit card payment fee and the foreign transaction fees from my bank. Current prices are available on their website.
What's Included
All meals, tours, and transport are included in the price. The only money I spent there was on a small bracelet from a stall in the local village. You can also buy beer, snacks, and essential toiletries in the lodge (at a premium price).