The Osa Peninsula is a stunningly beautiful part of Costa Rica. Located on the south western coast, it's home to the amazing Corcovado National Park (Parque Nacional Corcovado), described by National Geographic as 'the most biologically intense place on earth.'
I was travelling in Costa Rica on my 3 month trip through Central America and as soon as I read about it I wanted to visit. However, as it's a remote part of Costa Rica getting there can be expensive and difficult. Other than taking an expensive flight, the public transport options looked complicated. Accommodation seemed to consist mainly of luxury eco lodges that were well beyond my budget.
I began to think visiting this magical place was not going to be possible. Determined, and after plenty of online research, I found a way to visit on a backpacker budget.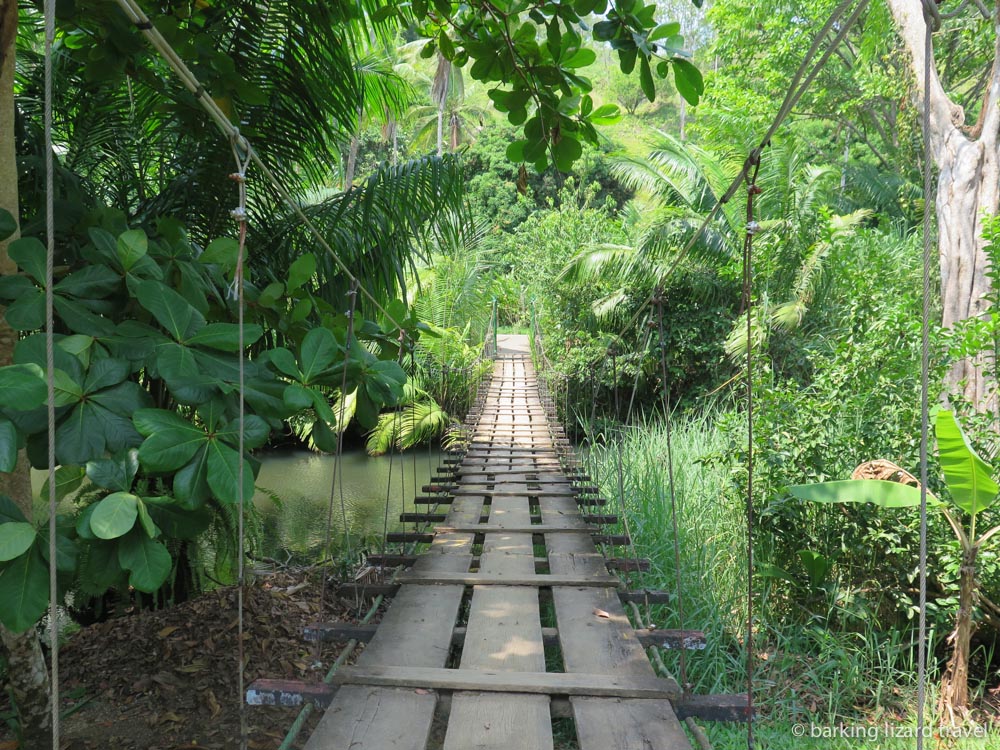 Where to stay on the Osa Peninsula
For budget travellers to the Osa Peninsula Puerto Jimenez or Bahia Drake (Drake Bay) are the two main options. Both of these towns offer budget accommodation and are accessible by public transport.
I decided that Bahia Drake sounded like the better choice. It's smaller and more remote that Puerto Jimenez. I thought it would offer more wildlife spotting opportunities. I found an inexpensive bus & boat option to get there from San Jose and my decision was made.
Budget Accommodation in Bahia Drake – Drake Bay
I stayed in Martina's Place. This budget accommodation gets excellent reviews and has cheap dorm options. There are also single and double rooms available. A dorm bed costs $14 a night (October 2021) and you can book on the website.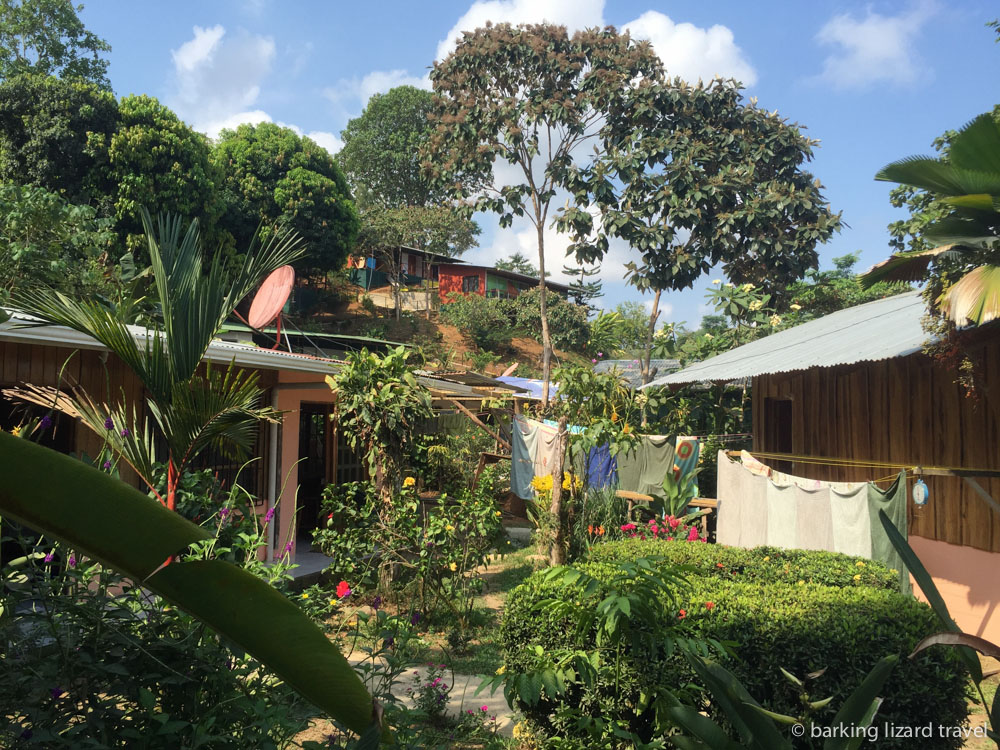 Located in the tiny town of Agujitas, it's only a 300m walk from the beach where the boats from Sierpe dock. The hostel is rustic but clean and comfortable. The simple fan cooled dorms have solid wood bunk beds and wooden lockers for your valuables (bring a padlock) and a toilet and shower.
There is a well-equipped kitchen and a soda, (a simple traditional Costa Rican restaurant) on the hostel grounds. The soda serves traditional Costa Rican food as well as burgers and pizzas. Breakfast costs between $5-7 and lunch or dinner around $7-10. It opens at 5am so you can get a good breakfast even if heading off early.
The hostel grounds were beautiful. Hummingbirds buzzed about and Scarlet Macaws flew overhead. There was also a friendly hostel dog lounging around. The staff are friendly and helpful and can help plan tours and onward travel. It was a very relaxed, chilled and quiet place to stay. I didn't want to leave!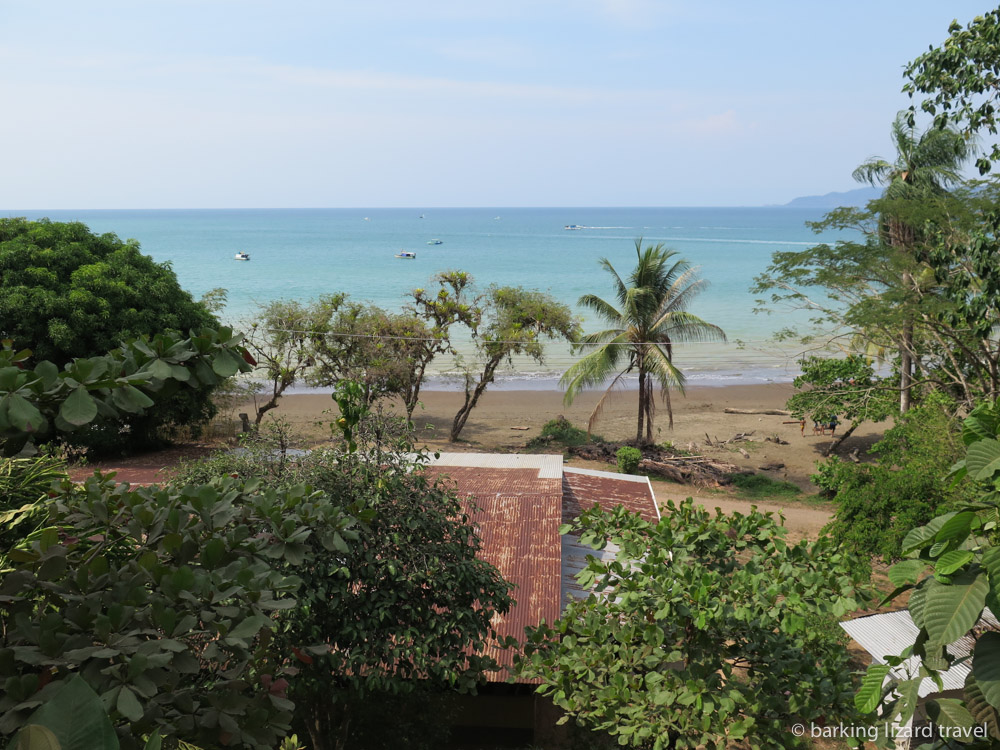 Facilities in Agujitas, Bahia Drake
There are no banks or ATMs in this tiny town so make sure you bring enough cash with you. Martina's Place accepts credit cards but you have to pay a 4% transaction fee.
There are two well stocked mini markets, open from 6am to 9pm. There are also two bakeries and a few restaurants. As I was trying to save money I cooked a few meals in the hostel kitchen and also ate at the soda. I didn't try any of the local restaurants.
Things to do in Bahia Drake
There are plenty of tour operators in Bahia Drake offering activities from horse riding to frog tours. The costs don't vary much between operators and I booked my tours directly with Martina's Place.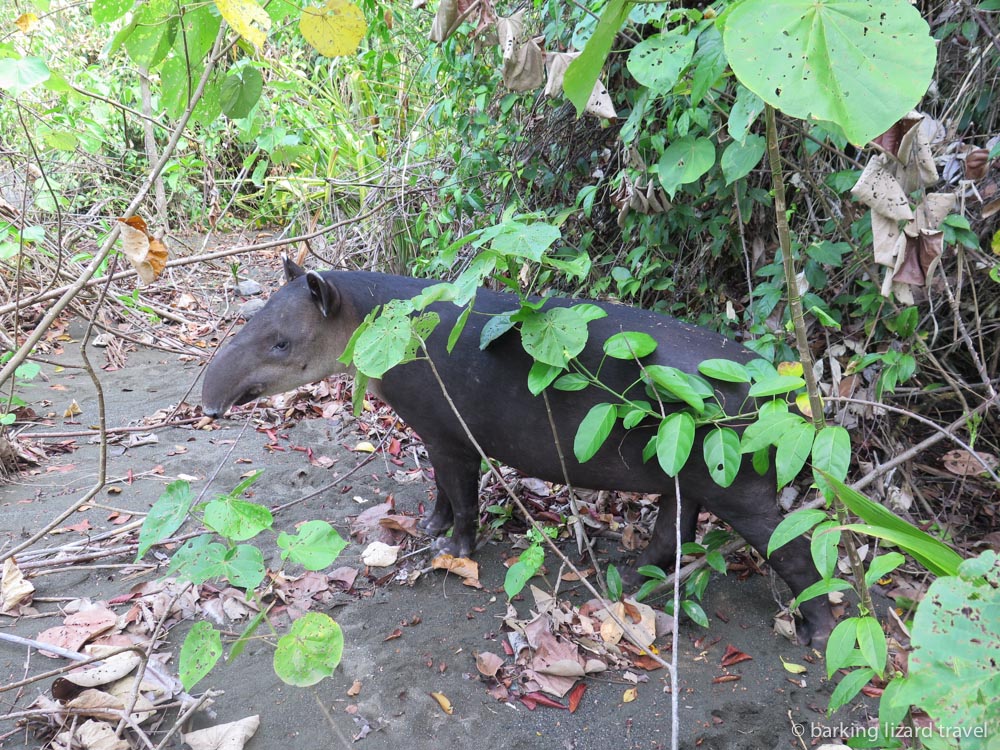 Corcovado National Park Tour (Parque Nacional Corcovado)
Visiting this stunning national park was my main reason for visiting the Osa Peninsula. As visitor numbers are limited each day I booked my day trip a week before I arrived.
The guided tour costs $95 (plus card fee). It's not cheap but it would be a real shame to travel that distance and not visit the wonderful park. It's no longer possible to visit the Corcovado National Park on your own, you have to book a tour or a certified guide.
We travelled by boat from Bahia Drake (1 hour) to the beach near the Sirena station. There we had a 4 ½ hour hike in the park including a lunch stop. The hike is not difficult, it's flat and on trail but it is very hot and humid.
You are virtual guaranteed to see wildlife. I saw a tapir, spider monkeys, a sloth, toucans, and a crocodile. Our guide said pumas had recently been spotted but, unfortunately, we didn't see any.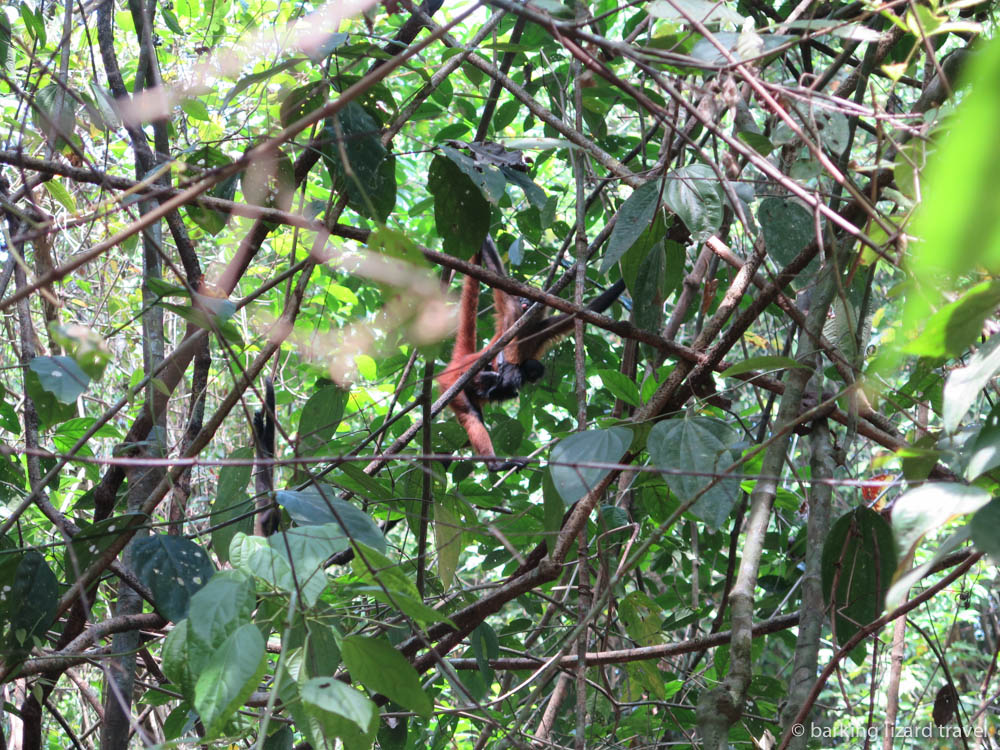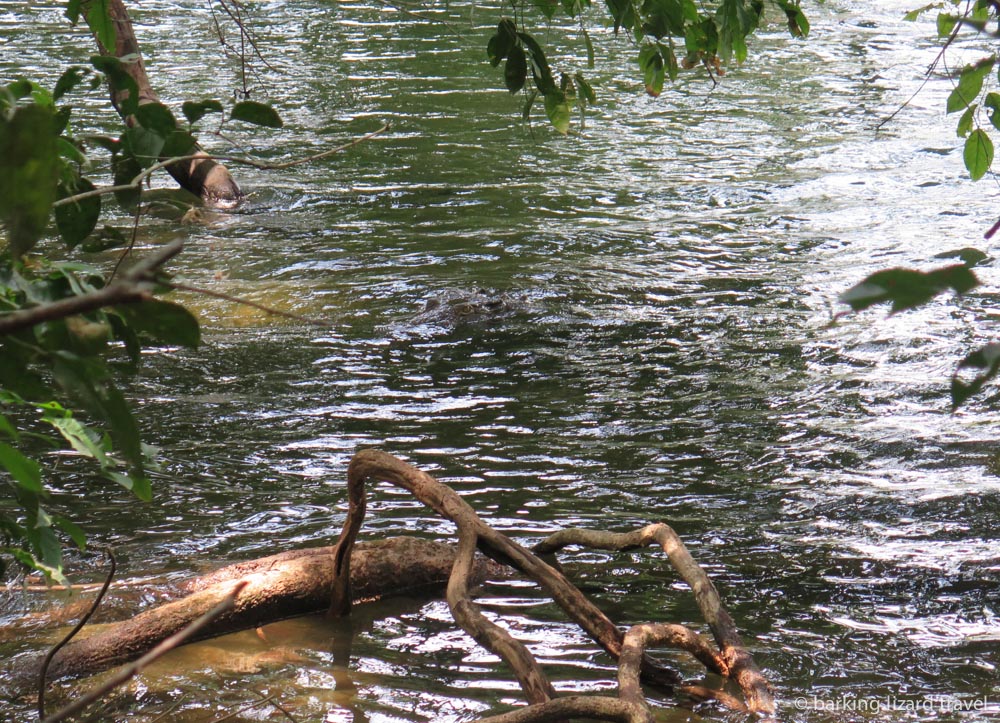 Horse riding tour
I also went on a horse riding tour. We travelled up the Aqujitas river spotting lots of Jesus lizards running across the river in front of us. At the top there was a waterfall and a beautiful natural pool where we cooled off. The scenery was stunning and I enjoyed the swim but horse riding is not really my thing.
The tour is suitable for inexperienced riders but I hadn't been on a horse for over 20 years so I felt quite nervous at the beginning. There were only 5 people in our group and the horses were quiet placid but our guide, a local boy, was only 16! He seemed to think my nervousness was funny and I didn't feel very confident with him.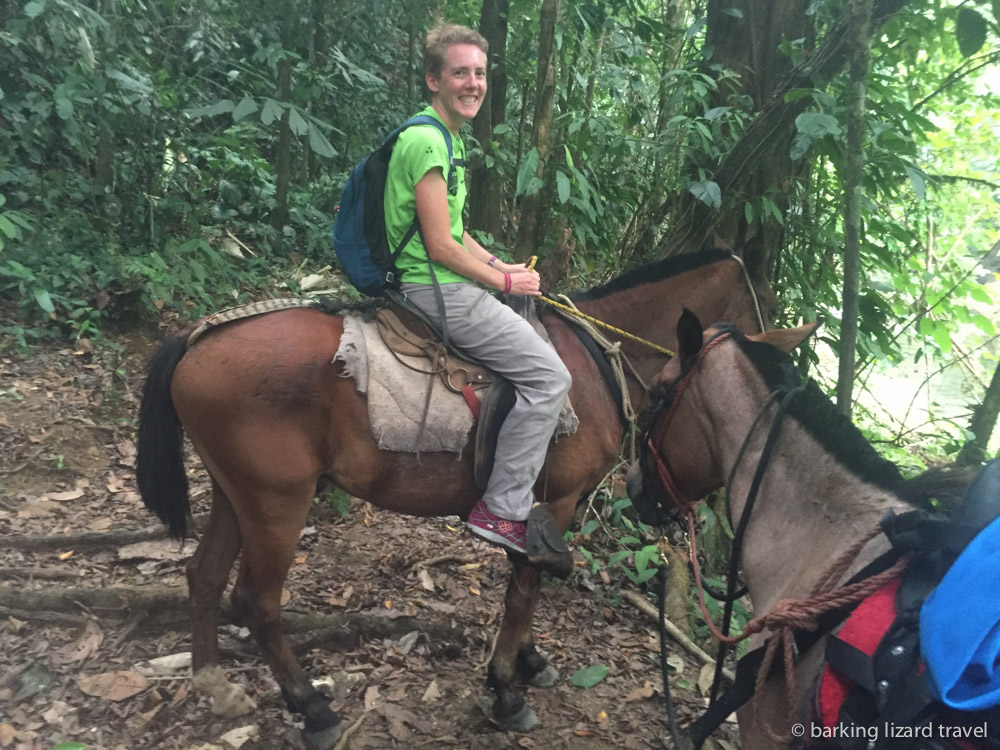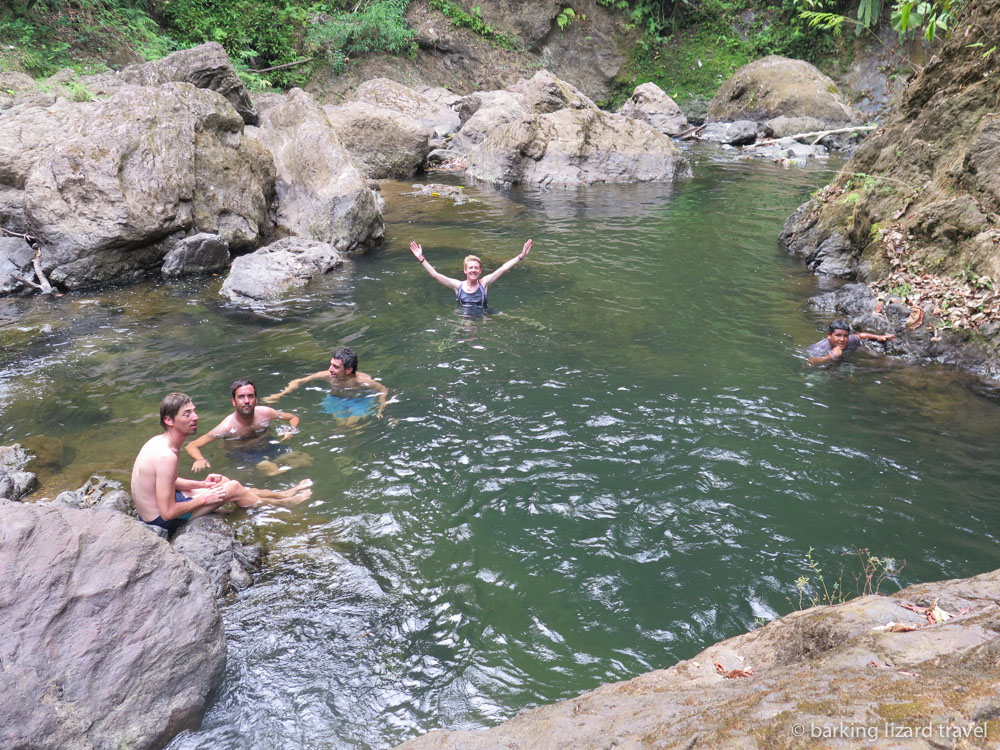 Hiking in Bahia Drake
Aside from the tours there is a public hiking trail along the coast from Agujitas to Corcovado. I hiked part of it on my own. As well as the stunning scenery I also managed to spot spider monkeys, lizards, peccaries, and lots of tropical birds.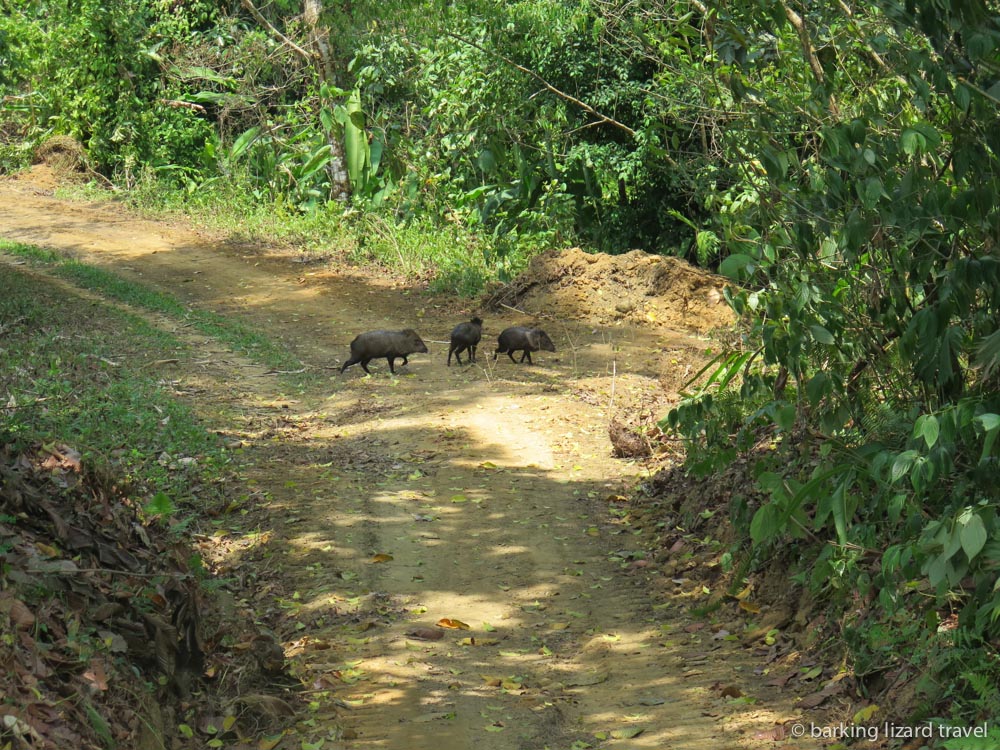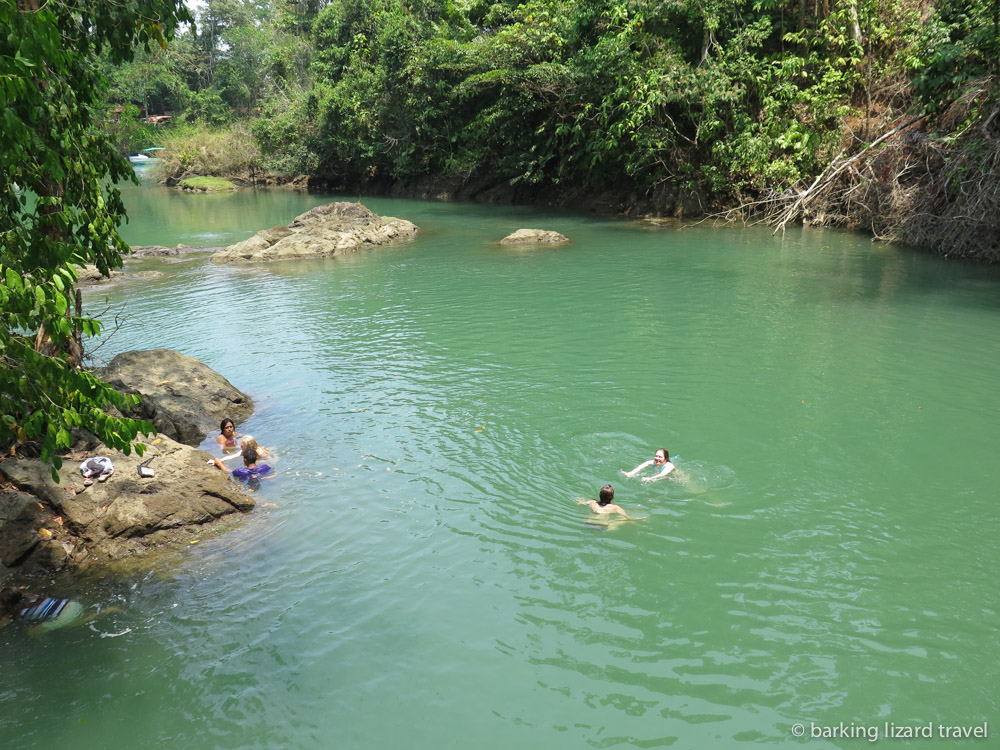 The Osa Peninsula is off the beaten track but that made visiting all the more worthwhile I really enjoyed my 3 nights there, it was one of my Central American highlights.