Is it possible to visit the Galapagos Islands on a budget?! For many people, visiting the Galapagos Islands is a 'once in a lifetime' dream trip. The most popular way to visit the islands is on a cruise. However, googling 'Galapagos Cruises' will likely bring a tear to your eye. 10-day luxury tours by the likes of National Geographic start at over $7000 (excluding flights!).
If you dream of visiting the Galapagos Islands but don't have that sort of budget, don't despair, there are much cheaper ways of visiting. Find out how I spent a week in the Galapagos Islands in 2019 for a $1000 including flights!
Itinerary for a week island hopping in the Galapagos on a budget
The cheapest way to visit the Galapagos Islands is to organise your own DIY island hopping trip. As a traveller who likes my independence this was actually more appealing than a cruise. And it's also super easy to organise yourself!
Four of the islands are inhabited and offer budget accommodation: Santa Cruz, Isabela, San Cristobal, and Floreana.
There are regular daily boat connections between Santa Cruz and Isabela, and Santa Cruz and San Cristobal. Unfortunately, there are no boats between Isabela and San Cristobal, meaning you need to backtrack to Santa Cruz first. There are also boats between Santa Cruz and Floreana but they run infrequently and the timetable changes often.
Having researched the options I decided on this one week itinerary:
Flight Guayaquil to Baltra (Santa Cruz)
Puerto Ayora, Santa Cruz – 2 nights
Boat Puerto Ayora to Puerto Villamil, Isabela
Puerto Villamil – 2 nights
Afternoon Boat back to Puerto Ayora
Puerto Ayora – 1 night
Boat Puerto Ayora to Puerto Baquerizo Moreno, San Cristobal
Puerto Baquerizo Moreno – 1 night
Flight San Cristobal to Quito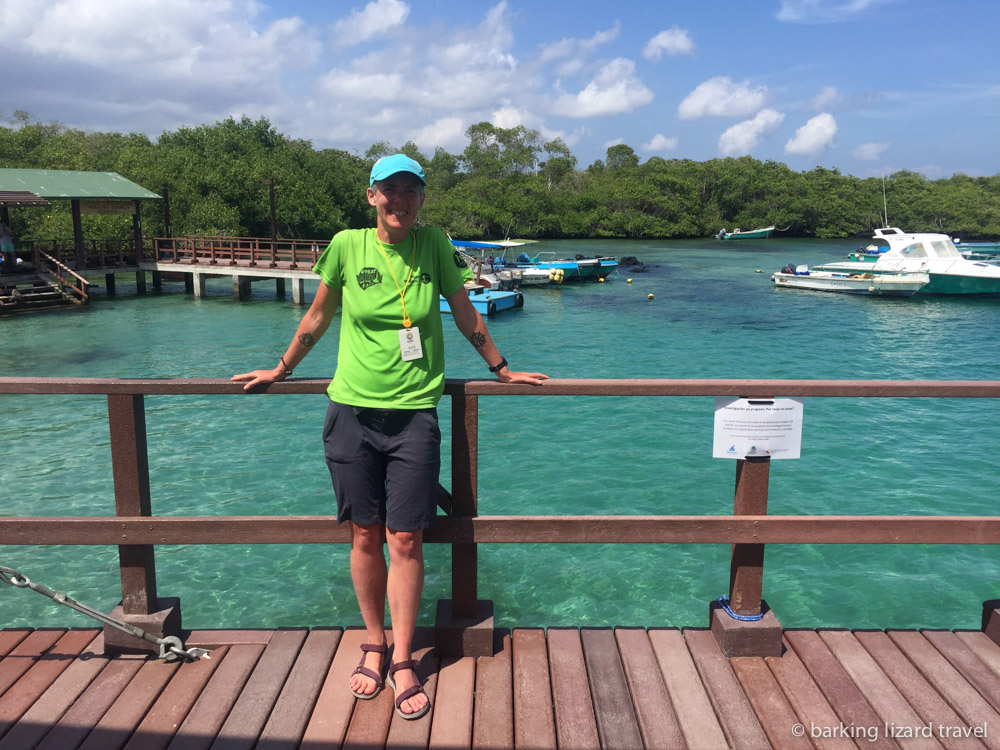 The best time to visit the Galapagos Islands
The Galapagos Islands are a year-round destination. There are only two distinct seasons; Warm and Wet (January to May) and Cool and Dry (June to December).
For budget travellers it's best to avoid peak holiday times, which means Christmas/New Year, Easter, and the school summer holiday periods between June to August.
I visited at end of February/beginning of March 2019 and managed to get relatively cheap flights and accommodation. The islands weren't that busy and it was easy to book inter-island boats and tours.
The weather was generally hot and sunny but there were some heavy downpours. The sea is at its calmest at this time of year, which is good when travelling between the islands by boat!
How long should I spend on the Galapagos?
Getting to the islands will take up the biggest part of your budget, so I really wouldn't recommend spending anything less than a full week there.
I found a week was just about enough to island hop and see the sights, but I still would have liked an extra day or two.
Getting to the Galapagos Islands on a budget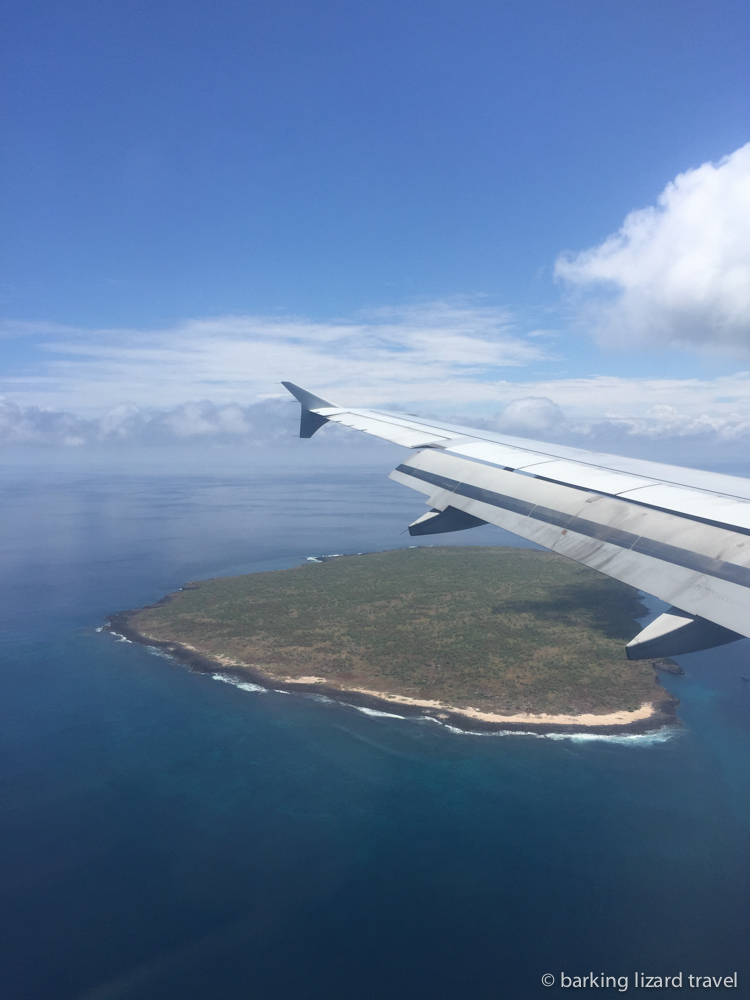 The only way to get to the Galapagos Islands is by flying from mainland Ecuador. There are no direct flights from outside of Ecuador, or boat trips from the mainland. Even if you're going on a cruise you'll still need to fly to the islands from either Quito or Guayaquil.
Flights start at around $300 return and can go up to $600 in high season. If you already know what dates you are going to be in Ecuador, I advise booking flights online in advance.
I only had a rough idea when I was going to be in Ecuador as I was travelling around Northern Peru first. However, as getting to the Galapagos Islands was a priority, I booked my flights online a month in advance.
Booking flights to the Galapagos Islands on a budget
I used Skyscanner to compare flight prices and dates. I had read several reports online of people booking flights through third-party booking sites only to arrive at Quito or Guayaquil airport and be told that they had bought tickets meant for Ecuadorian residents (who get discounted flights). They then had to pay the difference in fare to be allowed fly. To avoid any issues like this I decided to book directly on the airline's website.
Three airlines fly to the Galapagos Islands from Ecuador:
All are good, reliable airlines so you can pick the one that has the least expensive flights for your dates.
All flights to and from Quito make a stop in Guayaquil to pick up and drop off passengers (you stay on the plane if flying onwards).
It possible to fly into one island and out from another. I decided to fly out from Guayaquil to Baltra (Santa Cruz) and back to Quito from San Cristobal to maximise my time.
The cheapest flights I found for the end of February/beginning of March 2019 were with Tame. The total cost for the two flights, including all taxes and charges, hand luggage and 23kg checked luggage, was $362.71.
When I booked on Tame's website there was a little box you could tick for 'I'm Ecuadorean/resident'. Don't tick this box! (Unless of course you are an Ecuadorean resident).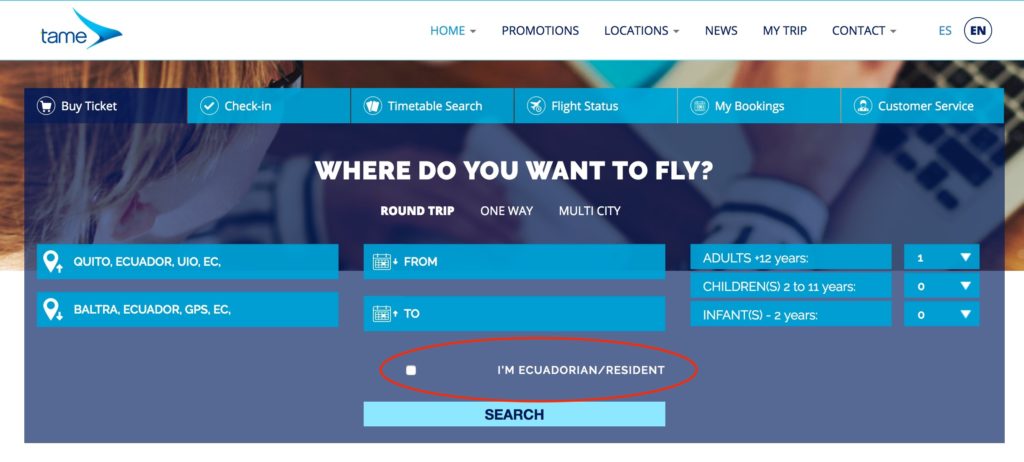 Guayaquil (GYE) to Baltra (GPS) Santa Cruz
Monday, 25th February 2019, 10:40 – Arrived Baltra, 11:30 – $187.81
San Cristobal (SCY) to Quito (UIO)
Sunday, 3rd March 2019, 12:30 – arrived Quito 16:45 (40-minute layover in Guayaquil) – $174.90
Checking in for a Galapagos Island flight
You can't check-in online for Galapagos flights so it's advisable to arrive at the airport 2 hours beforehand. Before you go to the check-in desk you need to go to INGALA (Governing Council of Galapagos) counter and get the mandatory Transit Control Card which costs $20 (cash only!).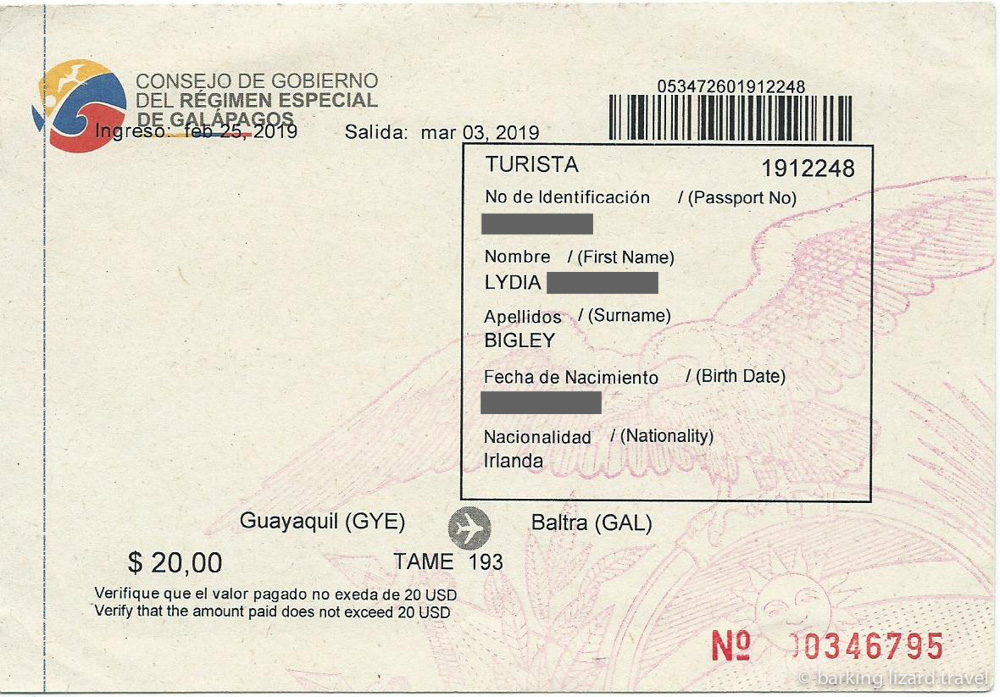 Then you need to get all of your bags, including hand luggage, inspected by SICGAL (The Ecuadorian Animal and Plant Health Service and the Quarantine and Inspection System of Galápagos) for non-native plants, animals, food products etc. Plastic bags, straws, and single use plastic bottles are also forbidden.
After inspection, a green cable tie lock will be put on your luggage to prove it's been inspected. Don't remove it until after you've arrived on the islands!
Once all this is completed you are finally allowed to check-in. You'll need to show your passport, Transit Control Card, and inspection bag tag. I didn't need a print out of my flight details, they just used my passport information to check me in.
On the plane you will be given a declaration form to fill in confirming you are not carrying plants/fruits/seeds etc.
Arriving in the Galapagos Islands
I flew into Baltra airport, which is on a small island just off Santa Cruz. When arrive you pass through immigration where you will need to pay the compulsory Galápagos National Park entrance fee. This costs $100 and, inconveniently, needs to be paid in cash so make you have enough with you. You will then get a pretty cool Galapagos National Park stamp in your passport!
After, you can collect your luggage and go through customs where you'll need to hand in the declaration form you filled out on the plane. You are finally in the Galapagos Islands!
Getting from Baltra airport to Puerto Ayora by bus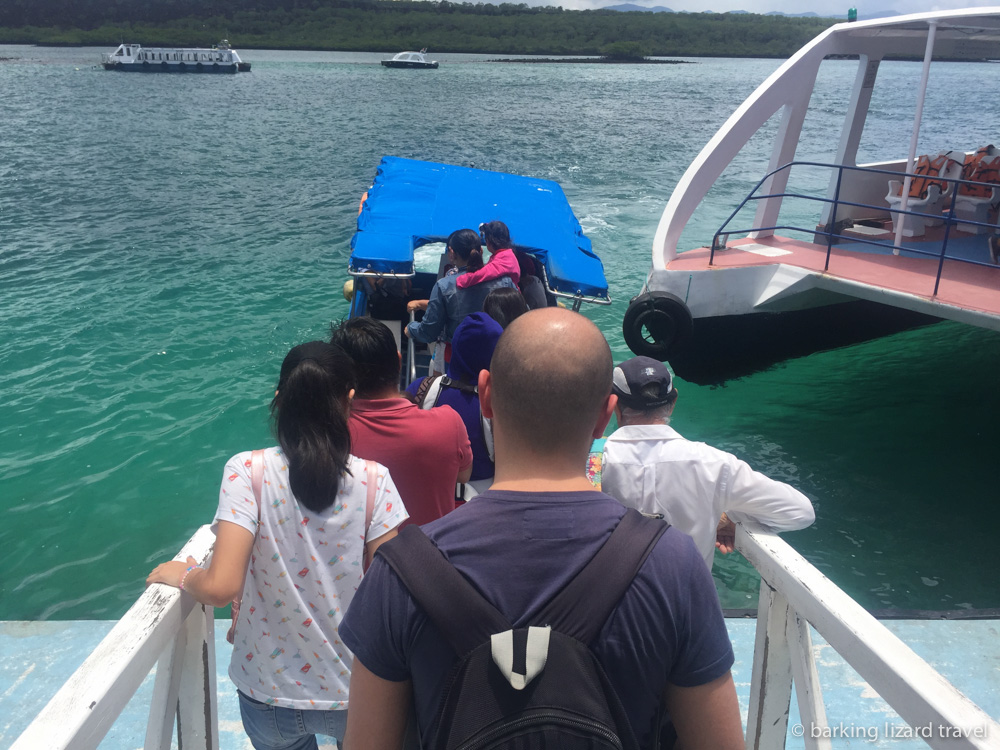 Buses will be waiting just outside the terminal to take you to port. The Lonely Planet guide said this bus was free but it cost $5! The ride to the port only takes about 10 minutes. Only a couple of 100 metres of water separate Baltra from Santa Cruz. Boats of various sizes are there waiting for passengers and leave once full. There is supposed to be $1 charge for the short trip but for some reason I didn't need to pay it…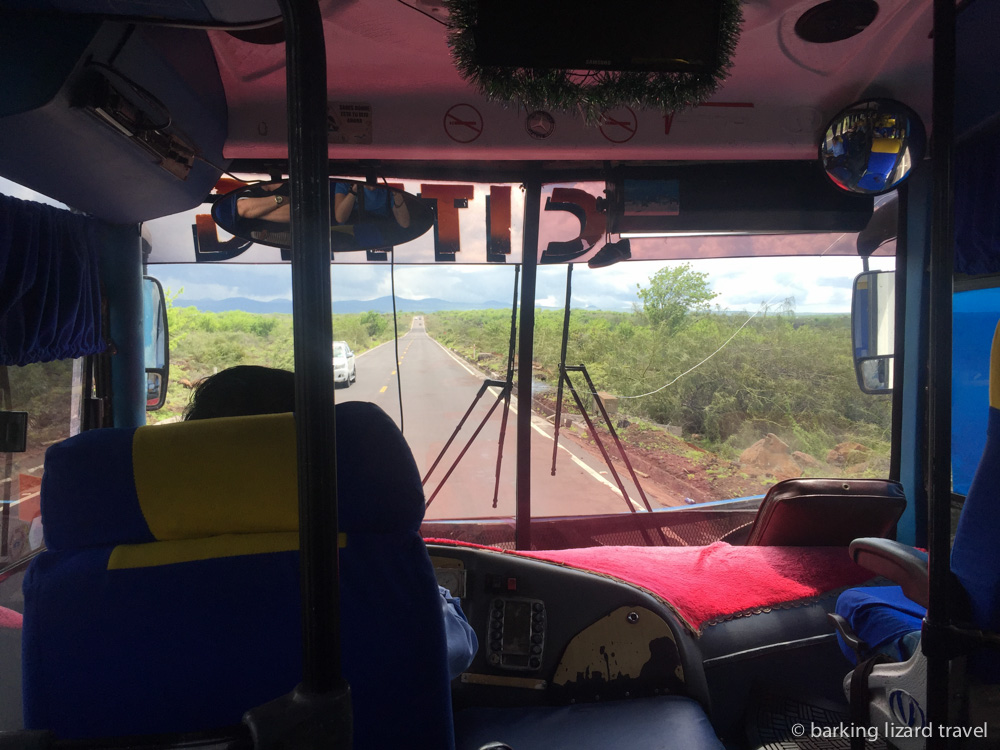 Public buses and taxis are waiting at the port to take people on to Puerto Ayora. The public bus costs another $5 and takes approximately 45 mins to get to Puerto Ayora. In total the journey from Baltra airport to Puerto Ayora took around 1 hour 30 minutes. If you are flying out of Baltra, make sure to give yourself plenty of time to get to the airport.
Budget accommodation on the Galapagos Islands
You can get a hostel dorm bed for as little as $14 and single rooms start at about $15 but $20-30 a night for a single occupancy double room with en suite and air-con is more realistic.
My average cost for my own private room per night was $24. All were en suite and had air condition except the room in San Cristobal.
When travelling on a budget it's usually a good idea to book accommodation before you arrive. That way you'll know the costs beforehand and won't have to waste your valuable time walking around trying to find accommodation in the scorching sun.
I booked all my accommodation through booking.com about a week before I arrived.
My accommodation on the Galapagos Islands:
Puerto Ayora, Santa Cruz
Hotel Brisas del Pacifico – 2 nights – $22.50 per night (no breakfast included)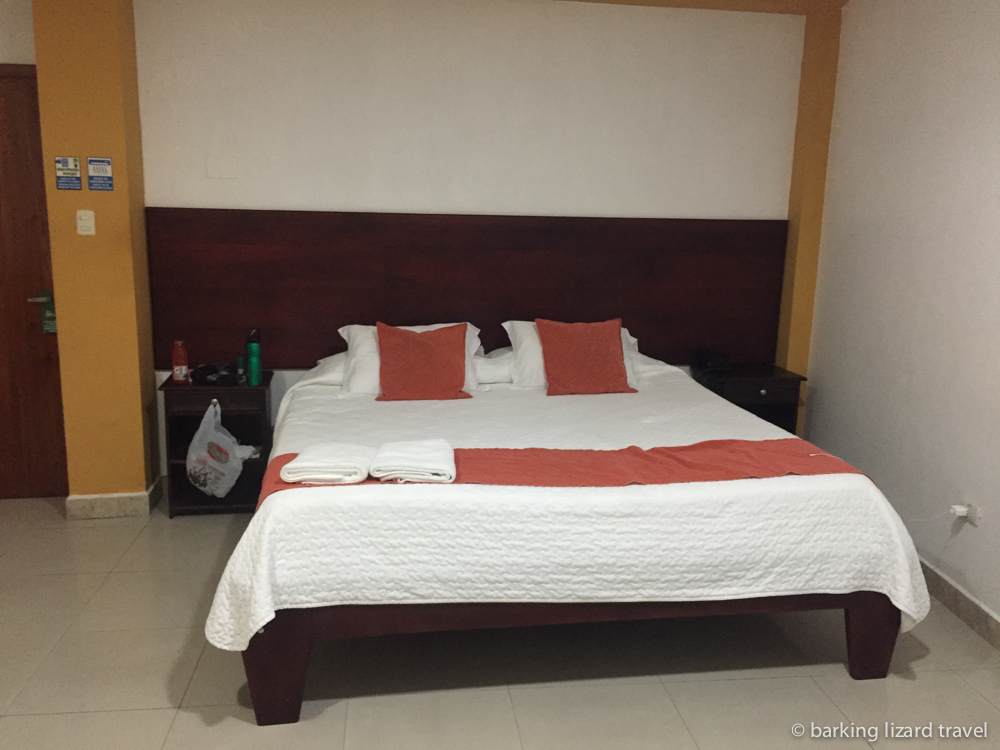 I couldn't believe how big my room was! They gave me a huge suite with a king-sized double bed, desk, small sofa, fridge, cable TV, air con and en suite bathroom and there was another big room with 3 more beds. I guess I got such a good deal because I stayed on a Monday and Tuesday night in low season. This room felt like absolutely luxury after some of the places I'd stayed in. The hotel has a 24/7 reception, decent WiFi, and a free drinking water dispenser in the lobby. It was about a 10-minute walk to the harbour and Ave Charles Darwin.
Hostal Vista al Mar – 1 night – $25.50 (no breakfast included)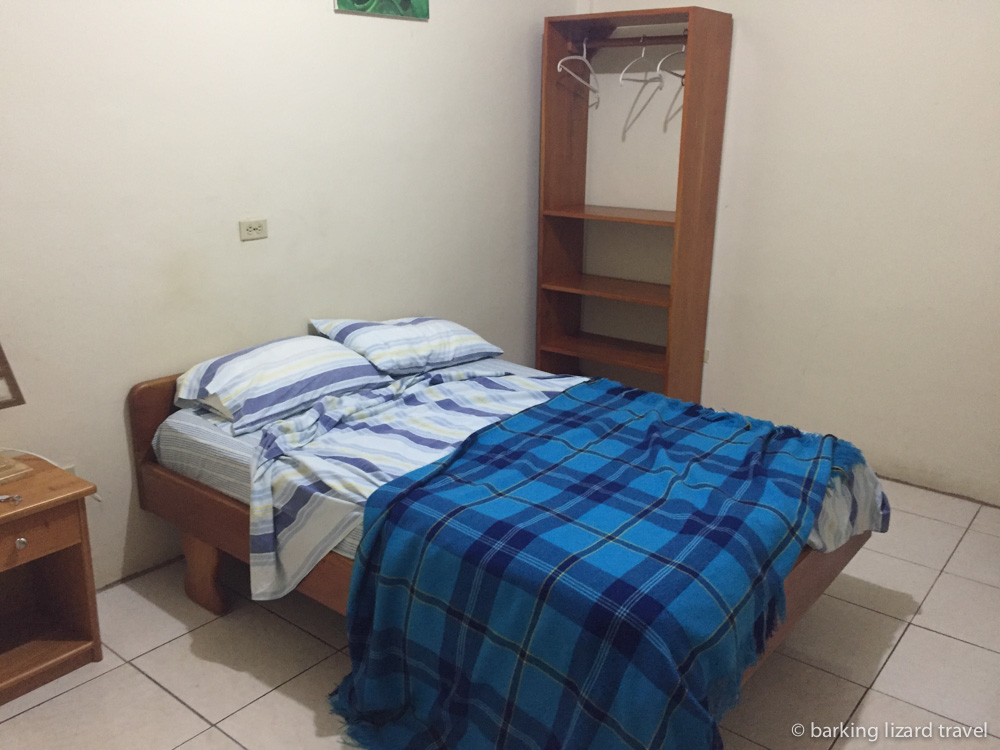 Unfortunately the Hotel Brisas del Pacifico was fully booked when I returned to Puerto Ayora on the Friday night so I stayed here.
The room was a good size, clean, with en suite and air-con and the staff were friendly, if not particularly attentive. It was less than a 5 minute walk to the harbour. I arrived late in the afternoon and left early the next morning so can't really say much more.
Puerto Villamil, Isabela
Hospedaje Sarita – 2 nights – $25 per night (no breakfast included)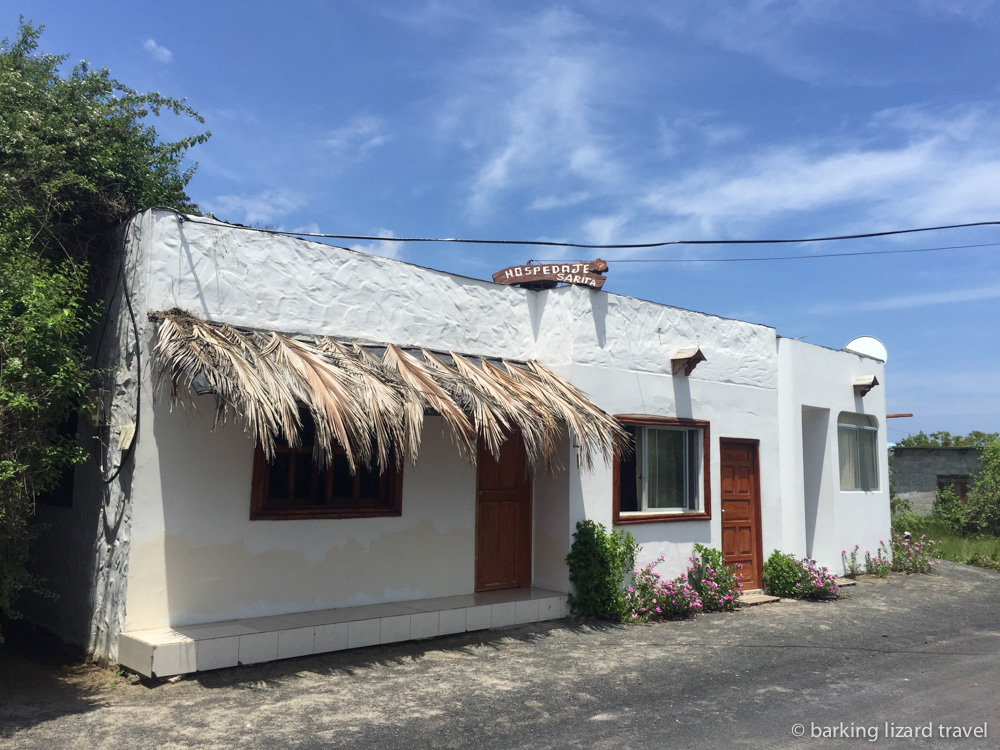 This place got great reviews on booking.com but unfortunately, I didn't have a great experience. Nobody was there when I arrived and I had to sit in the little kitchen/office for 30 mins before a woman finally came and gave me the key to my room.I didn't see any staff for the next two days until they came looking for payment at 9pm the night before I was leaving (they assumed I was getting the early morning boat).
The appliances in the kitchen were old and rusted and looked like they would go on fire if you used them. The outdoor space also wasn't great. The WiFi didn't work the first day and afterwards was intermittent and patchy.
Despite all this the room itself was nice. It was a good size, clean (although there were some large ants in it) with air-con and en suite. It was less than a 10 minute walk to the harbour and a short stroll to the town plaza.
Puerto Baquerizo Moreno, San Cristobal
Palma del Mar 2 – 1 night – $22.50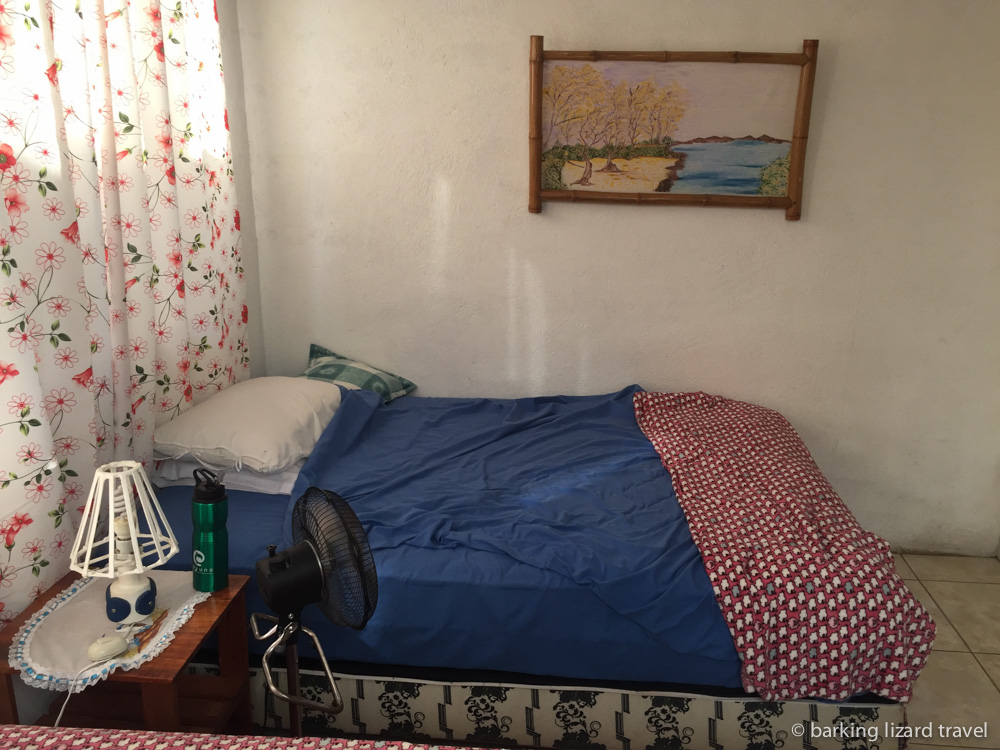 Of all the rooms I stayed in this was the most basic (but comfortable). There was no air-con, only a fan and no en suite, although there was a private bathroom next to the room. There was a kitchen with filtered water and a shabby outdoor area. It's at the edge of the town about a 10 minute walk to the pier.
However, what really made this place stand out was the owner Pepe. He was a really fantastic host and by far the best I had on the Galapagos, and indeed in my 2-week stay in Ecuador.
Pepe, who speaks fluent English, really went out of his way to to accommodate me and make sure I had all the information I needed. He was waiting for me at the dock with a name sign, then took me to the guesthouse in a taxi. He recommended lots of good cheap places to eat & free things to do. It was worth staying there just for his service!
Travelling between the Galapagos Islands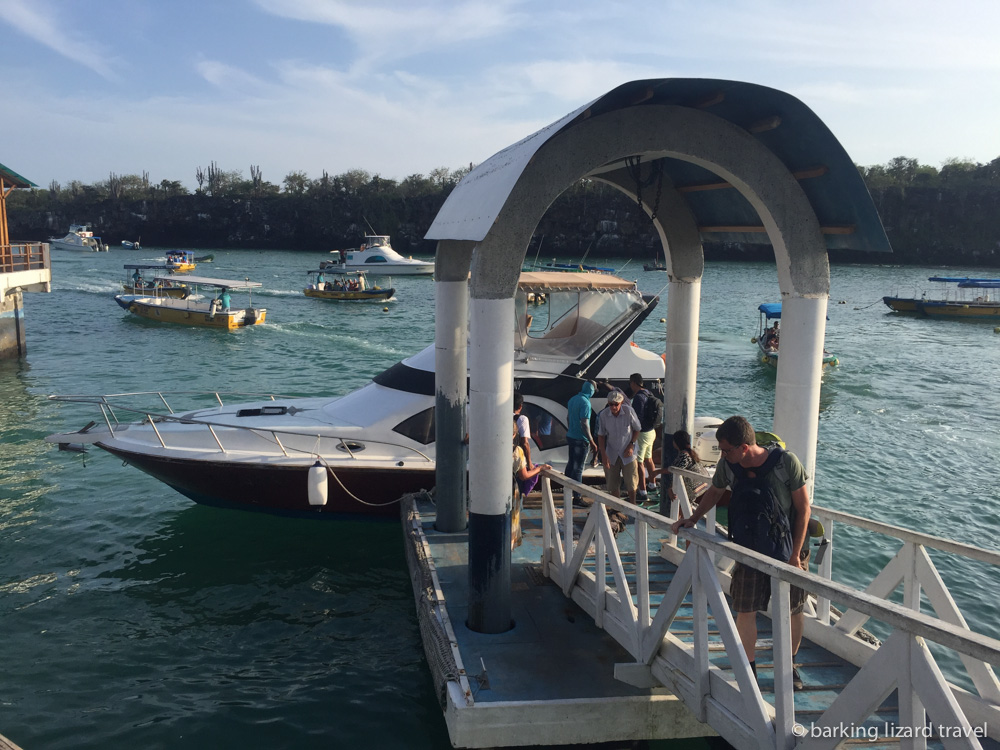 Small speed boats, known as lanchas, travel between the islands twice a day: early in the morning between 6am and 7.30am and early afternoon around 2pm.
Each inter-island trip costs $30. It didn't seem to make much difference with which tour operators you bought your ticket from or which boat company you used. I used Maranatha GPS Travel agency on Av. Baltra y Charles Binford, in Puerto Ayora, which was right next to the Hostal Vista al Mar. A friendly English-speaking woman helped me book my tickets.
You need to be at the port one hour before departure to sign in for your boat and get your luggage inspected. The boats leave on time, sometimes earlier if already full, so make sure to get there early.
The boats can't dock directly in Puerto Ayora or Puerto Villamil harbours. This means you have to take an inconvenient water taxi trip to the boat. For some strange reason they don't include this in the ticket price so you need to pay an extra 0.50c – $1 for the water taxi. Make sure to have small change.
I travelled the following routes on 3 different boats: Mi Sol, Lancha Albany, and Galapagos Osprey and there wasn't much difference between them.
Puerto Ayora, Santa Cruz to Puerto Villamil, Isabela on the morning boat
Puerto Villamil back to Puerto Ayora on the afternoon boat
Puerto Ayora to Puerto Baquerizo Moreno, San Cristobal on the morning boat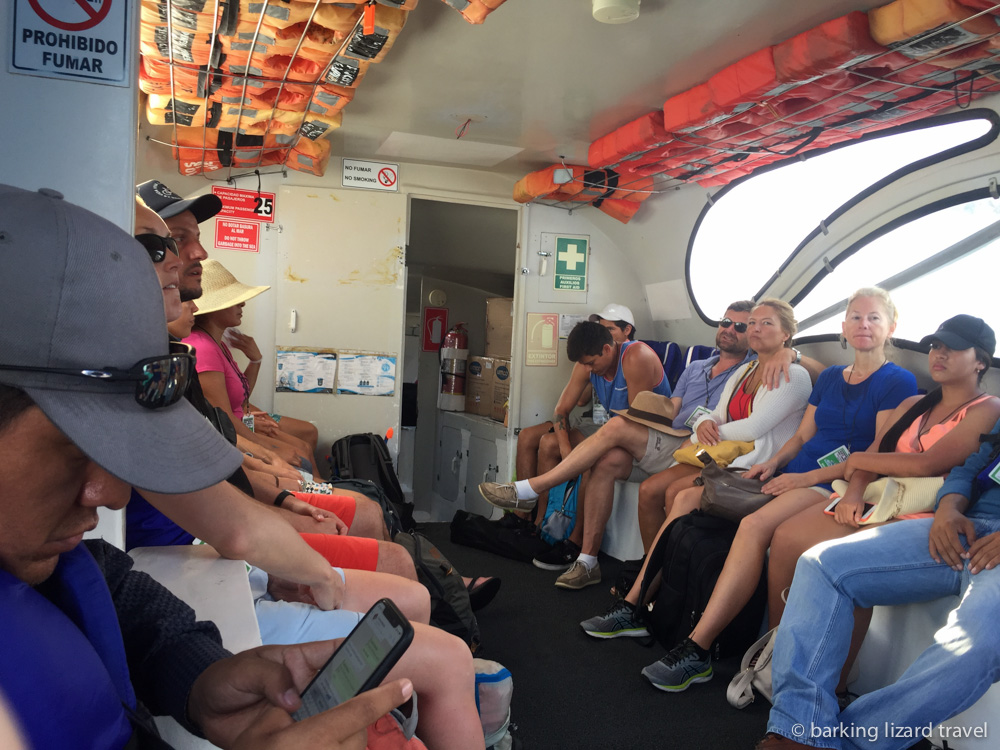 The boat rides are a bit uncomfortable and bumpy. If you are prone to sea sickness I would advise taking motion sickness tablets before and sitting at the back of the boat. On the first boat, the captain's helper handed out sick bags at the beginning of the journey! Thankfully the sea wasn't very rough and nobody was sick. They journey itself is also pretty boring. There was nothing to see only wide-open sea; other than a few flying fish I didn't spot any wildlife. The boat is so noisy it's impossible to talk to people and it's far too bumpy to read. A lot of people fell asleep during the journey.
Flying between the Galapagos Islands
It is also possible to fly between the islands. Both Emetebe and Fly Galapagos offer inter-island flights. However, with flights costing around $180 each way and only 11kg of checked baggage included, these aren't really an option for budget travellers.
Transport on the Galapagos Islands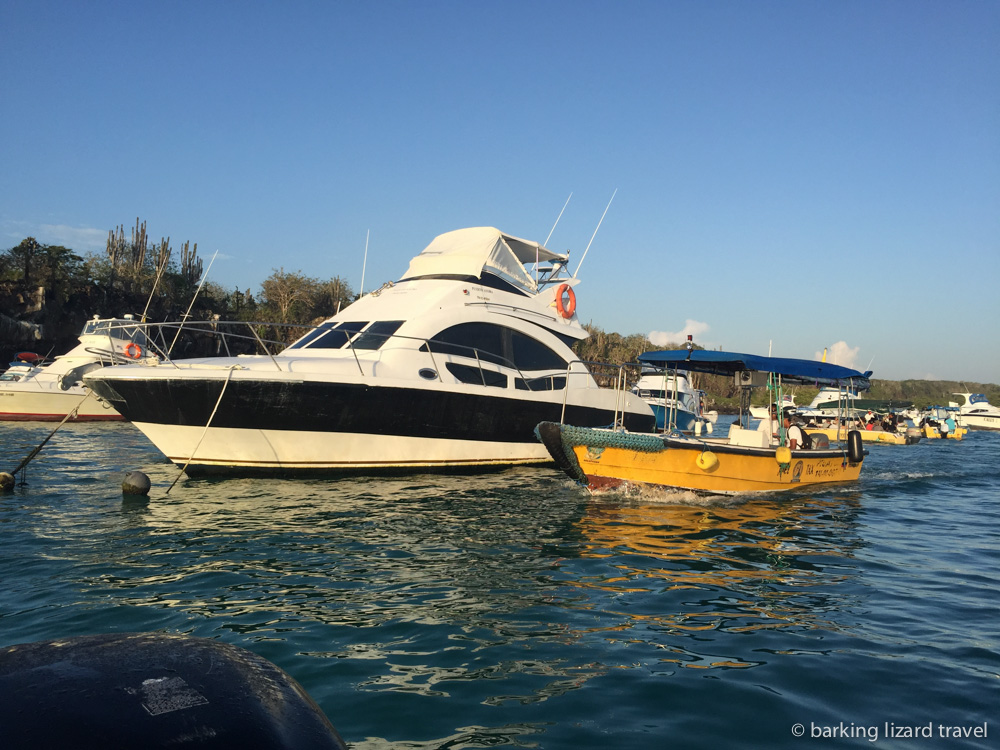 The towns on the islands are small enough to explore by foot or bike. There is a public bus service on Santa Cruz that travels from the CITTEG bus station up into the highlands 4 times a day Monday to Saturday and less frequently on a Sunday.
On all the islands, the taxis are white pick-up trucks. Unfortunately, as happens all over the world, some taxi drivers will try to rip you off. I got quoted $20 to take me from Puerto Ayora to El Chato Tortoise Reserve in Santa Cruz, when I said that was too much he dropped to $15. In the end I decided not to go as it was late in the afternoon and I didn't have much time. If you want to visit El Chato, try to find some other travellers heading that way to split the cost and be prepared to haggle.
Taxis were cheapest on San Cristobal, where there is supposed to be a fixed rate for journeys. However, this still didn't stop a driver trying to rip me off by asking for $2 for a short trip in the town that should only have cost $1. A taxi from the town to the airport has a fixed price of $1.50.
Puerto Villamil is so small you can walk around it but if you have a lot of luggage you may need/want to get a taxi from the port to your hotel. I didn't use any taxis but read it costs about $2 from the port into town (approx. 1 km away).
In Puerto Ayora you also have the option of Water Taxis. These are a fun and inexpensive way to visit different parts of the island such as the Punta Estrada beach in front of the Finch Bay hotel. They have a fixed cost of $0.80c between 6am to 7pm and $1.00 between 7pm to 6am.
Eating out on a budget in the Galapagos Islands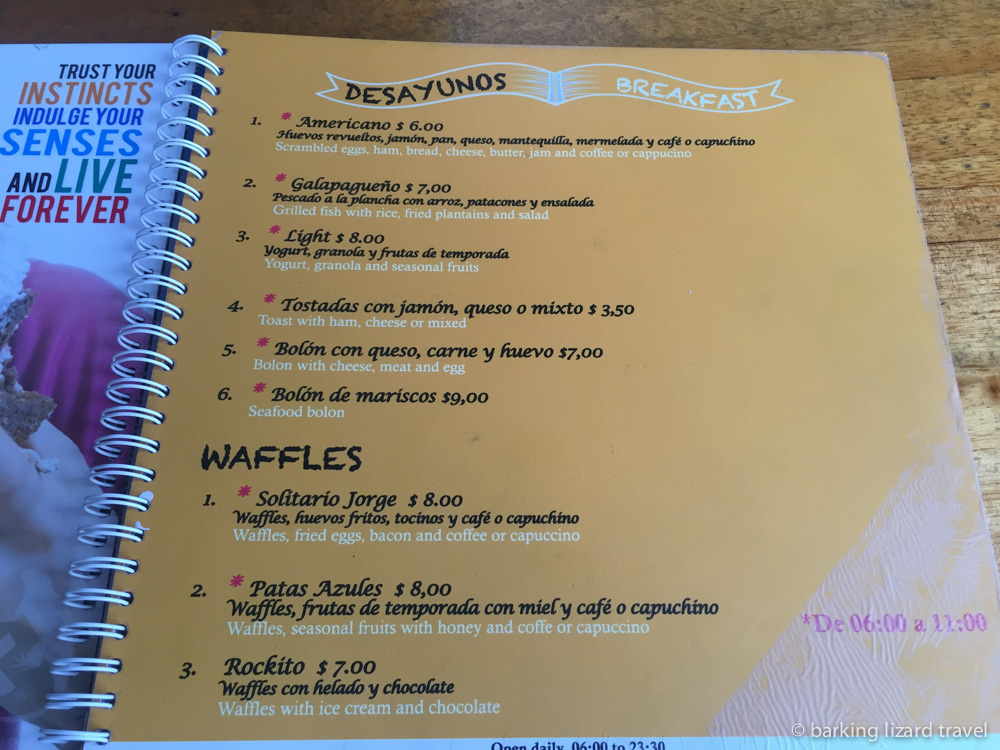 There are plenty of options to suit all budgets on the three main islands. I found eating out to be the most expensive in Puerto Villamil, Isabela and cheapest in Puerto Baquerizo Moreno, San Cristobal. Puerto Ayora, Santa Cruz has the biggest selection.
Puerto Ayora has a large well stocked supermarket near the harbour, which is a good place to stock up on snacks and drinks or to buy food for self-catering.
The most expensive meal I had was in The Rock a tourist restaurant on Av. Charles Darwin in Puerto Ayora, where I forked out $16 for a plate of pasta and a sparking water. My cheapest was a hearty meal of rice, beans, salad and a juice for $4 in local Ecuadoran restaurant around the corner from Hotel Brisas del Pacifico in Puerto Ayora.
I tended to have a big breakfast and then just snack throughout the day rather than eating lunch.
I don't really drink and didn't buy any alcohol there. I'm also vegetarian so all the meals listed here were meat and fish free.
Cost of my meals in the Galapagos*
Puerto Ayora, Santa Cruz
Breakfast: 'Desayuno Americano' ('American Breakfast' consisting of Scrambled eggs, bread, cheese, & coffee): $6 – The Rock
Lunch: Plate of chips and small bottle of Coke $5 – local Ecuadoran restaurant
Dinner: Penne pasta & soft drink at the Rock – $18
Dinner: Rice, beans, salad, and a soft drink – $4 – local Ecuadoran restaurant
Dinner: brick-oven Pizza Galapagos Deli – $10
Puerto Villamil, Isabela
Breakfast: Desayuno Americano x 3 – $7 local Ecuadoran restaurants
Dinner: Pasta with tomato sauce – $7 – local Ecuadoran restaurant
Dinner: Falafal Burger and fries – $9 – Shawarma
Puerto Baquerizo Moreno, San Cristobal
Breakfast: Desayuno Americano x 2 – $4 each at Mi Grande
Lunch: Rice & beans, salad, and juice – $4 at Lucky's
Dinner: Large Quinoa salad and soft drink at Rustica – $12
*Excludes tips (10% service charge is usually included in your bill)
What to do in the Galapagos on a budget
Galapagos Island tours are pricey so if you are on a budget you'll need to decide which ones you are prepared to splurge on. Asides from organised tours there are plenty of free things to do on the islands.
Spotting wildlife in the Galapagos for free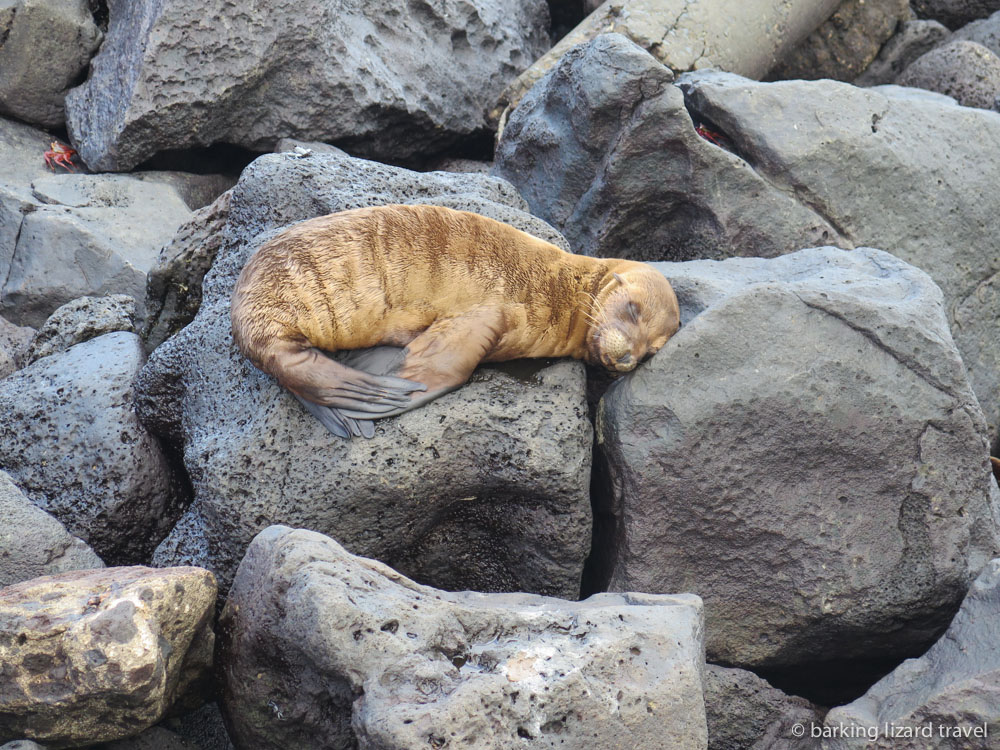 The main reason most people want to visit the Galapagos Islands is to see the fascinating wildlife. The islands are home to dozens of species that are found nowhere else on earth. Best of all, due to the islands isolated location and a lack of big mammal predators, most of the animals have no fear of humans making for some pretty unique encounters.
The good news is that even on a DIY budget island hopping tour of the Galapagos Islands you will have no problem spotting the main species the Islands are known for.
Here is a list of the wild animals I saw without having to go on a tour or pay any admission charges:
Marine Iguanas – everywhere
Galapagos Sea lions – everywhere (large colonies in Puerto Baquerizo Moreno, San Cristobal)
Giant Tortoises – Santa Cruz and Puerto Villamil, Isabela
Galapagos Penguins – Puerto Villamil, Isabela
Galapagos Pink Flamingos – Puerto Villamil, Isabela
Blue-footed Boobies – Puerto Ayora, Santa Cruz
Green Sea Turtles – Puerto Ayora, Santa Cruz
Juvenile Reef Sharks – Puerto Ayora, Santa Cruz
Sally Lightfoot Crabs – everywhere
Lava Lizards – everywhere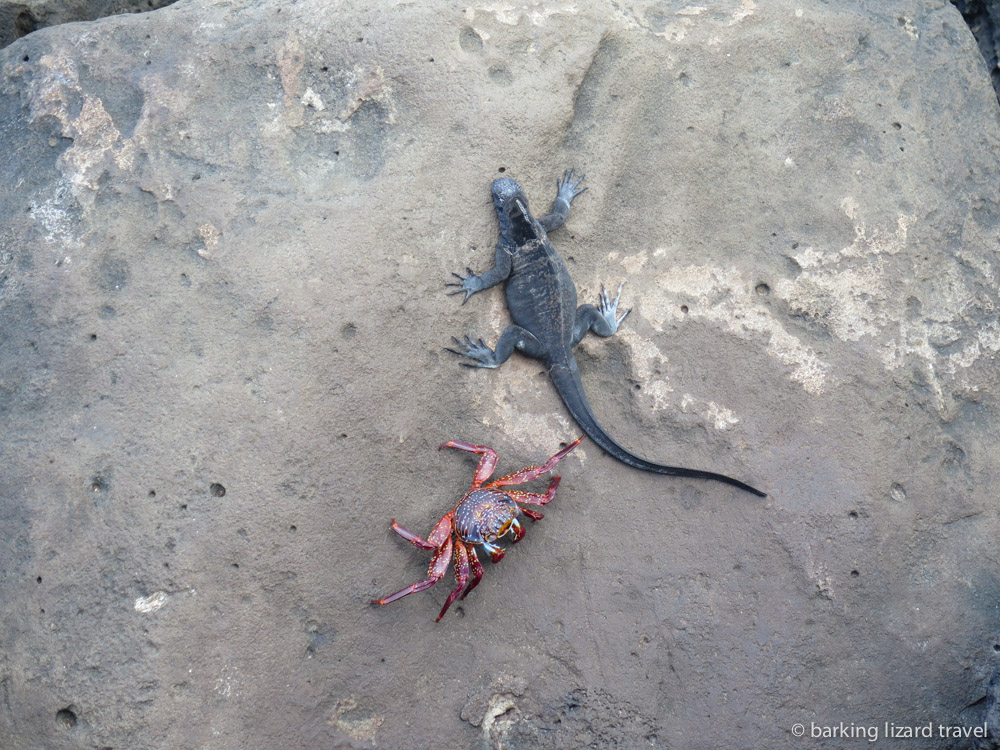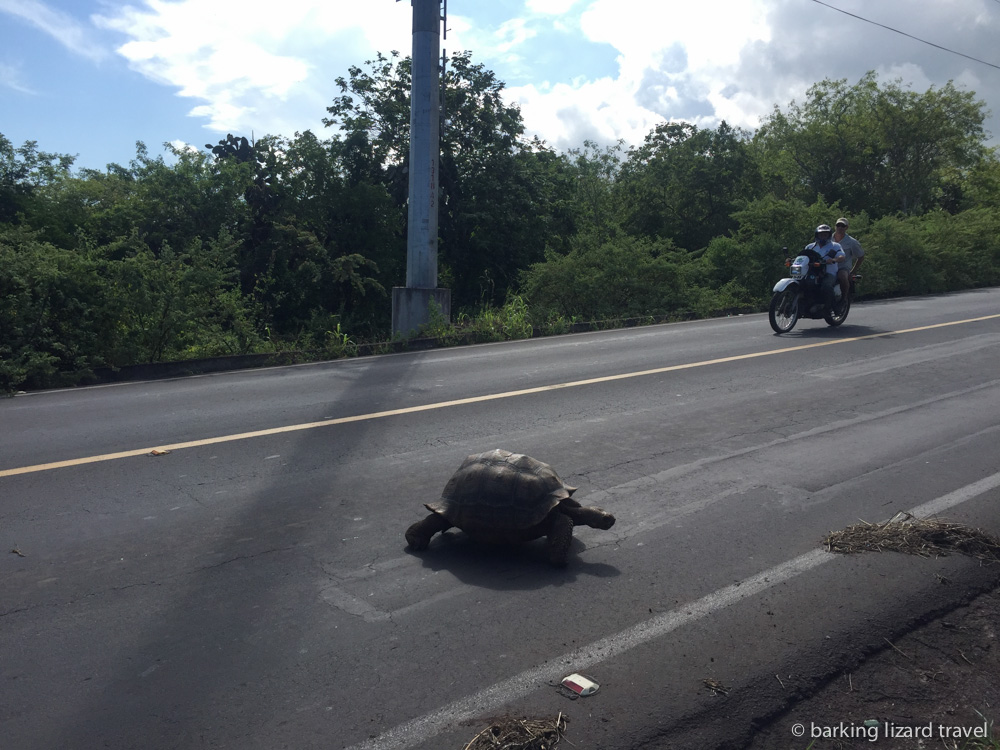 Day Tours on the Galapagos Islands
There are lots of day tours on offer on the islands, but they are expensive and will eat into your budget quickly. Choose wisely! Popular tours can book up quickly so if you have your heart set on one either book in advance or as soon as you get there.
If there is a specific species you want to see it's usually possible to do a specialised day tour. It's worth bearing in mind that day trips to other islands are generally very expensive. I met a woman in San Cristobal who spent $250 on a day trip to Española to see the Christmas Iguanas.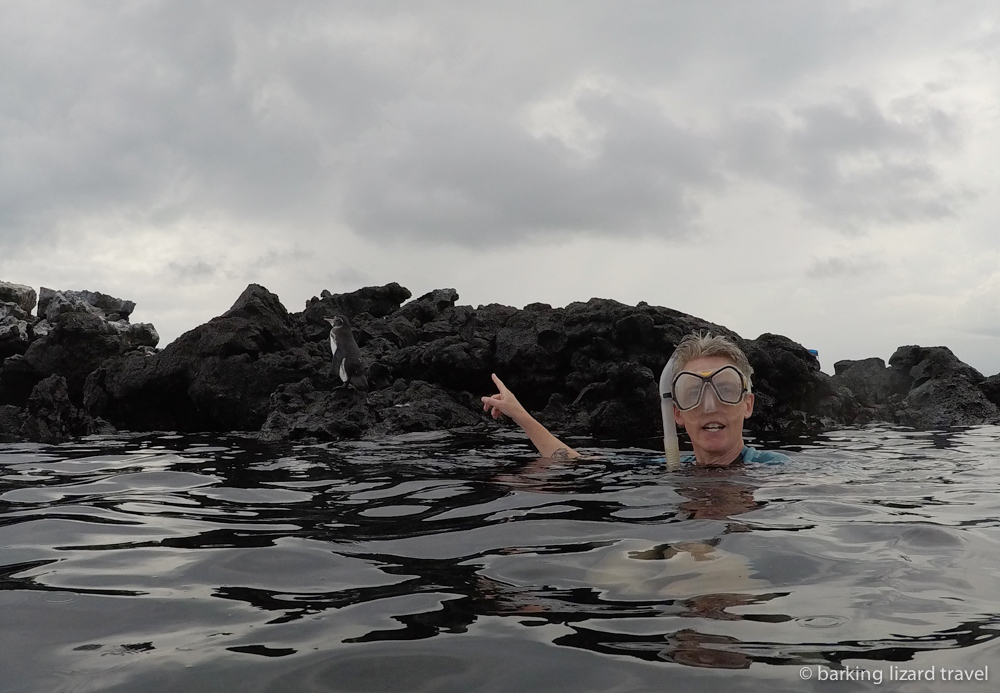 I decided to do the Los Tuneles Snorkel Tour from Puerto Villamil. This 5 to 6 hour tour, considered one of the best on the islands, leaves twice a day at 7:30am and 11:30am. I tried to book the 7:30am tour when I arrived on Isabella but it was booked out so I went on the 11:30am.
We saw manta rays, hammerhead sharks, Nazca boobies, and Galapagos penguins from the boat. We stopped off at the otherworldly lava tunnels where we were able to walk around and take photos. We were also lucky enough to spot a pair of Blue-footed boobies going through their comical mating ritual.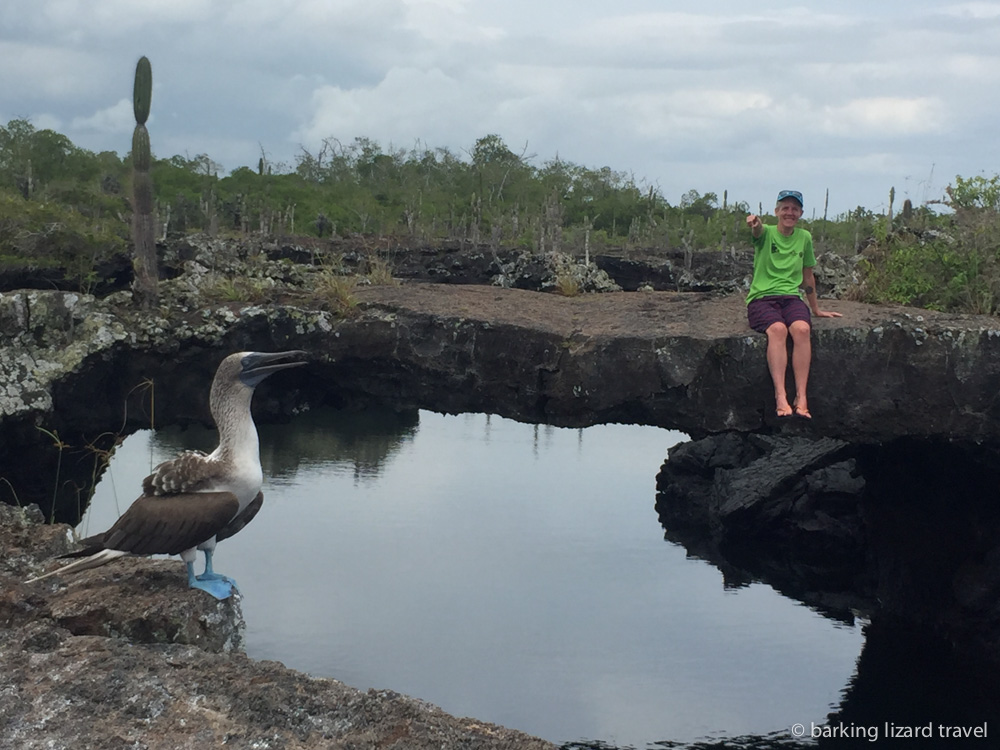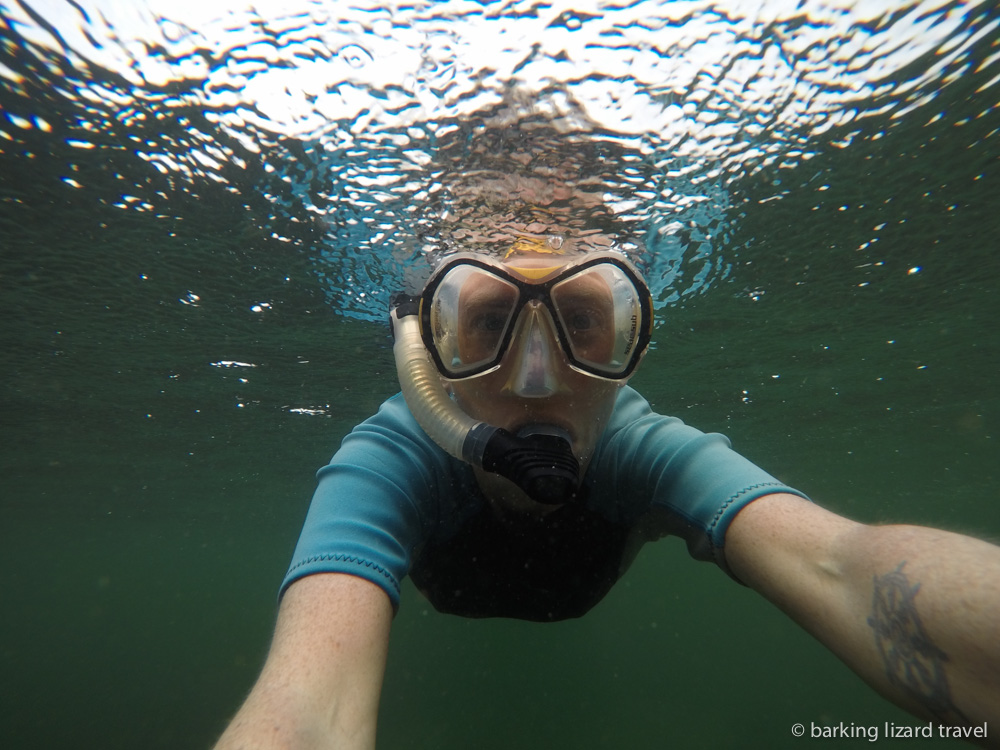 Our guide Tamara was really well informed and helped us spot seahorses and reef sharks up close(!) in an underwater cave.
I booked the tour with Ostrero Pacifico in Puerto Villamil and it cost $110 (including a tasty filling lunch) plus an extra $5 to rent a shorty wetsuit.
Rentals on the Galapagos Islands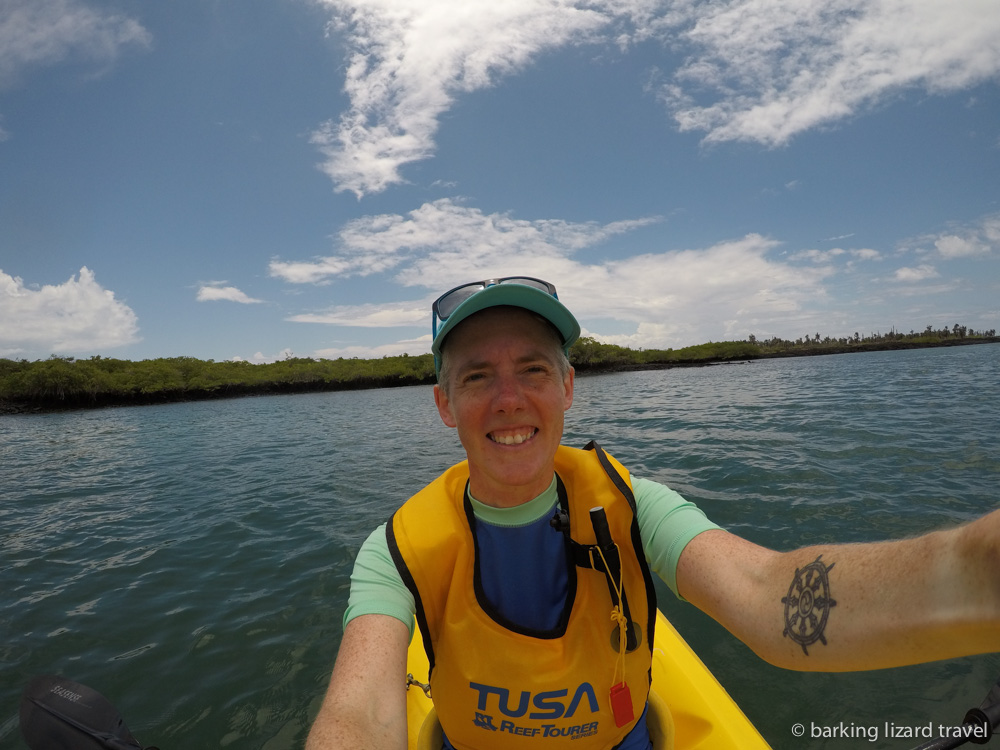 Renting a bike is great and inexpensive way to get around the islands. There are actually pretty good bike paths in Puerto Ayora and traffic is virtually non-existent in Puerto Villamil. A full day bike rental on the islands costs around $20 or $3 an hour.
In Playa Mansa, Tortuga Bay you can rent Kayaks for $10 a hour. This is a great inexpensive way to get out on the water and spot some wildlife.
The other thing you may need to rent is snorkel gear. As I was on a longer backpacking trip in South America I didn't have space to for snorkel gear. Fortunately, there are plenty of places to rent from and it only costs $5 a day to rent good quality snorkel kit (mask, snorkel, and flippers).
Managing your money while in the Galapagos Islands
Despite the large number of tourists that visit, the Galapagos islands are like mainland Ecuador, very much cash orientated. More upmarket tourist shops, hotels, and restaurants will accept credit cards, but most tour operators, budget accommodation, and cheaper restaurants only except cash.
Even if a place does accept credit cards it's more than likely they will slap on a 5% card payment fee and you will probably need to pay a foreign transaction fee to your bank as well.
Therefore, it's particularly important for budget travellers to bring enough cash.
There are several ATMs in Puerto Ayora and San Cristobal. I used the ATMs beside the supermarket in Puerto Ayora without any issues. However there are no ATMs on Isabela so make sure to bring enough cash for your stay.
Also, be aware that most foreign debit cards have a daily withdrawal limit determined by your bank (mine was a $300 a day) and you will probably need to pay a foreign transaction fee on top of this.
My total spend for 7 days in the Galapagos – February/March 2019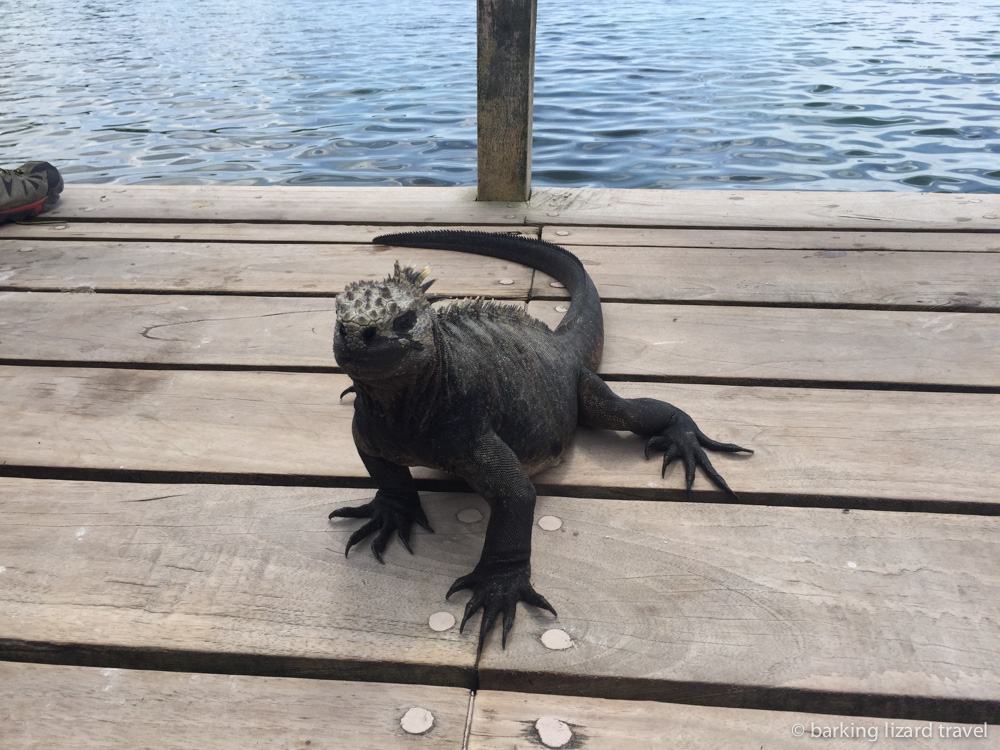 Flights from Ecuador to the Galapagos Islands
Tame – Guayaquil to Baltra (Santa Cruz) – $187.81
Tame – San Cristobal to Quito – $174.90
Total: $362.71
Compulsory Galapagos Island Fees
INGALA Tourist Control Card – $20
Galápagos National Park entrance fee – $100
Isabela harbour Foreign Tourist entrance fee – $10
Total: $130
Accommodation
6 nights in a private double room
Total: $143
Eating Out
5 breakfasts – $35
2 lunches – $9
6 dinners – $60
Total: $97*
*excludes tips, and snacks and drinks outside of meal times
Transport on the Islands
Bus Baltra Airport to Baltra Dock $5
Bus onto Puerto Ayora -$5
3 x Inter Island Speed Boats – $90
Water Taxis – $3.30
Taxis – $7
Total: $110.30
Day Tours
Ostrero Pacifico Los Tuneles Snorkel Tour – $110
Extra shorty wetsuit rental – $5
Total: $115
Rental Gear
Bike rental
Bike & Smile, Puerto Ayora, full day – $20
Galapagos Bike & Surf, Puerto Villamil, 2 hours – $8
Snorkel gear rental
The Wooden House Lodge, Puerto Villamil – day rental – $5
Leon Dormido Expeditions, Puerto Baquerizo Moreno – day rental – $5
Kayak rental
Playa Mansa, 1 hour – $10
Total: $48
My grand total for 7 days in the Galapagos Islands:
$1006.01!