Over the past 10 years the trek to La Ciudad Perdida (the Lost City) has firmly established itself on backpackers wish lists when visiting Colombia.
The ancient city, located in a remote part of the Sierra Nevada de Santa Marta mountains, was built between the 11th and 14th centuries. It was home to the Tayrona, an advanced indigenous community with a unique culture who were sadly wiped out by the gold hungry Spanish in the 16th century.
The site was rediscovered in the 1970's by local graverobbers and in 2008 the Colombian military moved in to clear out paramilitary groups. This opened up the site to more tour agencies and greatly increased the treks popularity.
As I love a challenge, I decided to do the Ciudad Perdida trek during my month long trip to Colombia in March 2019.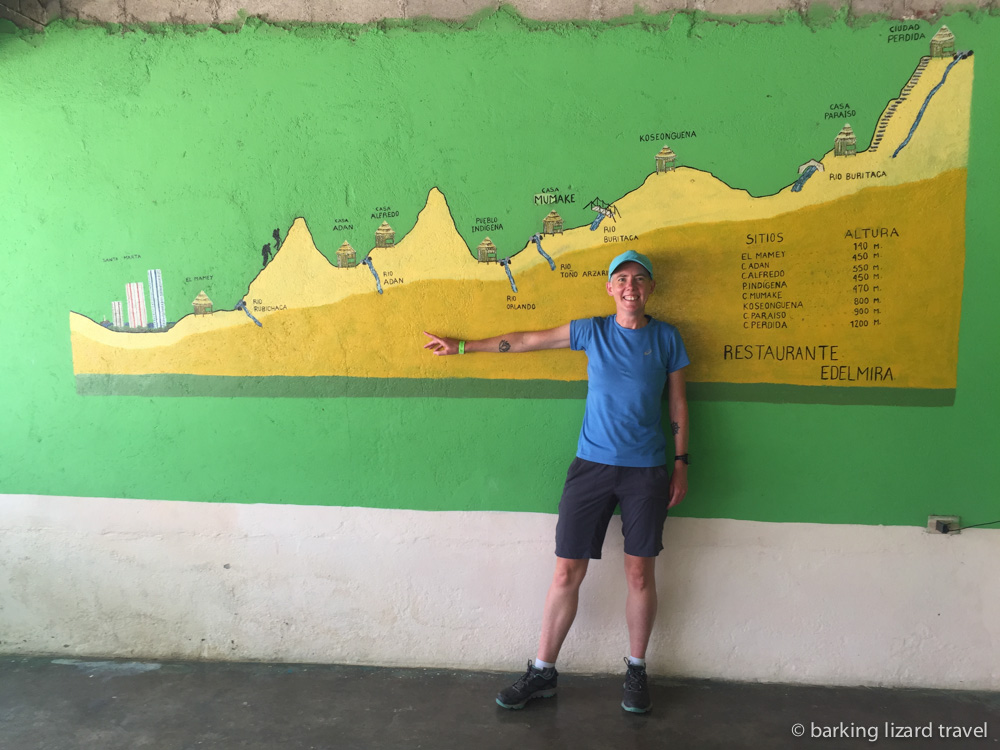 Day 1 – Thursday, March 21st
El Mamey to Camp Adán 7.6km approx. 3 hours
I woke up with a headache and feeling nauseous, really not what I needed when about to set off on strenuous hike! I tried to eat some breakfast but ended up getting sick. I hoped that headache was due to the heat rather than having a virus.
I met with my group at the Magic Tours offices in Santa Marta just after 8:30am. We got into 4×4's for the 3 hour drive to El Mamey (also known as Machete) where the trek begins. The drive from was bumpy and uncomfortable and sitting in the back seat of the 4×4 only made me feel more nauseous. We stopped at a petrol station to fill up and I was sick again. Our guide saw me, came over to check if I was ok and suggested I move to the front seat.
It was more comfortably up front and I fell asleep. After about half an hour I was beginning to wake up when suddenly I spotted a large skinny black and white striped snake shooting across the road. After that excitement I was wide awake and felt a lot better.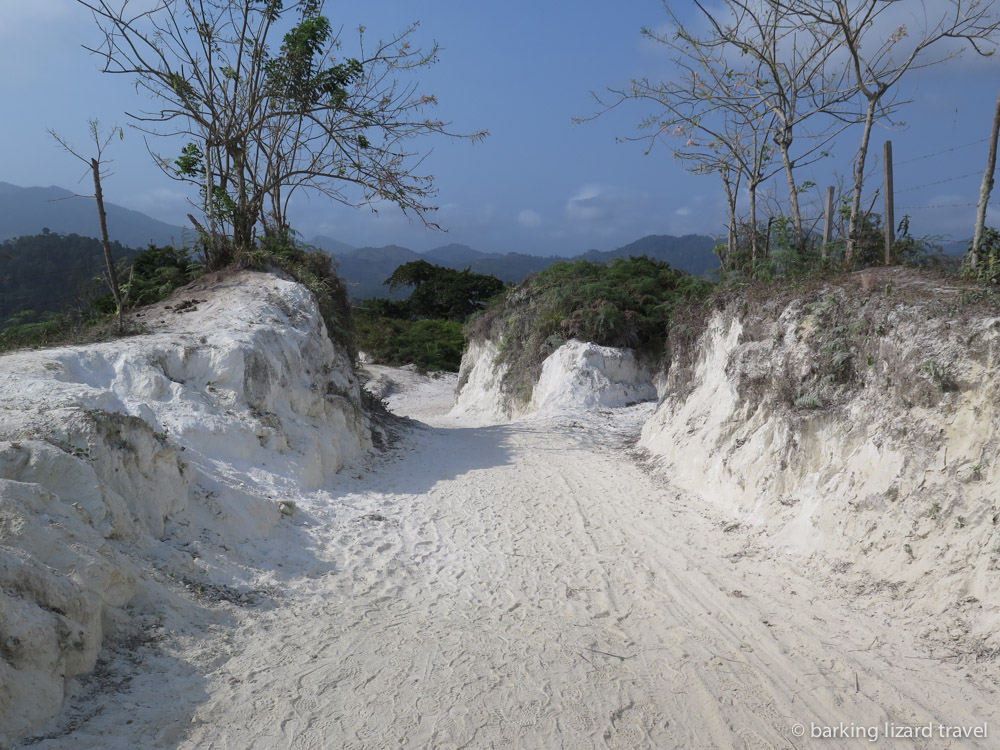 Once we reached El Mamey we went to a local restaurant for a filling lunch. Thankfully by this stage the nausea had stopped and I was hungry enough to eat. We were introduced properly to our guide Marón & his wife Blanca who were from El Mamey and our translator Brando from Santa Marta.
After lunch we started off on the trek. The first section was up and down but there were no crazy hard climbs or descents. We made a few pit stops along the way to take photos and before long we had made it to the first camp. There was a lovely natural pool beside the camp where we were able to cool off in a before meeting for dinner.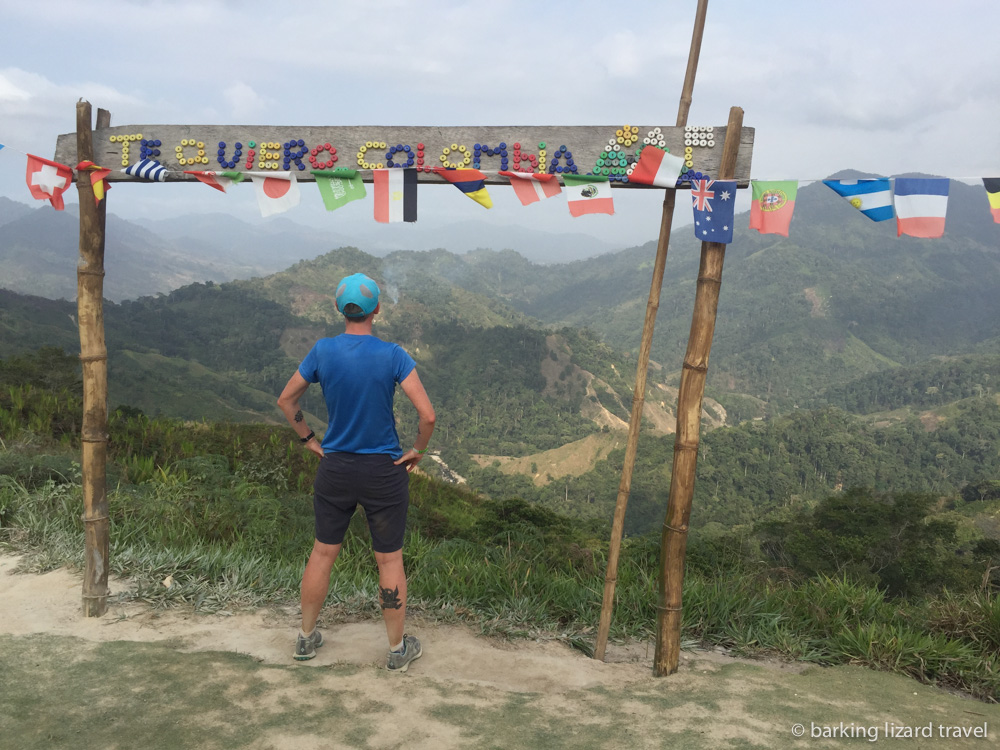 Before arriving at the camp the guide had mentioned that some of the group might have to sleep in hammocks if there weren't enough beds. I really didn't fancy spending the night in a hammock after several hour of hiking. Thankfully though there were enough bunk beds for everyone.
After a good dinner we were all exhausted and most of us were in bed by 8pm. I had no trouble falling asleep. The beds were comfortable enough and I slept through the night.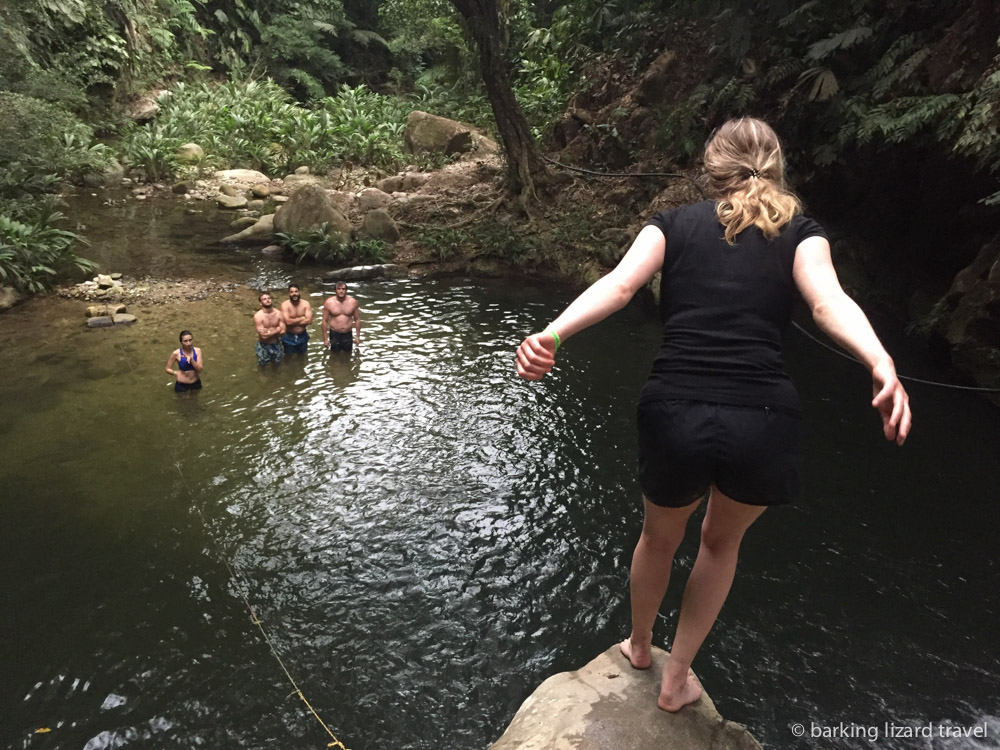 Day 2 – Friday, March 22nd
Camp Adán to Camp Paraiso 15.7km approx. 7 hours
We were woken up at 5am and after breakfast set off on a 2 hour hike to an indigenous village. Here our guide Marón explained to us a bit more about indigenous culture. He showed us a Poporo, a sacred object given to Kogi and Wiwa men when they reach 18 to mark their transition into manhood.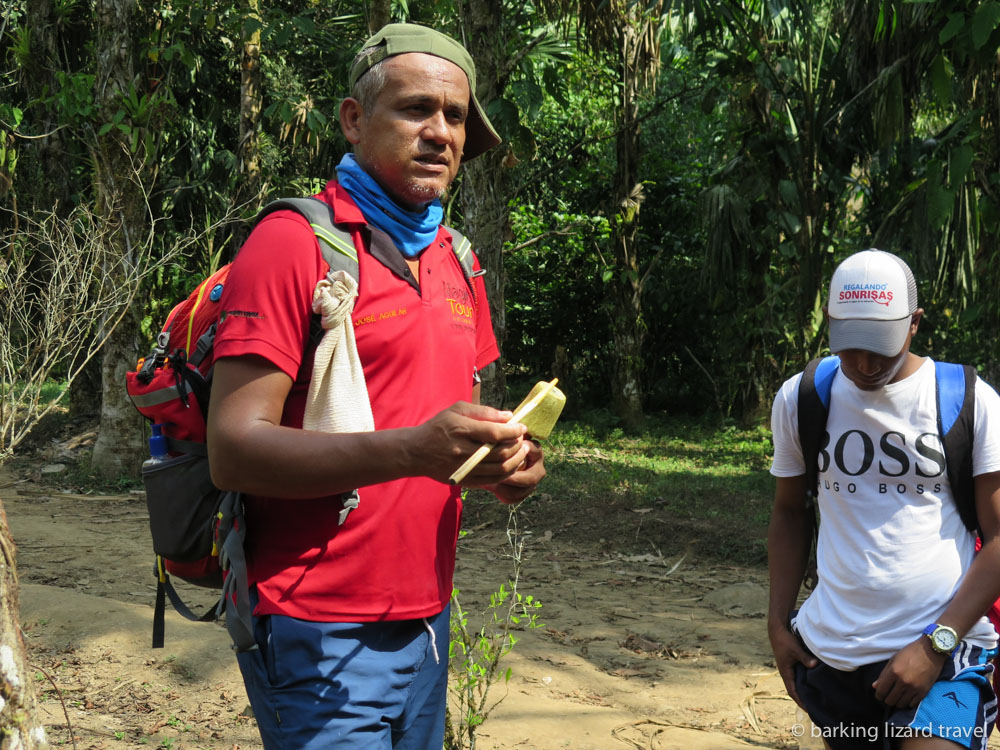 We tried dried Coca leaves, which are still chewed by the indigenous men. Marón also told us the indigenous people are shy and generally don't like having their photo taken. I made sure to check with him before taking any.
After we continued on hiking to another camp where we stopped and had lunch before continuing on to camp Paraiso Teyuna.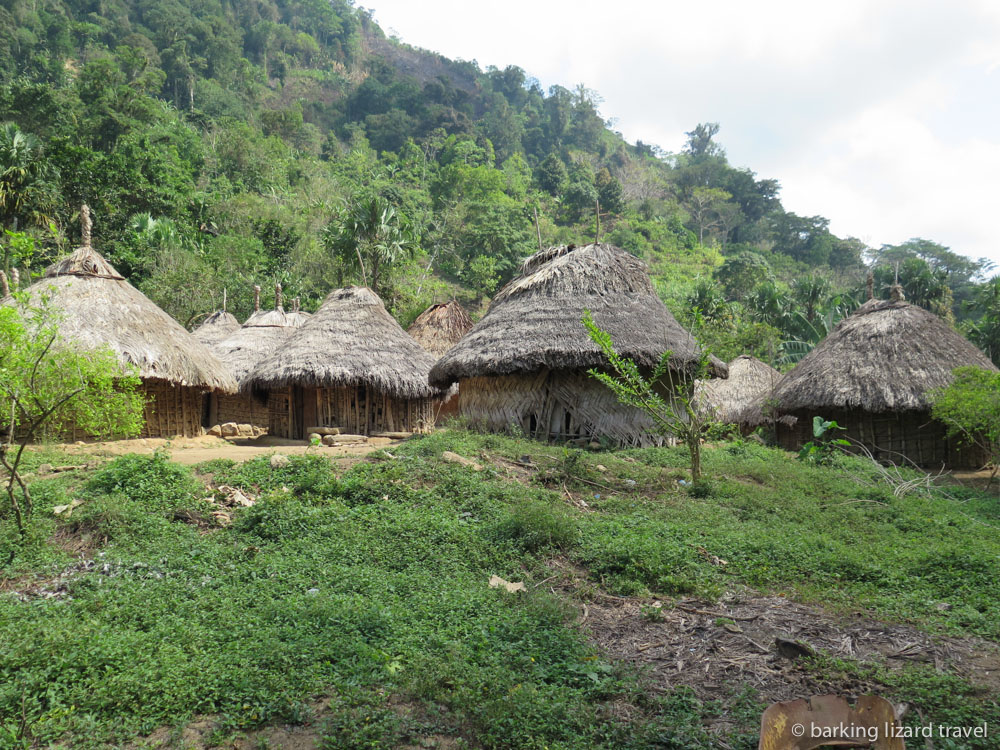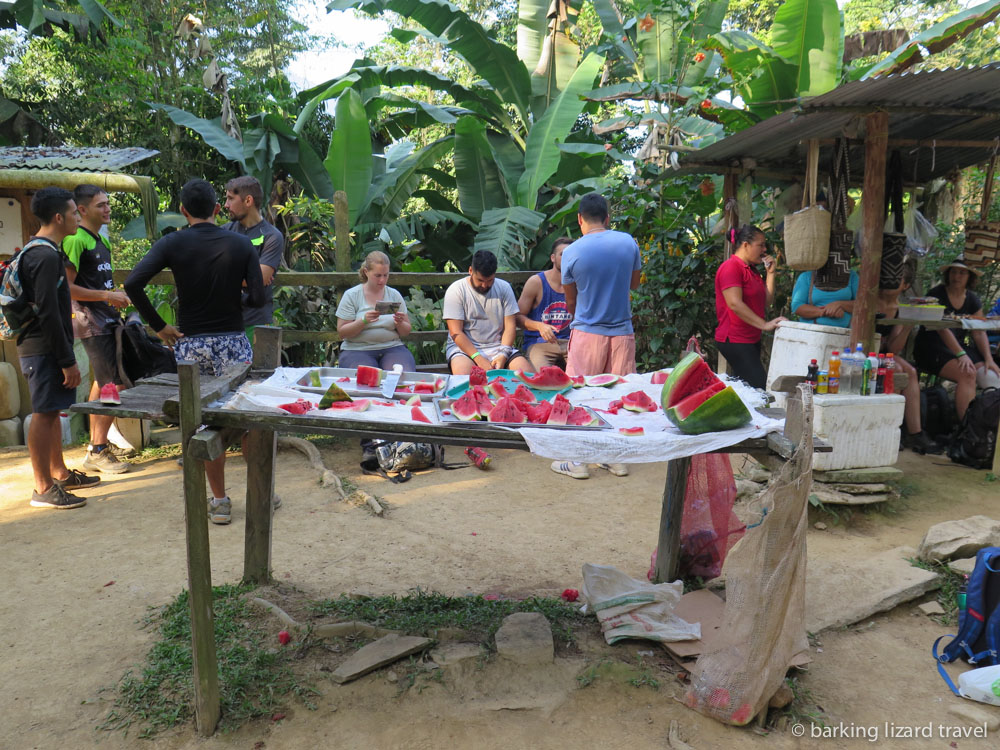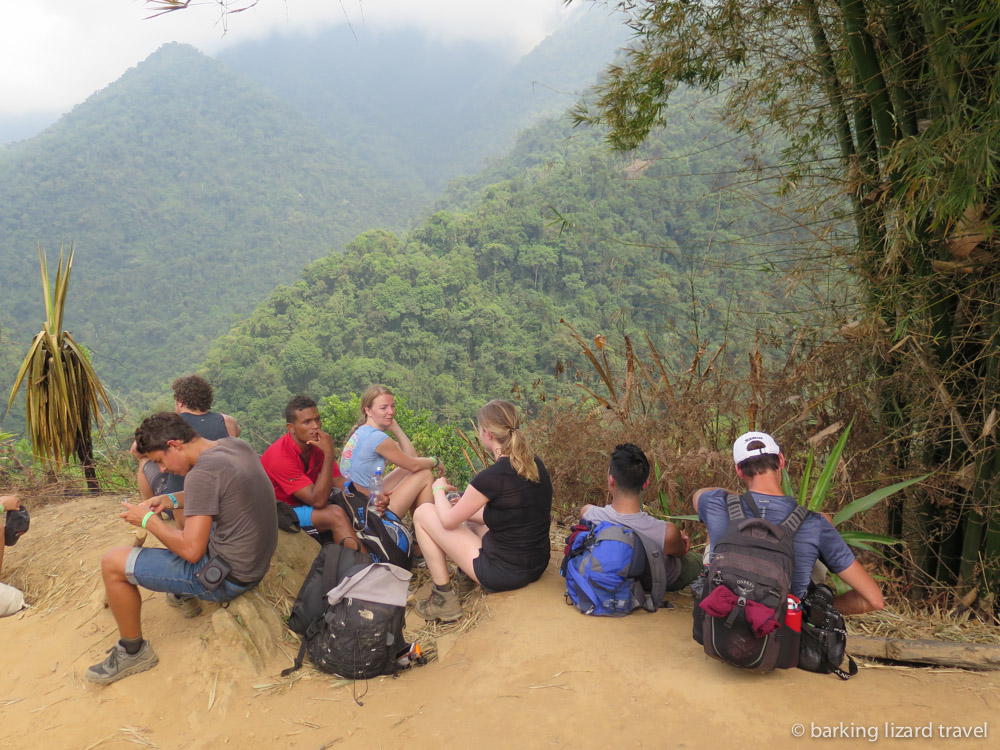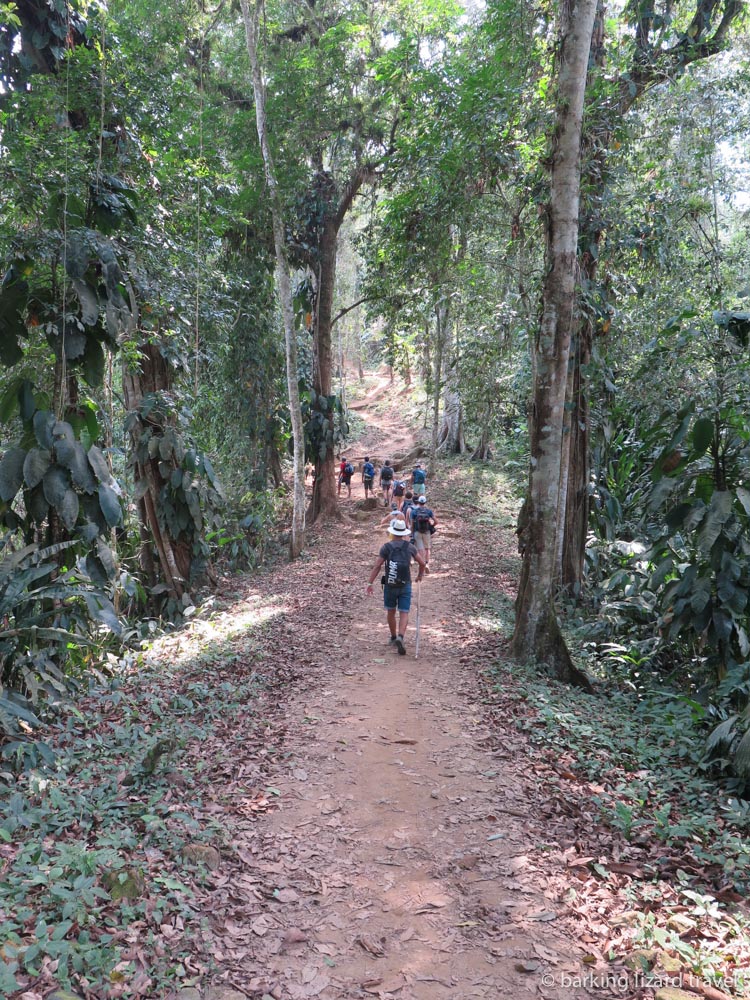 This was our longest day of hiking and although I was tired by the time I reached the camp I didn't find it particularly difficult or overly strenuous. Most of our group were able to keep together and we moved at a reasonable pace. Even the two Colombian women, who were struggling a little managed to keep up.
It was also a good opportunity to get to know the group better and chatting to each other made the day go by quicker. There were 14 people in our group; a Dutch couple and another Dutch woman, two young German couples, a French man, a Swiss man, a Canadian man and 3 Colombians (one man and two women), who were all from Bogota.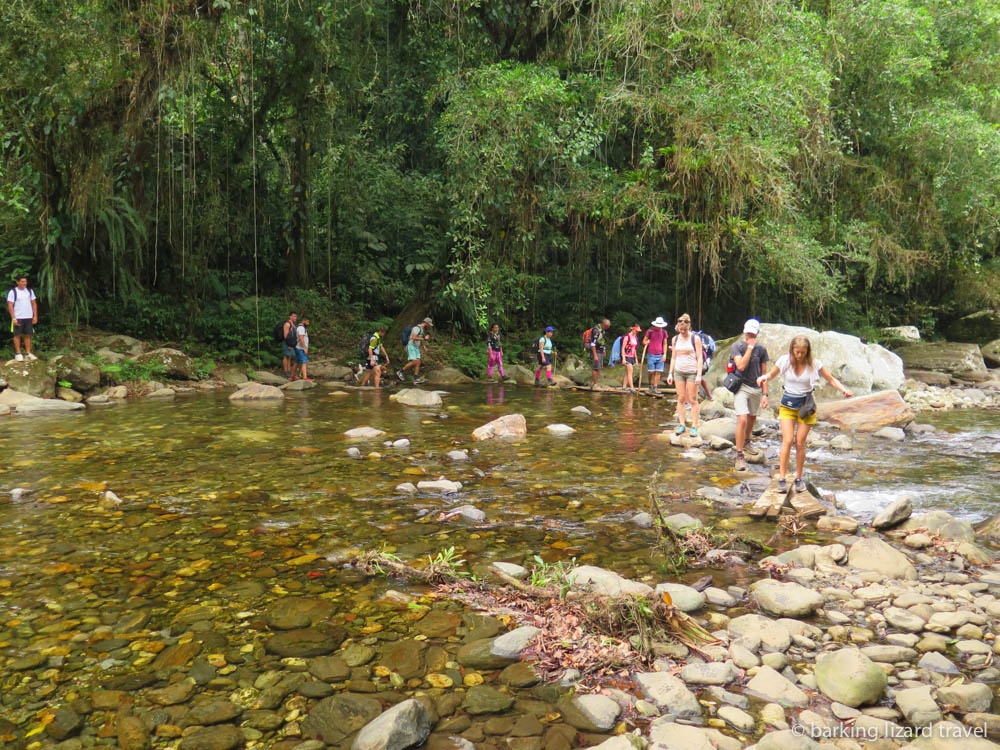 As it was at the end of the dry season the river crossings didn't involve getting wet. The water was low enough for us to use stepping stones to cross. I was slightly worried I would lose my footing and end up with wet shoes. So I took my time, crossed carefully, and my trekking shoes remained dry.
When we arrived at the camp they had a large bowl of Popcorn for us as a pre-dinner snack. It tasted like the nicest thing ever after a long day of hiking!
Day 3 – Saturday, March 23rd
Camp Paraiso to La Ciudad Perdida and back 1km approx. 1 hour each way
Camp Paraiso to Camp Mumake 6.6km approx. 4 hours
We left the camp after breakfast for the hour long hike to the Lost City site. Getting to the site involves climbing over 1200 narrow stone steps. Going up them was fine but I was concerned about going back down.
We all looked up when we heard a helicopter flying over. Marón told us that a guide from another group had slipped going down the steps the day before and broken his ankle! The poor guide had to spend the night at the site until the helicopter could fly in to rescue him. This made me even more nervous about the descent!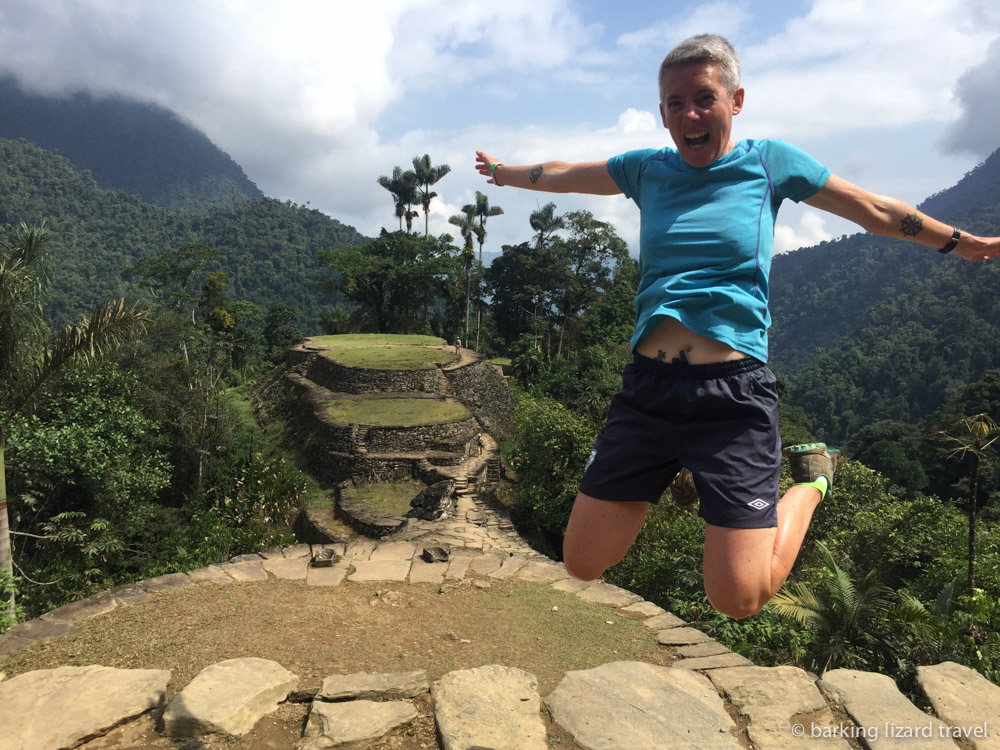 At the site there was a little cabin where our guide checked in the group and we were all given a little souvenir passport. Finally we got to see La Ciudad Perdida!
The setting is beautiful but the site itself is relatively low-key and didn't blow my mind. For me this trek was always more about the journey than the destination. After two and half days of trekking through mountainous jungle reaching the Lost City felt like a great achievement.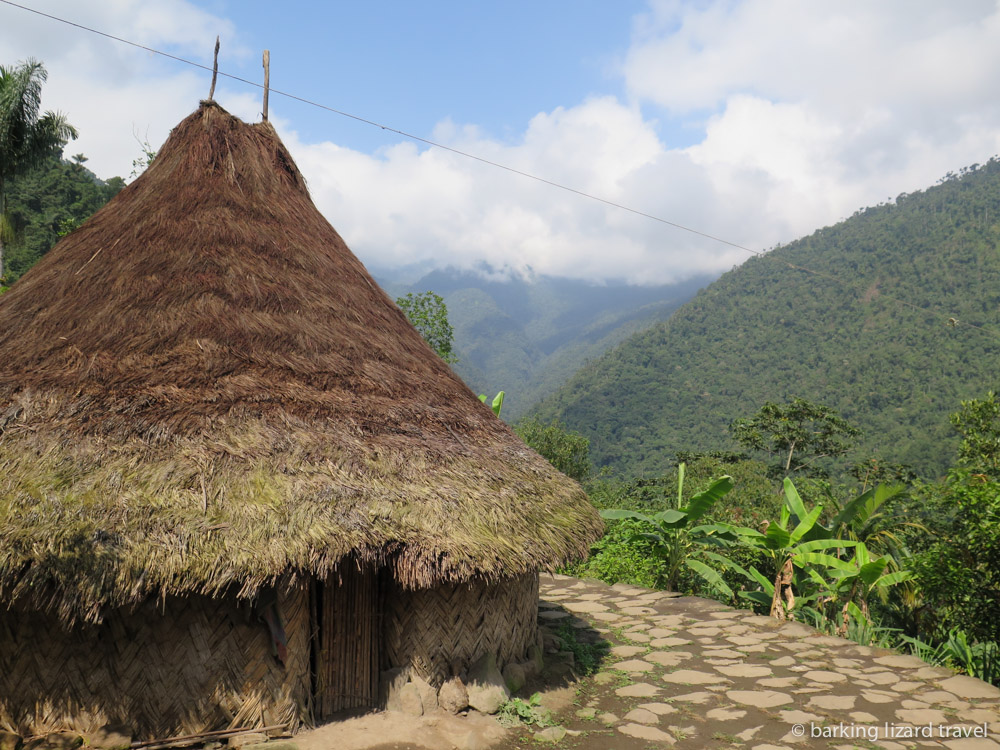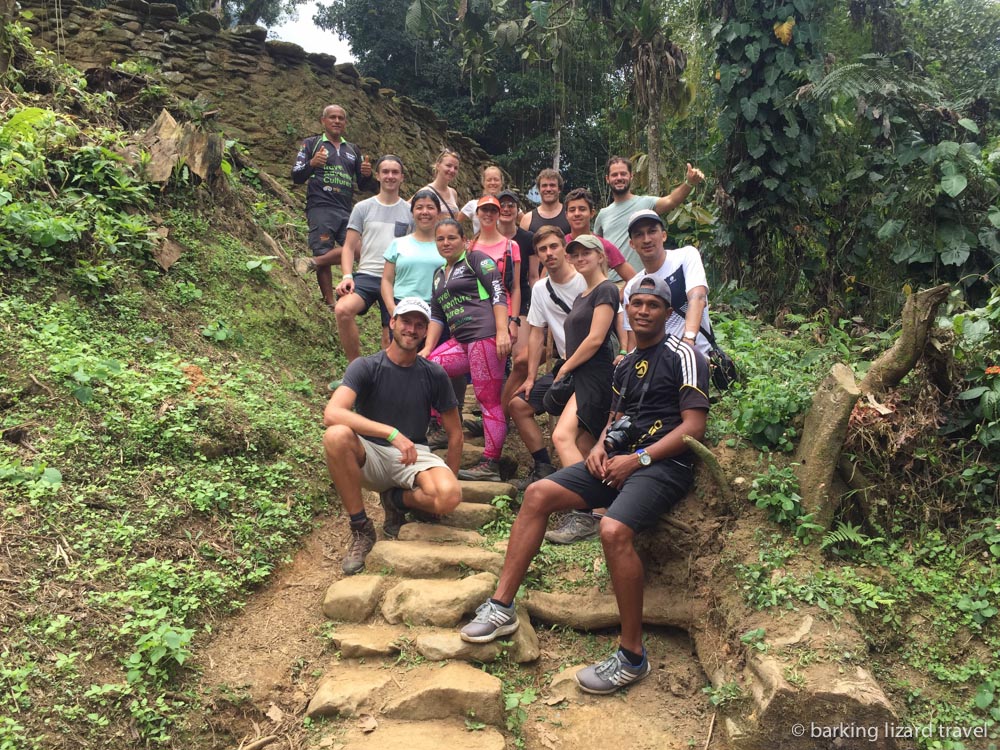 We had plenty of time to look around, take photos, learn a bit more about the history of La Ciudad Perdida and have some snacks. Then we made our way back to camp Paraiso for lunch. Descending the steps weren't as bad as I thought. They weren't slippy and we all took our time.
The afternoon was a 4 hour hike to reach camp Mumake, where we would spend our final night.
Day 4 – Sunday, March 24th
Camp Mumake -> El Mamey 15km approx. 7 hours
The final day was another long day of hiking back along the trail we had come in on. I was expecting to find it long but the group were all in good spirits. We chatted all the way back and reached El Mamey before we knew it. The two Colombian women, who had been finding the hike tough going, opted to have their bags carried out by mules.
We had a final lunch together at same restaurant as on the first day. We were all on natural high having completed the trek. We exchanged contact details and said our goodbyes before heading back to Santa Marta in the 4x4s.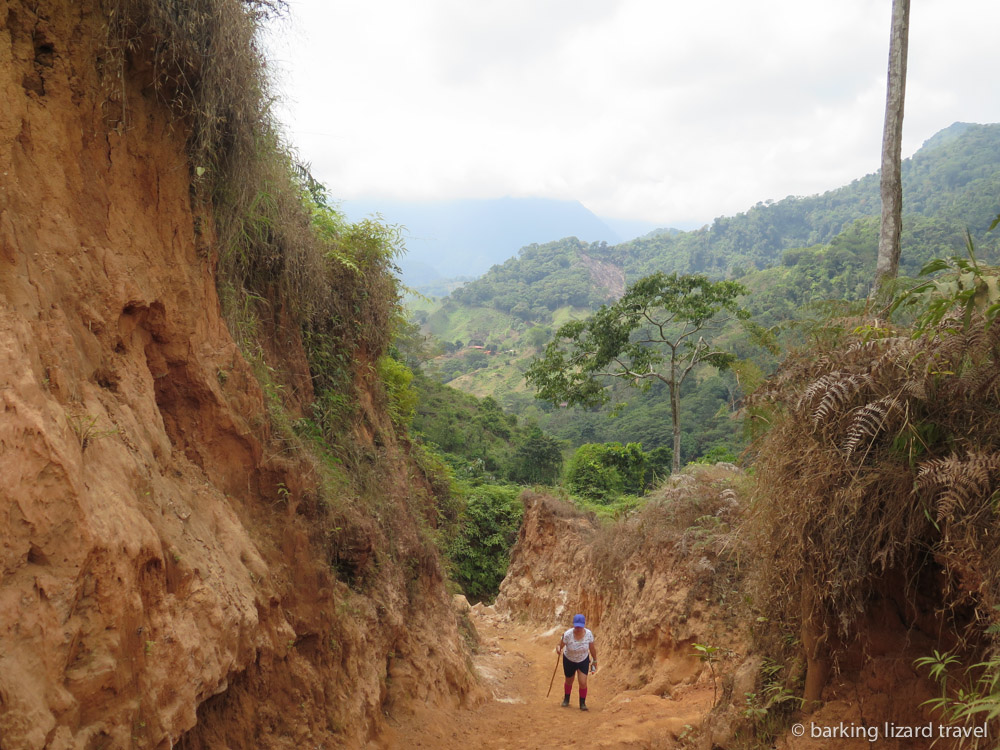 Our guide Marón had been excellent throughout. He was knowledgeable, approachable and encouraging and always made sure that everybody in the group was ok. Our translator Brando always had a smile on his face and had a great sense of humour.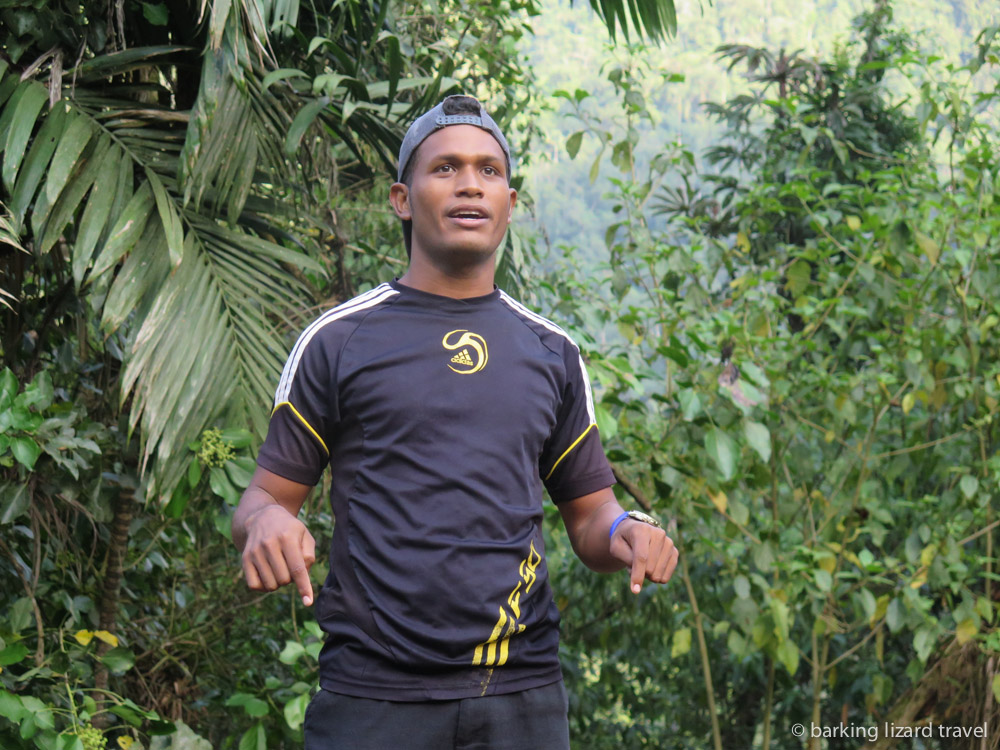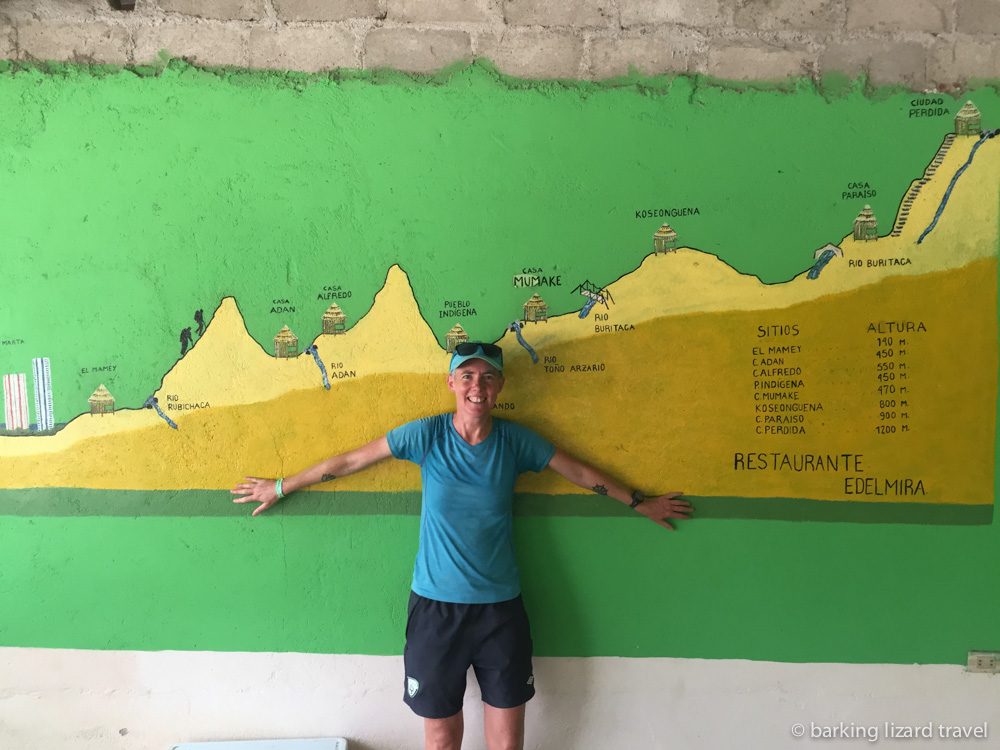 The experience of trekking for 4 days through stunning mountain jungle, far away from traffic and the connected world, passing by indigenous villages, learning about local culture, and bonding with the group made the experience unforgettable. Back in Santa Marta I had booked into a nice double room with air con in the appropriately named Hotel Paradise. I took the nicest shower ever and chilled out on the comfy bed. I had definitely earned a rest!