Why Colombia?
Visiting Colombia had been something I wanted to do for over a decade. I am fascinated with its complex history and culture and love Colombian coffee! Colombia (excluding Cartagena) is still mainly a backpacker destination and I was keen to get there before the secret gets out and mass tourism arrives. Everywhere I went the friendly locals were intrigued that I was visiting their country and wanted to know what I thought about it.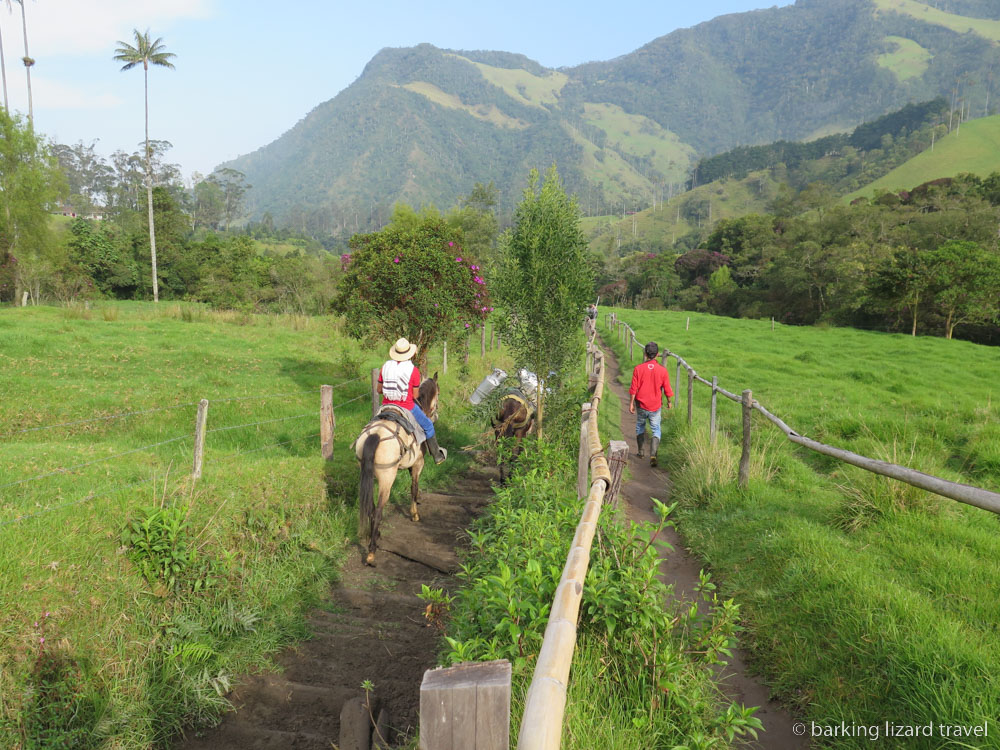 Is one month enough?
Colombia is a big country, one of the largest in South America. Don't underestimate the time you need to get between cities. For the most part I travelled between cities using local buses, mini vans or collectivos (shared taxis).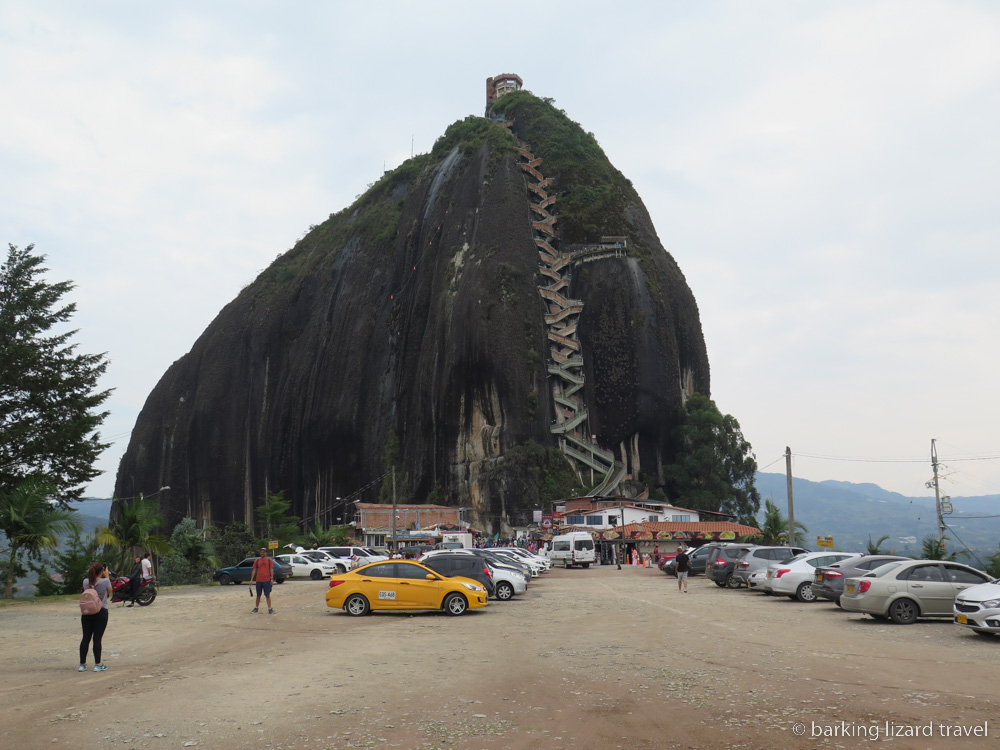 I took a few internal flights to save time but in hindsight I should have spent more time there. There are good public transport options available, you just need to give yourself the time to get around.
One month is definitely enough time to give you a good overview of Colombia and visit most of the main attractions. But it's not enough time to visit everywhere. You could easily spend a couple of months in Colombia and not run out of things to do. I recommend spending at least a month and longer if possible. I regret not spending longer there!
Bogota – 1 night
When I arrived I only spent one night in Bogota before flying to Leticia the following morning.
Leticia – 1 night
Leticia is located deep in the Colombian Amazon in a tri border area with Peru and Brazil. You can walk to the adjoining town of Tabatinga, which is in Brazil, without any border formalities. The Peruvian Island of Santa Rosa is a short boat ride across the Amazon River. This is where the boats for Iquitos in the Peruvian Amazon leave. It's a fascinating place to visit, unlike anywhere else in Colombia.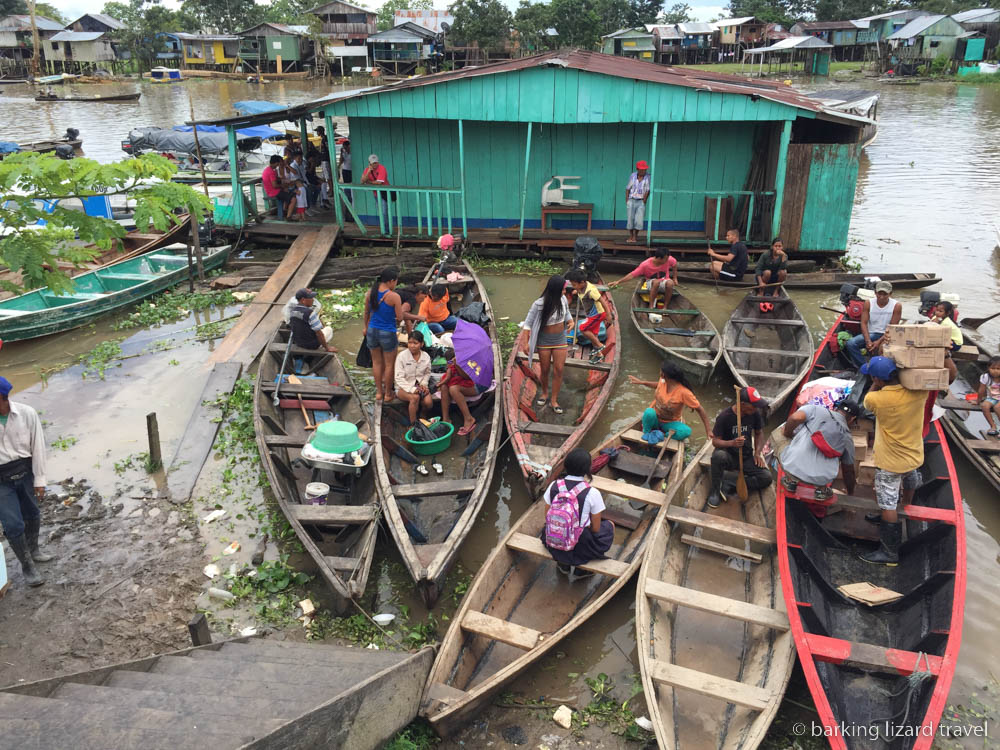 Leticia – Santa Rosa – Iquitos (Peru) Fast Boat 1 night
I took the overnight fast boat from Santa Rosa to Iquitos and then spent 4 days in the Peruvian Amazon. After spending two weeks in Northern Peru I travelled onward to Ecuador where I spent another two weeks.
Quito – Tulcan – Ipiales – 1 day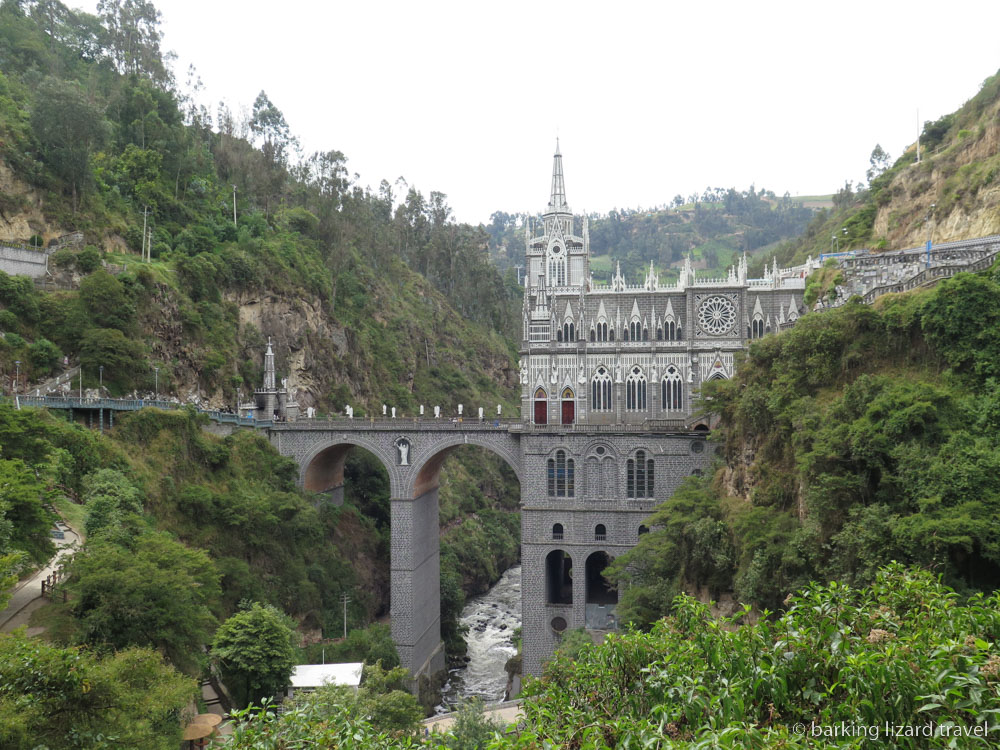 I made my way from Quito, Ecuador across the border at Tulcán to Pasto. Enroute I took a detour to Ipiales to visit the Santuario de Las Lajas. I wouldn't usually go out of my way to visit a church but I'd seen the amazing photos and wanted to check it out for myself. There is left luggage in Ipiales bus station so I was able to leave my backpack. A collectivo (shared Taxi) took me to the village of Las Lajas, a 15 min ride that cost COP $2500.
The location of the church is spectacular and well worth a visit. As it was a weekday it wasn't too busy. This did however mean I had to wait a little bit for a collectivo to fill up heading back to Ipiales.
Pasto – 1 Night
From Ipiales I took a 2.5 hour collectivo (COP $10,000) to Pasto. I spent one night there to break up the journey to Popayan. I didn't see much of the town and didn't think there was any reason to stay longer.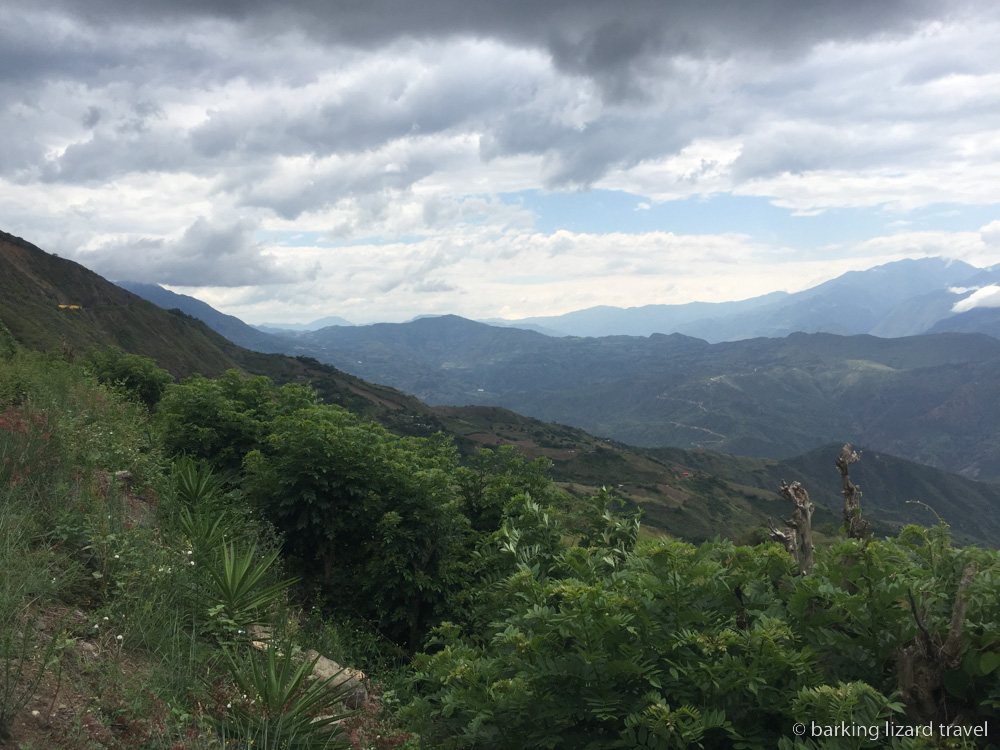 Popayan – 3 nights
The white washed colonial buildings of Popayan are its main draw. I found a lovely laid-back hostel (El Caracol) to stay in. Popayan is a pleasant city to walk around. The 'free walking tour' with Get up and Go Colombia, was a great way to get an insight into the city and to meet some fellow travellers. Climbing up the hill at Tres Cruces gives you good views over the city.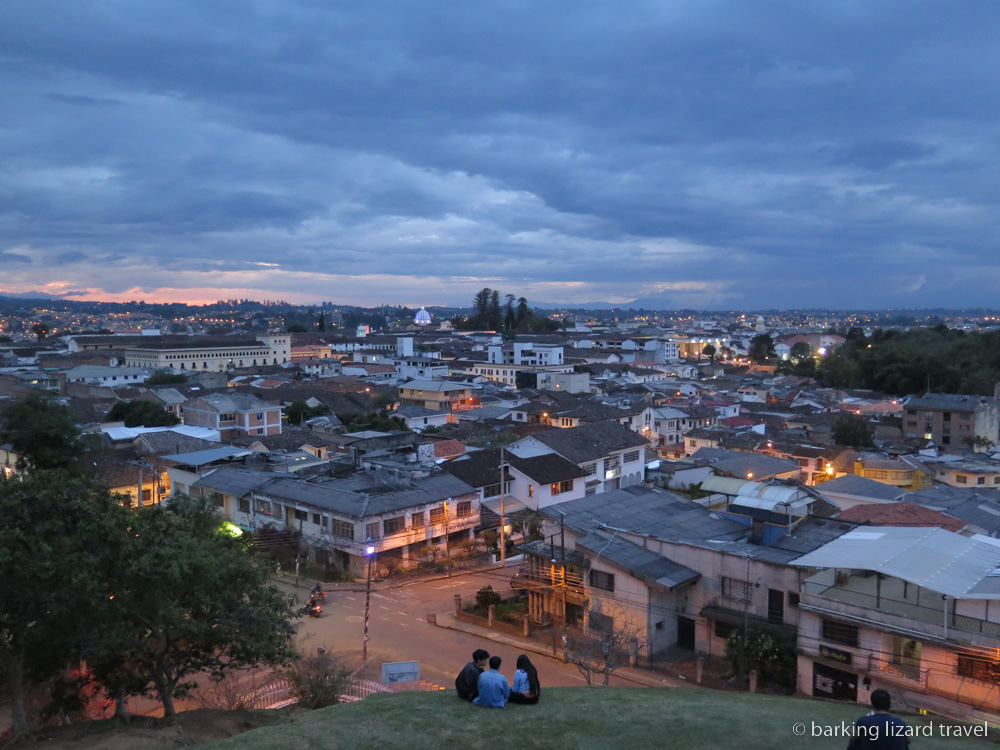 I visited the Agua Hirviendo Thermal springs on the Coconuco Thermals & Biking Tour from Popayan Tours. You are brought up to the entrance of the springs in a 4×4 with mountain bikes in the back. Then after you visit the springs you cycle back down the mountain to Popayan. Both the Thermal springs and the tour were a little rough and ready but it was good fun.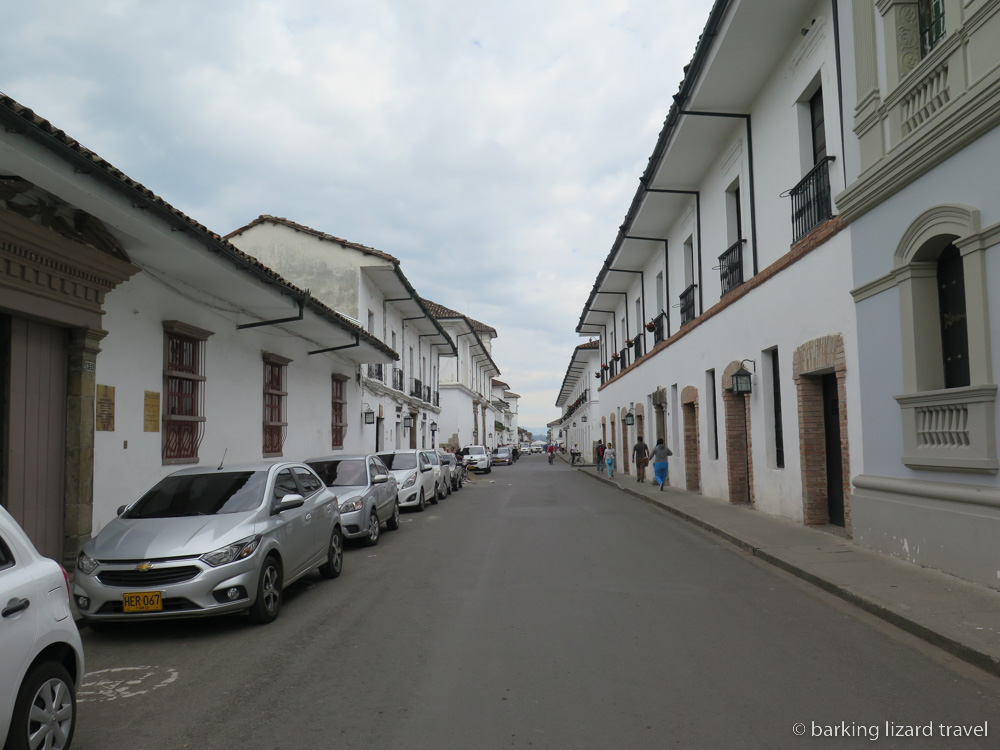 Salento – 4 nights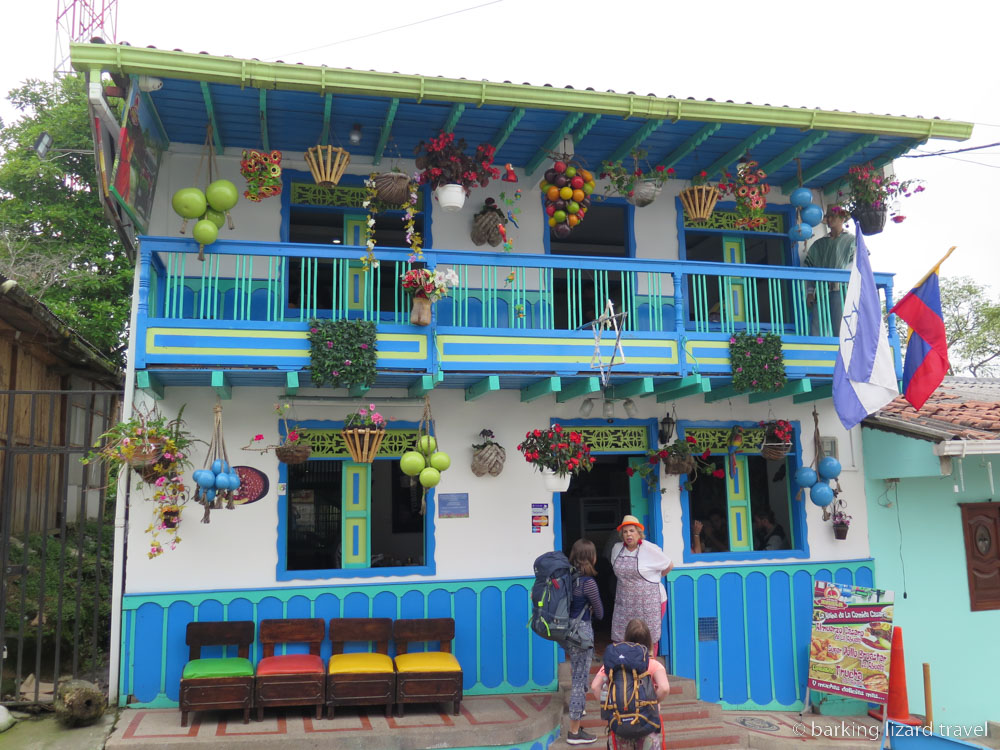 As a big Colombian coffee fan, I definitely wanted to visit the coffee region (Zona Cafetera). I decided to stay in Salento and wasn't disappointed. Salento is a pretty little laid-back town surrounded by lush beautiful countryside. It has excellent cafes and restaurants and offers easy access to the beautiful Valle de Cocora.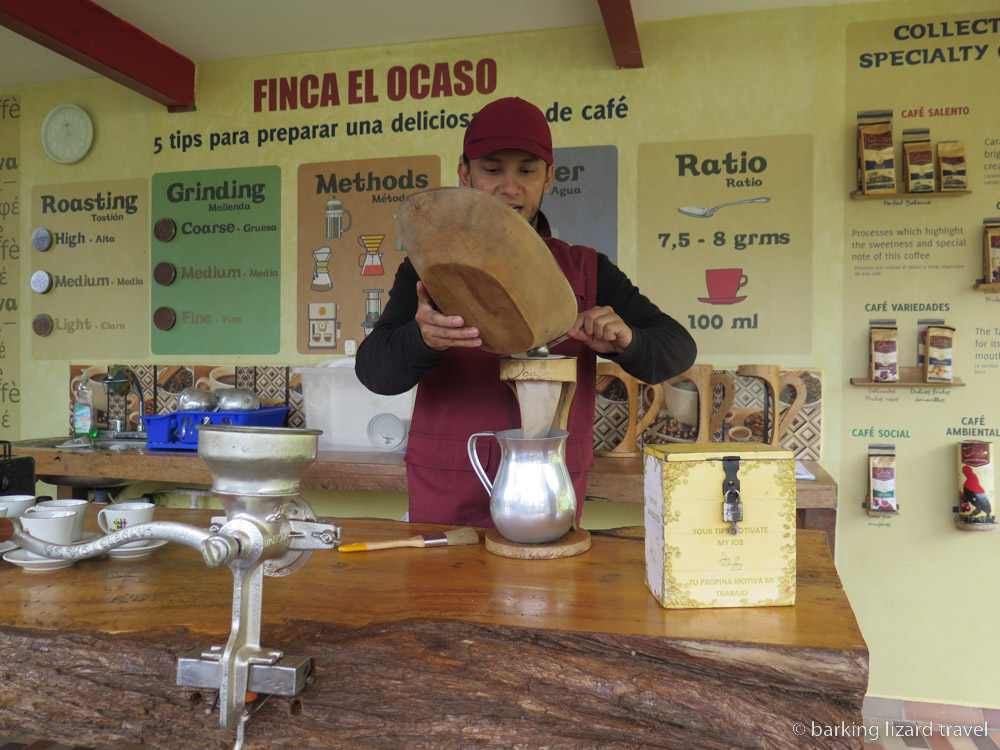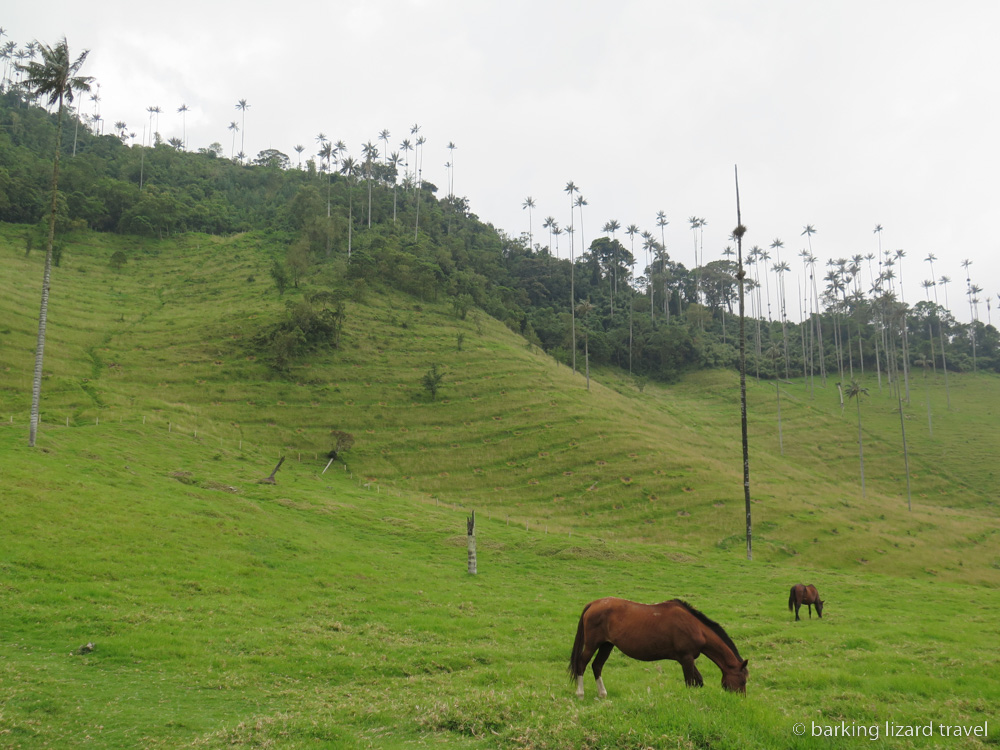 I visited coffee fincas at La Arzacia and El Ocaso and did a full day trip to Valle de Cocora (self-organized). I also drank lots of great coffee and really enjoyed wandering around the small town.
Medellín – 4 nights
Backpackers and digital nomads rave about Medellín. The city is relatively safe and has year- round pleasant temperatures. If you've watched Narcos, you'll know about one of its previous infamous residents and very troubled past.
I stayed in a flashpacker hostel (Rango) in the hipster neighbourhood of El Poblado; where most travellers end up staying. Personally, I found this area to be rather bland; it just reminded me of a non-descript North American city.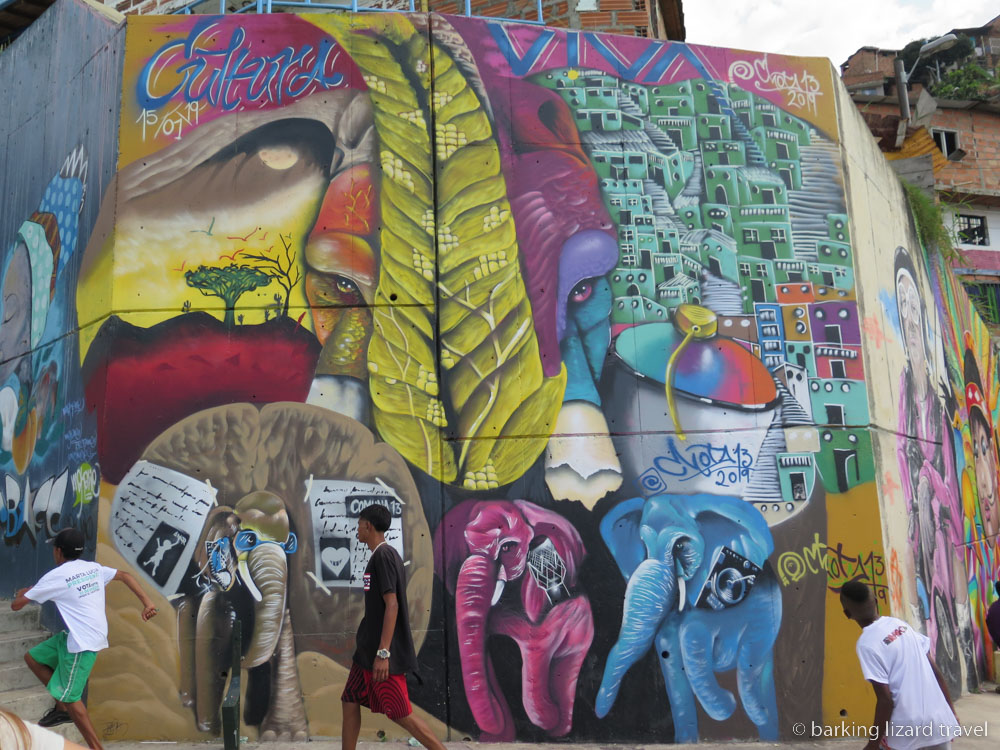 Medellín's centre is short on sights and not particularly enticing, although the Botero statues are worth a look. Far more interesting is a tour of La Comuna 13. Once one of the most dangerous neighbourhoods in the city it has been transformed into a vibrant area with street art and performers. I did a Graffiti walking tour with Freetour.com, which was a great way to see the neighbourhood. I also took the Metrocable (cable car) for great views of the city and the surrounding barrios.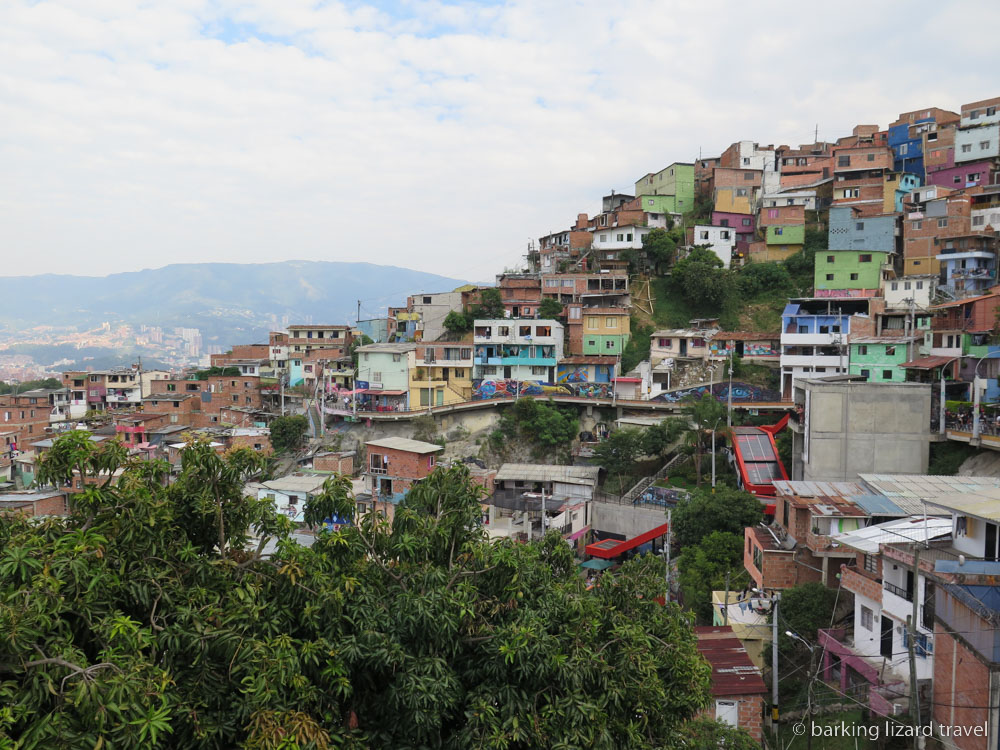 The excellent Museo Casa de la Memoria is also well worth a visit. It's an interactive museum dedicated to urban conflict that once plagued the city. Although the subject matter is heavy, this museum is far from stuffy and is a great way to learn about the city's troubled past.
Guatapé day trip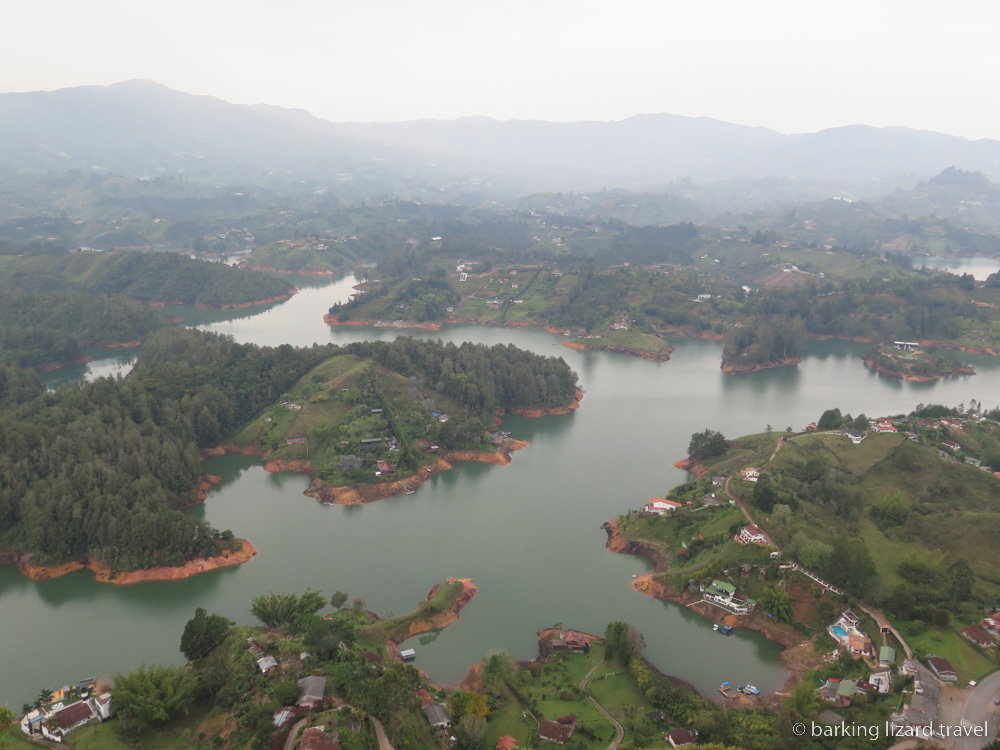 The kitsch little town of Guatape and the slightly bizarre Piedra del Peñol rock are worth a day trip from Medellín. I did a full day tour with Toucan Café (now closed) which stopped briefly for a tour of the small town of Marinilla, a neo-colonial style village before heading on to climb the 740 steps to the top of the Peñol rock. There are stunning views from the top of the surrounding finger lakes and mountains. Afterwards we continued on to Guatape where we had time to wander around the colourful streets.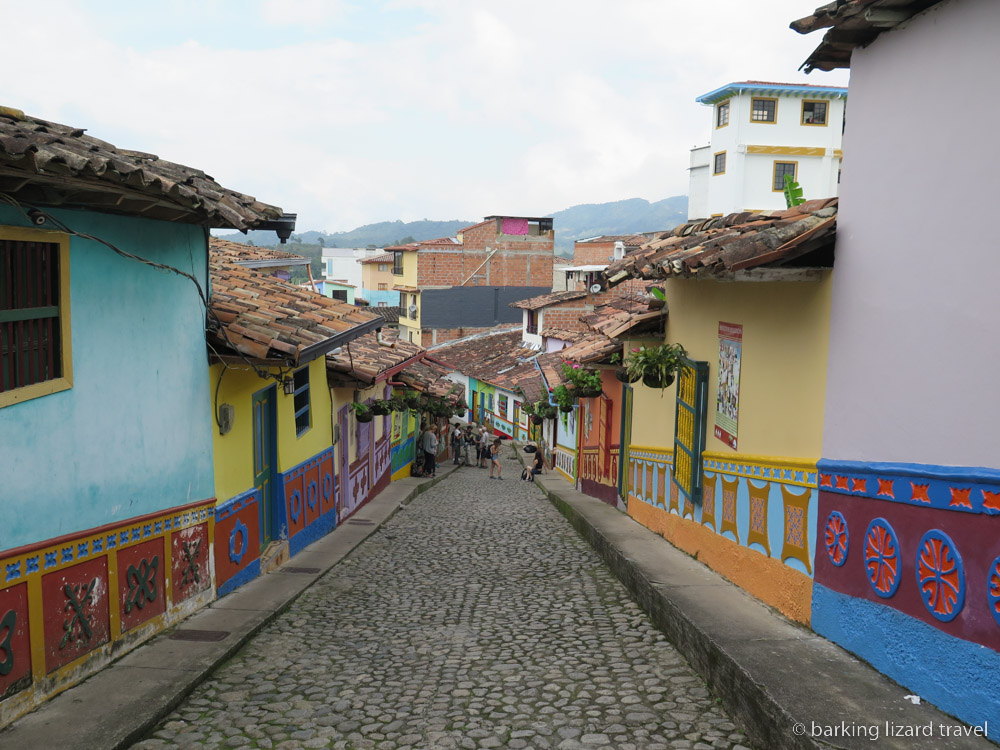 Santa Marta – 2 nights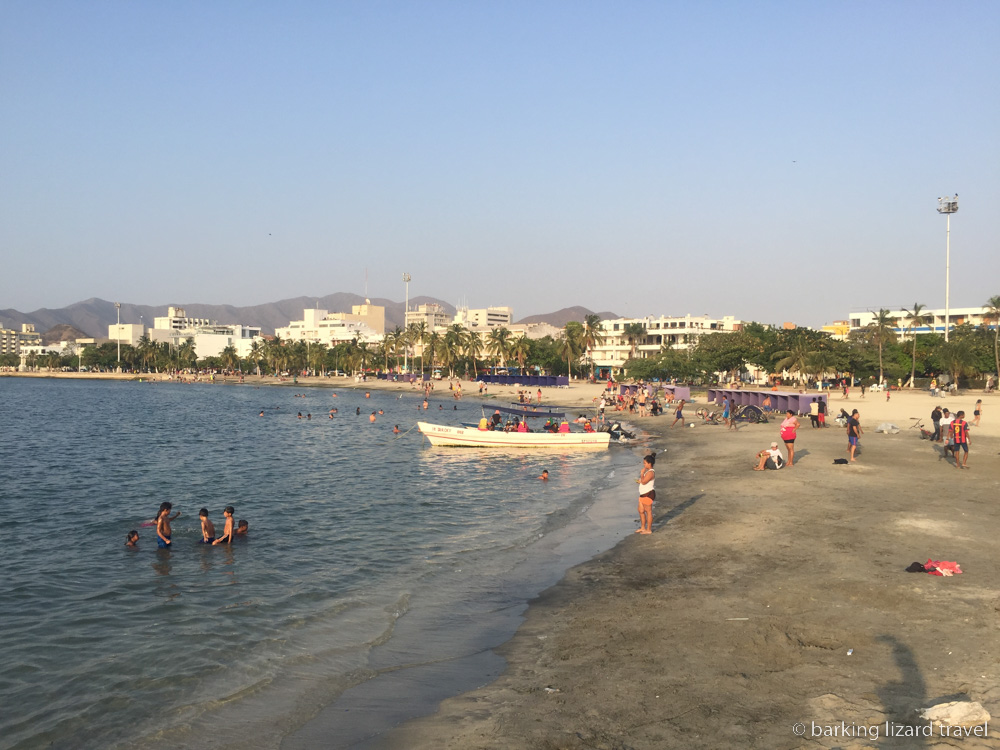 From Medellín I flew to Santa Marta. Located on the Caribbean coast, it is the most popular base for the Ciudad Perdida trek; all the tour operators are located here. There isn't a whole lot to see there but there is plenty of good quality and reasonably priced accommodation, good restaurants and shops to stock up on anything you might need for your Ciudad Perdida trek/Tayrona park visit.
I took a local bus out to visit Quinta de San Pedro Alejandrino, a hacienda where South American hero Simon Bolivar spent his last days.
Ciudad Perdida Trek – 3 nights
My main reason for staying in Santa Marta was to do the Ciudad Perdida trek. You can read all about my Ciudad Perdida trek here.
Santa Marta – 1 night
When the trek was finished, we were dropped back to the Magic Tours office in Santa Marta. I decided to spend the night here to catch up on sleep and do my laundry. After 4 days trekking through the jungle I was looking forward to some home comforts and found a cheap but surprisingly nice room in Hotel Paradise and after 3 nights sleeping in shared bunks it did indeed feel like paradise!
El Zaino (Tayrona) – 1 night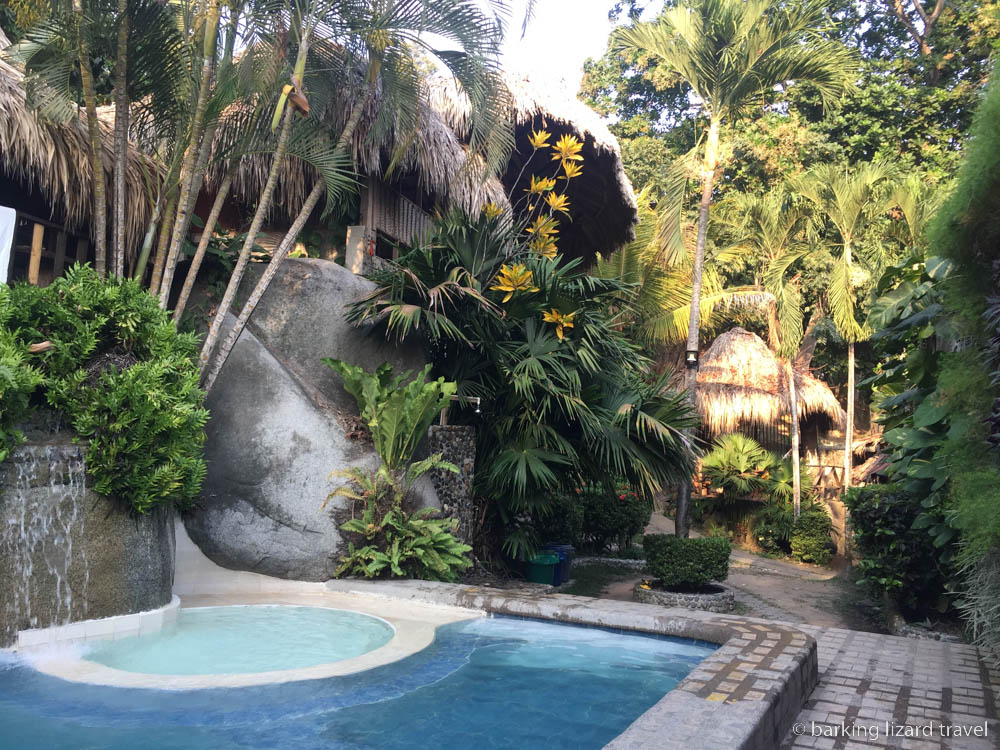 I spent a night in the small village of El Zaino, which is located just outside Tayrona National Park, so I could head to the park early and avoid the long entrance queues. I found a cool little hostel, Eco Hostal Yuluka, with a small swimming pool and onsite restaurant, which was useful as the local eating options are few and far apart along the busy main road.
Tayrona National Park – 1 night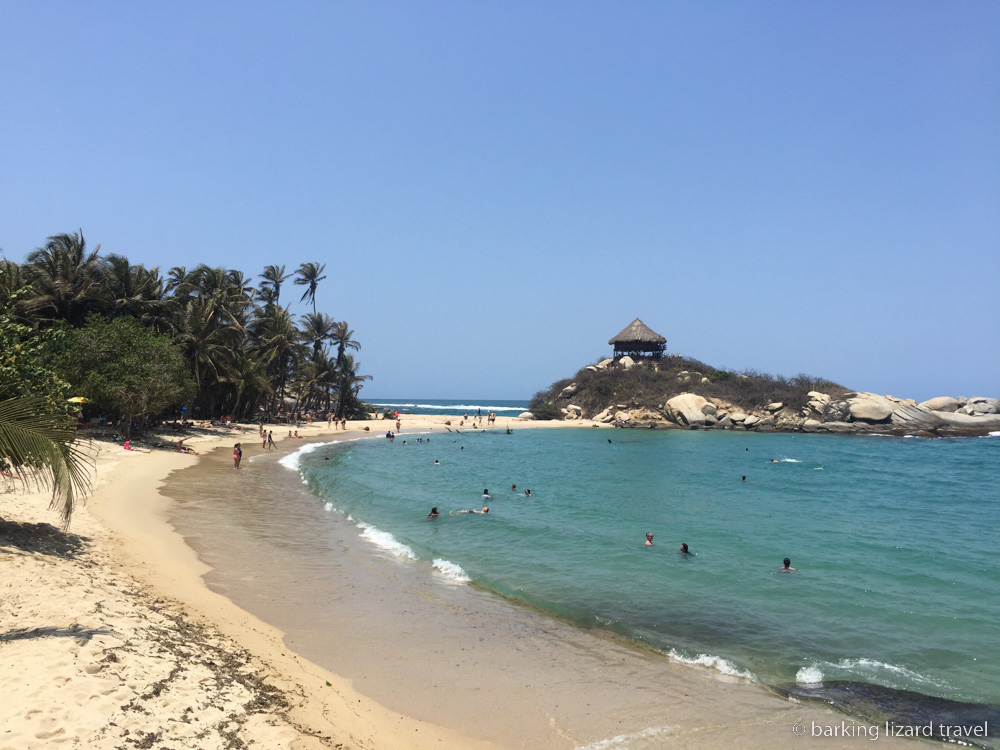 One of Colombia's biggest tourist attractions, Tayrona National Park is a must see. This stunning national park has some of the country's most beautiful beaches. It's a very popular destination for Colombians and is busy all year round. After my Ciudad Perdida trek I was looking forward to chilling on the beach. I rented a tiny tent at one of the campsites in the park and spent the night. The beaches are stunning, but it's not safe to swim at some of them.
El Zaino – 1 night
After spending the day in Tayrona, I stayed in El Zaino again before getting the bus to Cartagena.
Cartagena – 3 nights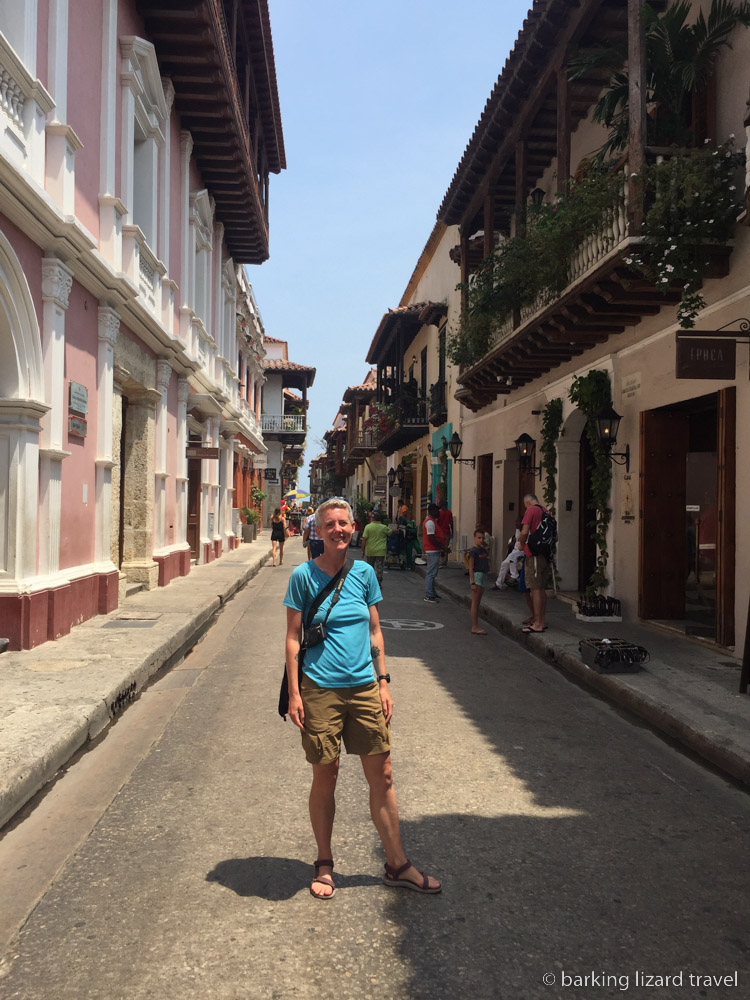 Cartagena is Colombia's most popular (foreign) tourist destination and as a result the old town is one of the most expensive places to stay in Colombia. I managed to find budget accommodation about a 15-minute walk outside the old town (Casa 41). However, the areas outside the old town are not the safest. It was fine to walk to the old town during the day but I was warned to take a taxi after dark.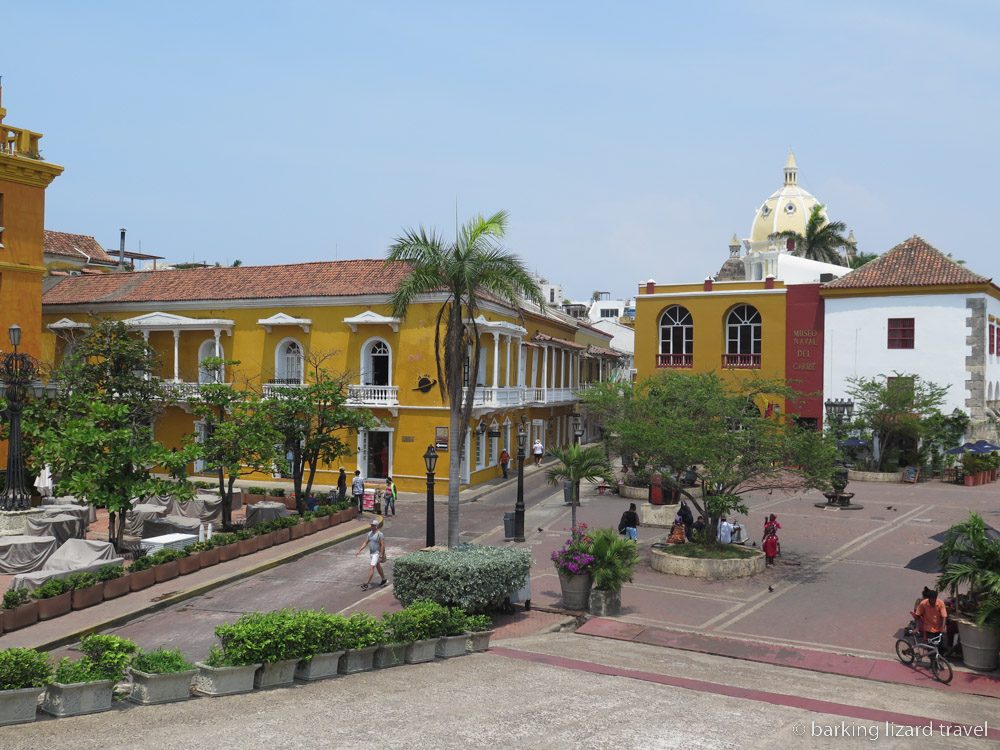 The old town is picture postcard beautiful and safe to walk around but expect to be hounded by hawkers selling tourist tat. They are everywhere and can be very persistent. I expected tourists to be the most annoying part of Cartagena but in fact it was the hawkers. While trying to enjoy a meal outside in one of the squares, I was pestered every 5 minutes by people trying to sell me something.
I did a free walking tour and visited the Castillo de San Felipe de Barajas, a great fortress built by the Spanish during their colonial occupation. I also found the best iced coffee and pancakes of my whole trip here!
Tolú – 1 night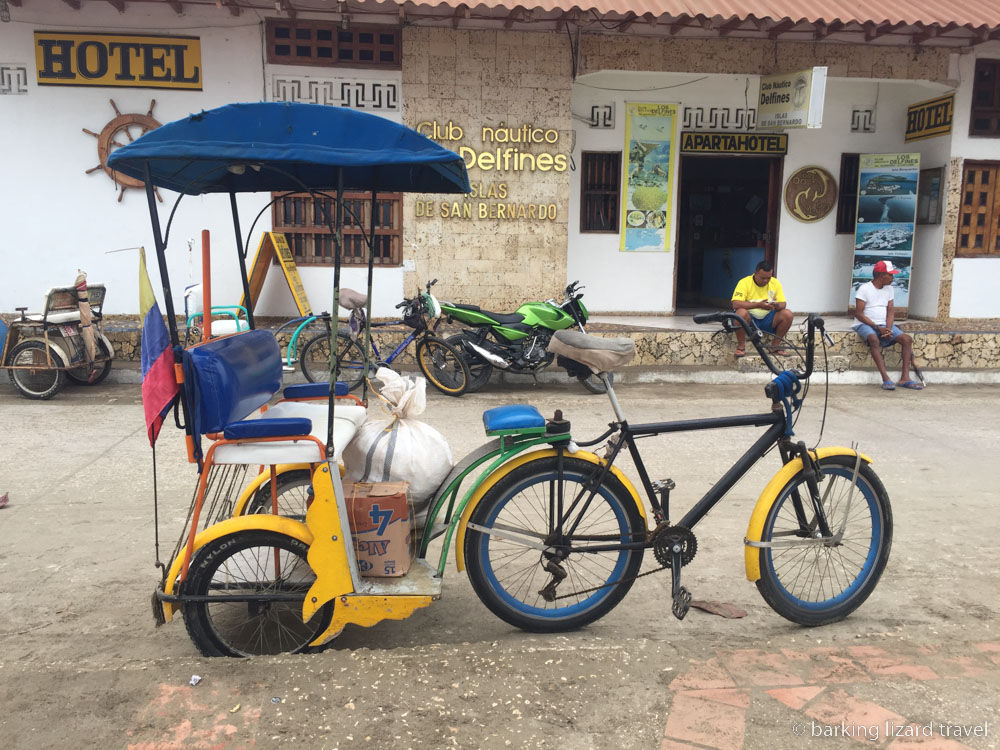 A slow bumpy, but direct, bus from Cartagena took me to Tolú where I spent the night on my way to Isla Mucura. This small town was very quiet (apparently it gets busy with locals during high season) and I struggled to find anywhere to eat. It was fine place to stay to break up my journey but it's not a destination in itself.
The local mode of transport are colourfully decorated 'bicitaxis.' These inexpensive bicycle taxis are plentiful and a fun way to get around.
Isla Mucura, Islas de San Bernardo – 1 night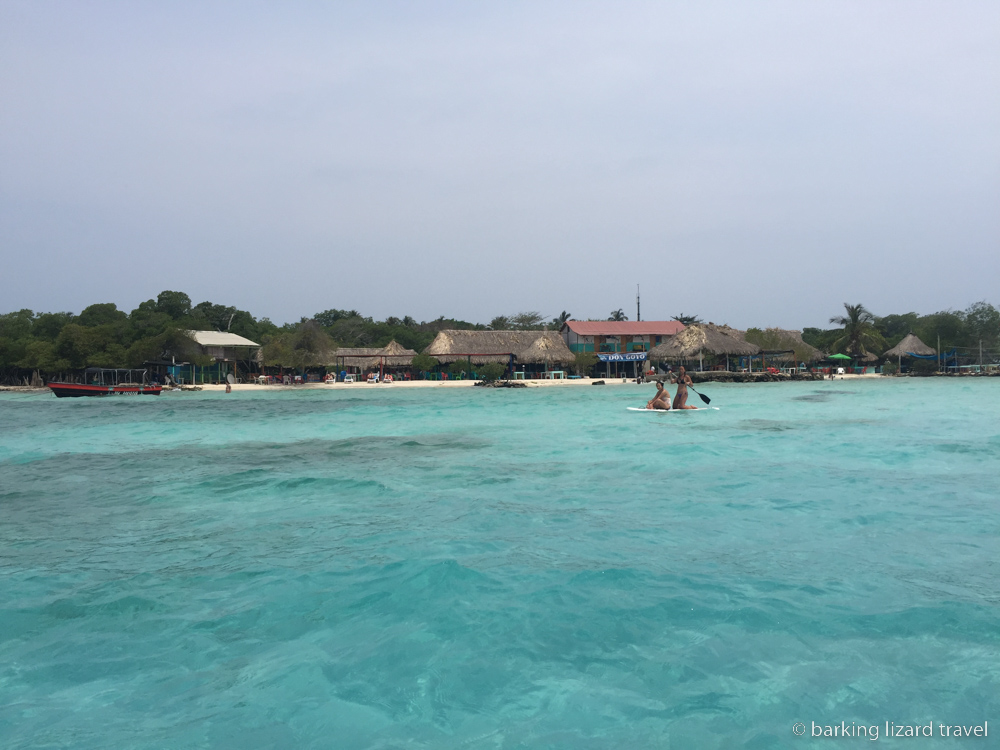 I had been dreaming of staying on an idyllic Caribbean Island and having ruled out a trip to San Andrés & Providencia for both time and cost reasons, settled on a visit to Isla Mucura. Isla Mucura is one of the islands that make up the stunning Islas de San Bernardo.  It was a bit of a trek to get here from Cartagena, involving an overnight stay on either side in non-descript Tolú but I spent a blissful day and half here and it was worth the effort.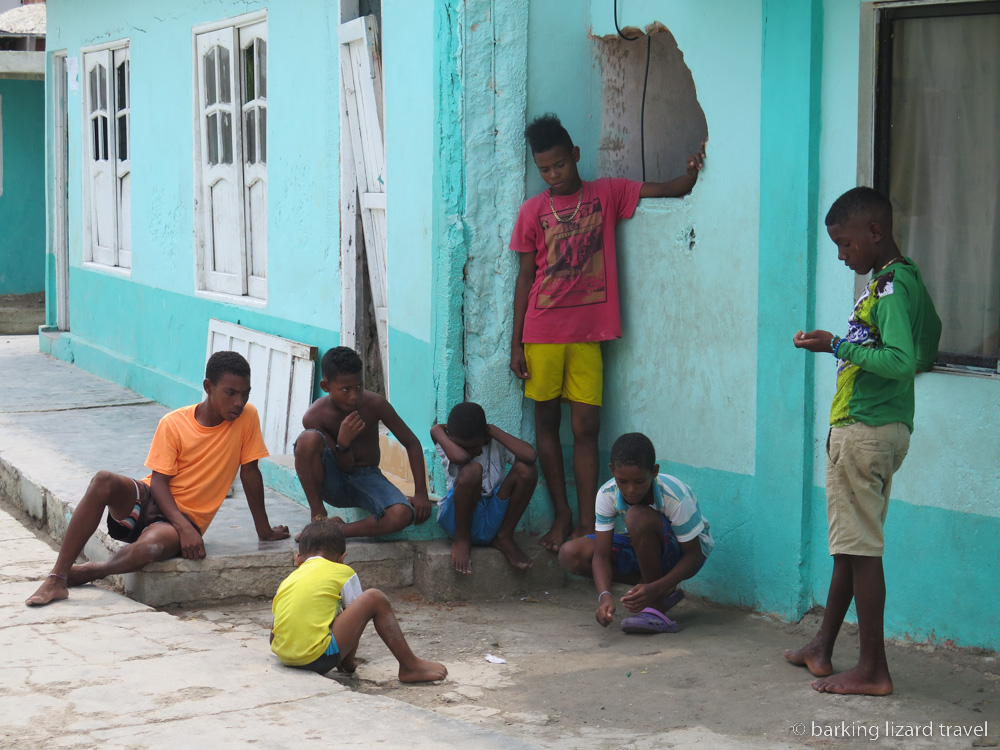 The speed boat from Tolú stops in Santa Cruz del Islote for a brief tour. This fascinating little island is one of the world's most densely populated islands. Measuring just over 1.25 hectares or about the size of two football fields, it is home to an estimated 1000 people.
I splurged a little to stay in the Múcura Club Hotel and although my room was very basic and the resort was a little run down, it was a lovely place to stay. The food was beautifully presented and it was really quiet and peaceful. My time was spent chilling on the small beach, swimming in the turquoise waters, and enjoying lying the hotel's hammocks. I also went on a snorkel trip. I wish I could have spent a bit longer there.
Tolú – 1 night
After getting the boat back from Isla Múcura, I spent another night in Tolú to break up my journey.
Cartagena – 1 night
I got the bus from Tolú back Cartagena as I had booked a flight to Bogota from there. I was perfectly happy to spend another night and enjoyed more delicious Ice Coffee and pancakes.
Bogotá – 3 nights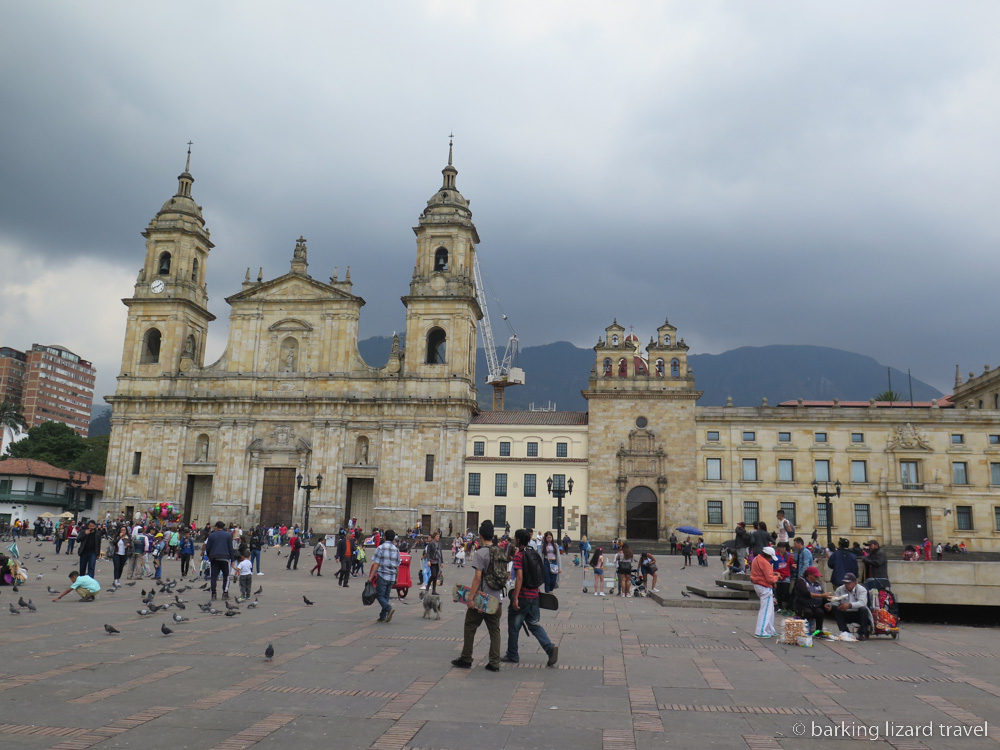 I took a morning flight from Cartagena to Bogotá with Avianca. The plan was to spend the last few days of my trip checking out Colombia's capital. Again, my friend Steve, who lives there, picked me up from the airport and drove me to my accommodation. I stayed in the historic La Candelaria area. This colonial barrio is home to most of the cities key attractions and is also a lively and interesting place to stay. It's a busy area but felt safe enough during the day. I didn't venture far after dark when it can get a bit sketchier in some parts. Either way keep your wits about you and don't flash any valuables (I've read reports of phone muggings).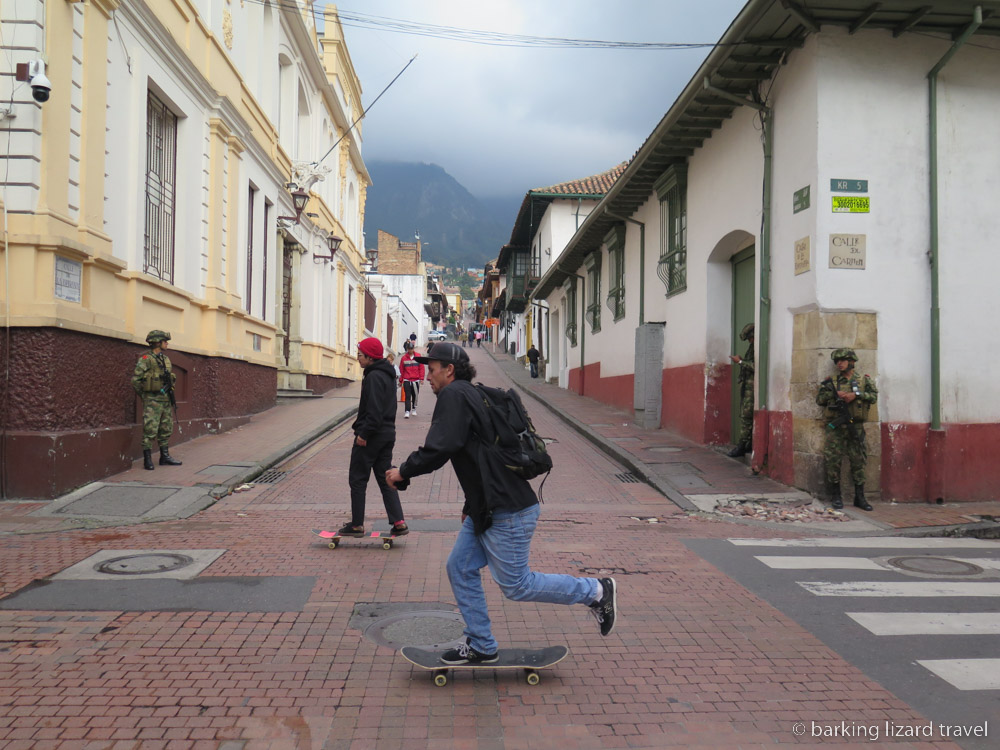 That afternoon, I visited the Museo del Oro, considered one of the best museums in all of South America, and containing Gold from the Tayrona. Having completed the Ciudad Perdida trek, it was fascinating to see the objects that came from the region.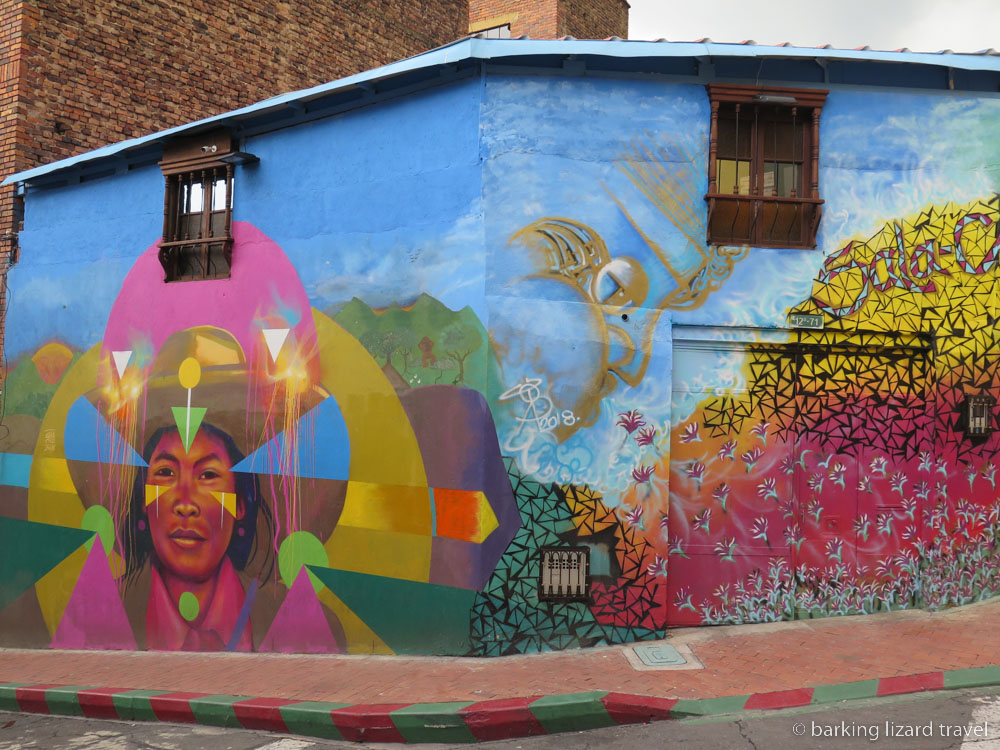 Tours in Bogota
As my time was limited, I decided to squeeze in two different tours in one day and did the Bogota Graffiti Tour in the morning and the excellent Bogota Bike Tour in the afternoon. Both were very enjoyable and highlighted different aspects of the city.
In particular, the bike tour led by the eccentric Mike Caesar, a Californian who has lived in Colombia for over 20 years, takes you to parts of the city you probably wouldn't get to see by yourself. You get to sample lots of local tropical fruit in one of the markets, Colombian coffee in one of the city's roasteries, and play the Colombian sport of Tejo.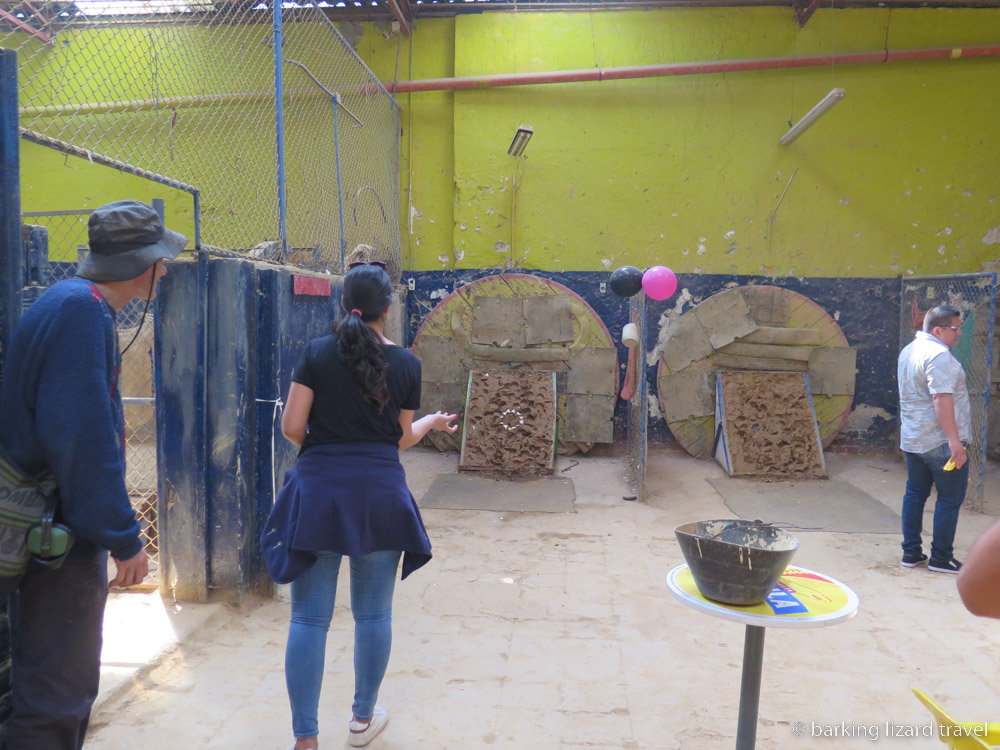 The following morning, I took the cable car up to Monserrate, which is well worth a visit for the stunning views over Bogotá. In the afternoon I met up with Steve who showed me around some of the historic buildings in La Candelaria and an obligatory stop for some delicious Colombian coffee.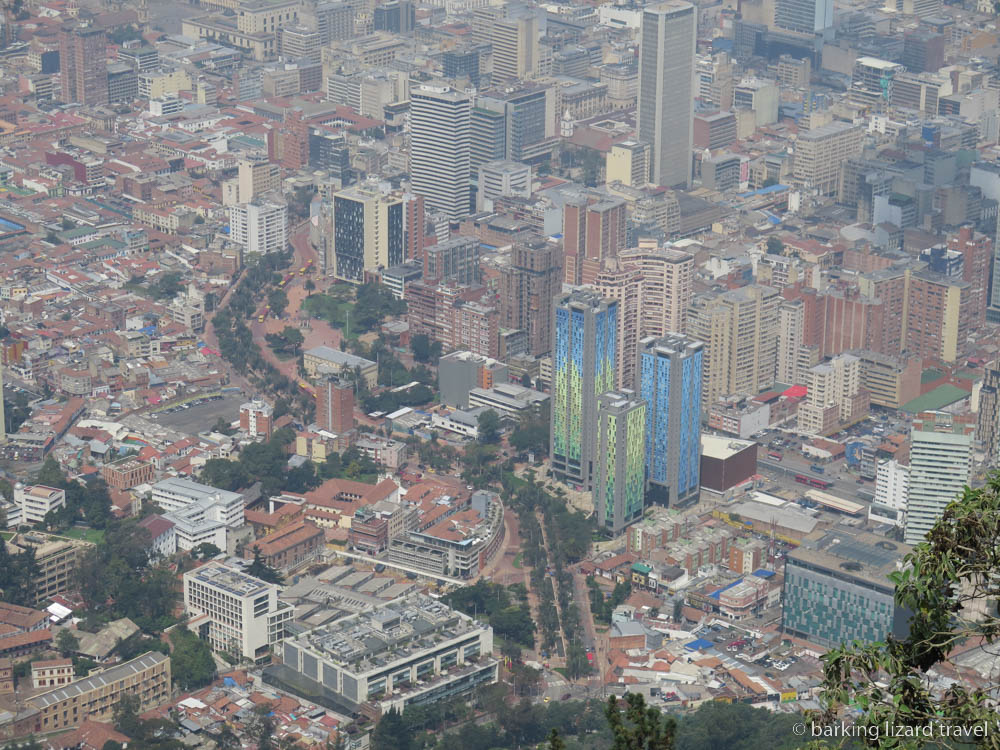 Which is the better city to visit: Bogotá or Medellín?
There is a big debate between travellers as to which is the better city to visit: Bogotá or Medellín. After spending time in both, I much preferred Bogotá. I thought the city had a much more interesting vibe, more historic buildings and overall more energy. It felt a lot more authentic then Medellín.
However, it depends on what you are looking for and even what part of your trip you decided to visit. I visited at the end of a successful two-month trip in South America and was on a high. My friend was able to show me around and bring me to areas I might otherwise have missed out on.
I would still recommend visiting both cities as they both have pros and cons. However, if you can only pick one, I would plump for Bogotá, it is the capital after all!