The more I read about the Osa Peninsula, the more I wanted to visit. However it seemed like it was going to be tough to travel there on a budget. After lots of research, it turned out that travelling from San Jose to Bahia Drake by public transport is not that difficult.
First, you need to get a bus from San Jose to Sierpe. The Tracopa bus company have one daily direct service that leaves at 8.30am Monday to Saturday. The one-way ticket costs c5.790 (approx. $10).
Where to buy a bus ticket to Sierpe in San Jose
It's advisable to buy your ticket at least one day in advance during busy times. At the moment you can't buy tickets online. You can get them at the Tracopa bus station in San Jose, located on Calle 5/Avenida 18, a couple of blocks from Plaza Viquez. As I like to be organised about these things, I bought my ticket the day before. It also meant I didn't have to be at the bus station as early the next day.
The terminal is clean, modern, and safe. There are places to eat and shops to buy provisions for your journey.
The bus journey from San Jose to Sierpe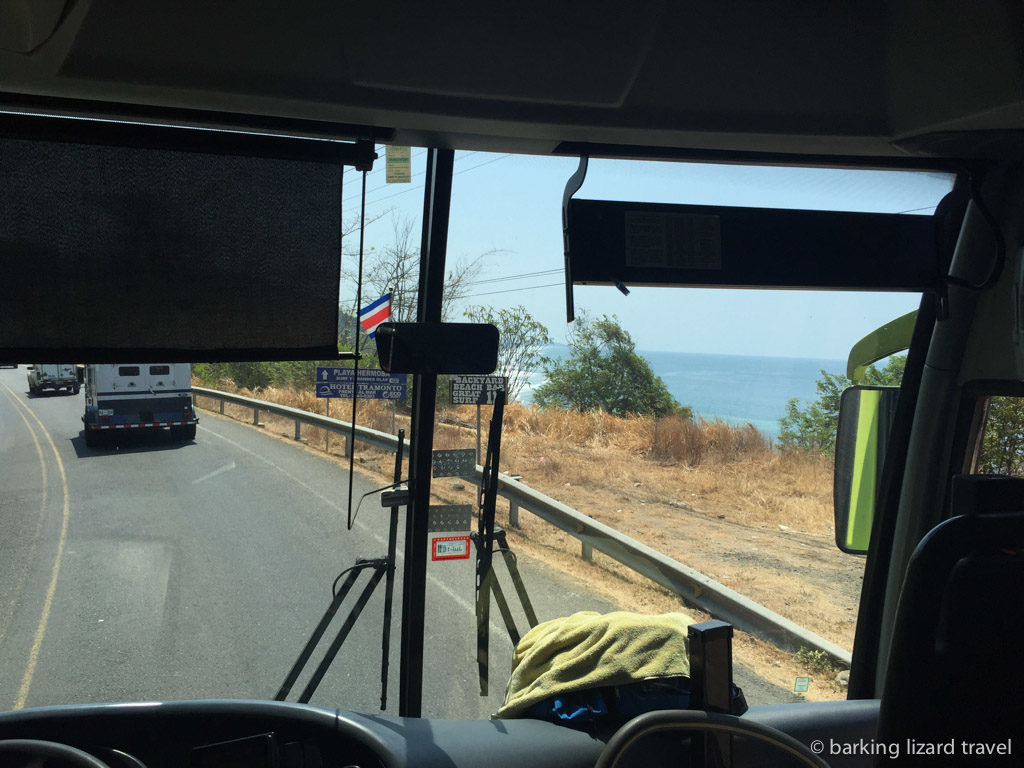 The Tracopa buses are modern air-conditioned coaches and are clean and safe. The bus was filled mainly by locals making their way south. It makes at least one 'comfort stop' so you have the chance to go to the toilet and get something to eat or drink.
From San Jose it takes approximately 5 hours to get to Sierpe. The bus travels along the Costanera Sur, a scenic coastal route that passes through many of the popular beach destinations such as Jaco and Playa Hermosa.
Getting the boat from Sierpe to Bahia Drake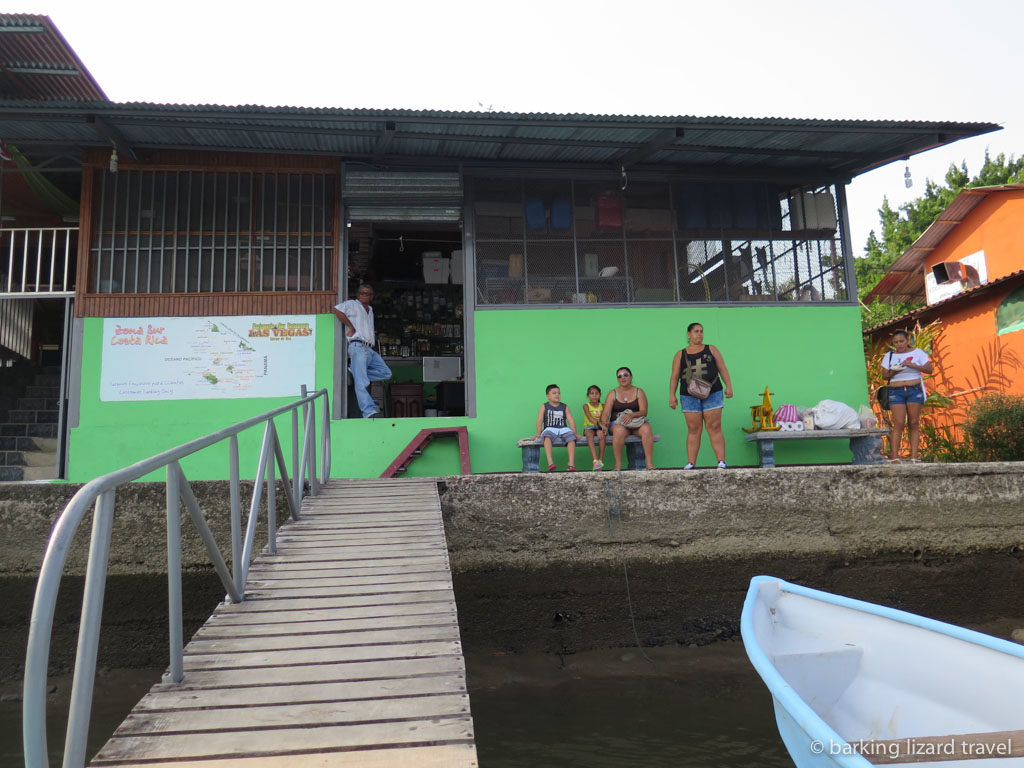 You arrive in the dusty sleepy town of Sierpe about 13.30. There is nothing to do or see there but you can wait for the boat in the Las Vegas restaurant. Where you can get something eat or drink. It also has free WiFi!
The boat to Bahia Drake leaves from the dock at the back of the restaurant at 15:30 and is the last boat of the day so make sure you don't miss it. There are only two boats a day; at 11:30am and 15:30. The fare costs $20, however as is often the case, it's slightly cheaper if you pay in colones.
You need to reserve the boat in advance but most accommodations in Bahia Drake should be able to do this for you. You don't need to get a ticket, just tell the captain or helper the name of your accommodation and pay your fare.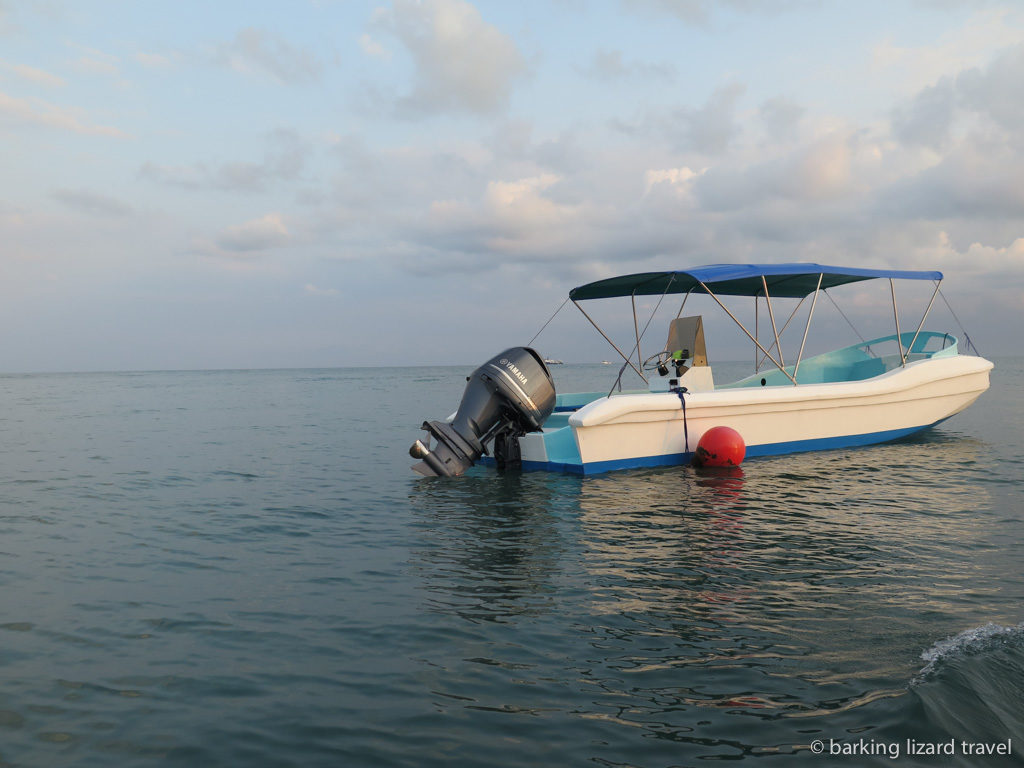 The boat ride from Sierpe to Bahia Drake is truly spectacular and takes approximately an hour. No sooner had I stepped into the boat when a huge crocodile surfaced a few metres away. It quickly surveyed the surroundings before disappearing below the water. I could hardly believe my eyes.
The small motorised boat speeds through the Sierpe river with mangrove forest on either side and exotic birds swooping overhead. If you are really lucky you might spot monkeys.
It's very windy and noisy so make sure to hold onto your hat and keep your bags secure. I didn't get wet but the water does splash up at the sides.
Arriving in Bahia Drake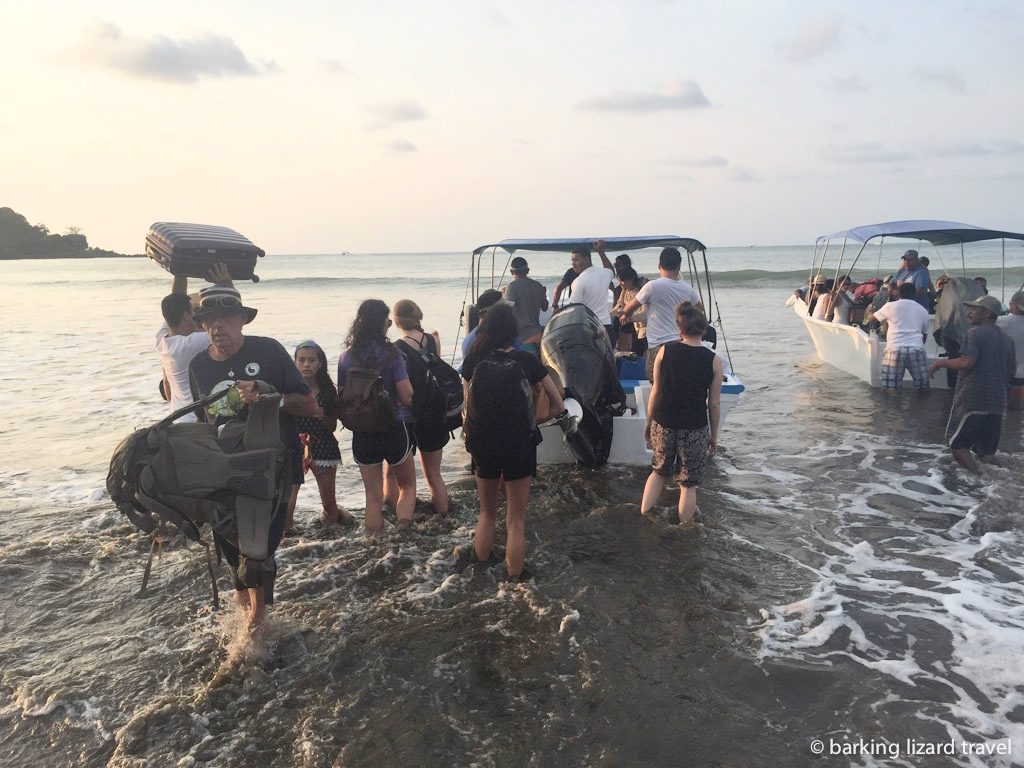 When the boat docks near the beach in Bahia Drake you have to wade through shallow water to get to the beach (a so called 'wet landing'). The guys on the boat will usually help carry your backpack or suitcase above their heads to the shore. I would advise putting your electronic devices and phone in waterproof bags, just in case!
Obviously, you'll need to take your shoes off and if you're wearing trousers you'll need to roll them right up. Don't wear jeans!
From the beach, there is a little hill up to the tiny village of Agujitas where several budget accommodation options are located. If you have a lot of luggage there are plenty of locals around who will help you for a few dollars.
San Jose to Bahia Drake by bus and boat summary
Tracopa bus from San Jose to Sierpe – c5.790 ($10) – 5 hours
Wait for boat in Sierpe – approx. 2 hours
Boat Sierpe – Bahia Drake – c8.000 ($20) – 1 hour
Total time – approx. 8 hours
Total cost – approx. $30