Central America is crammed full of (some very active!) volcanos, Mayan ruins, Caribbean beaches, pacific surf, stunning wildlife, exotic jungles, and friendly locals but is not as big on the backpacker trail as South America.
Why Central America?
I had started learning Spanish and with some knowledge of the language visiting Latin America was a more appealing option.
As I only wanted to spend 3 months backpacking, Central America seemed to fit both my budget and time frame best. It's cheaper to travel in than South America and it also sounded a little more exotic.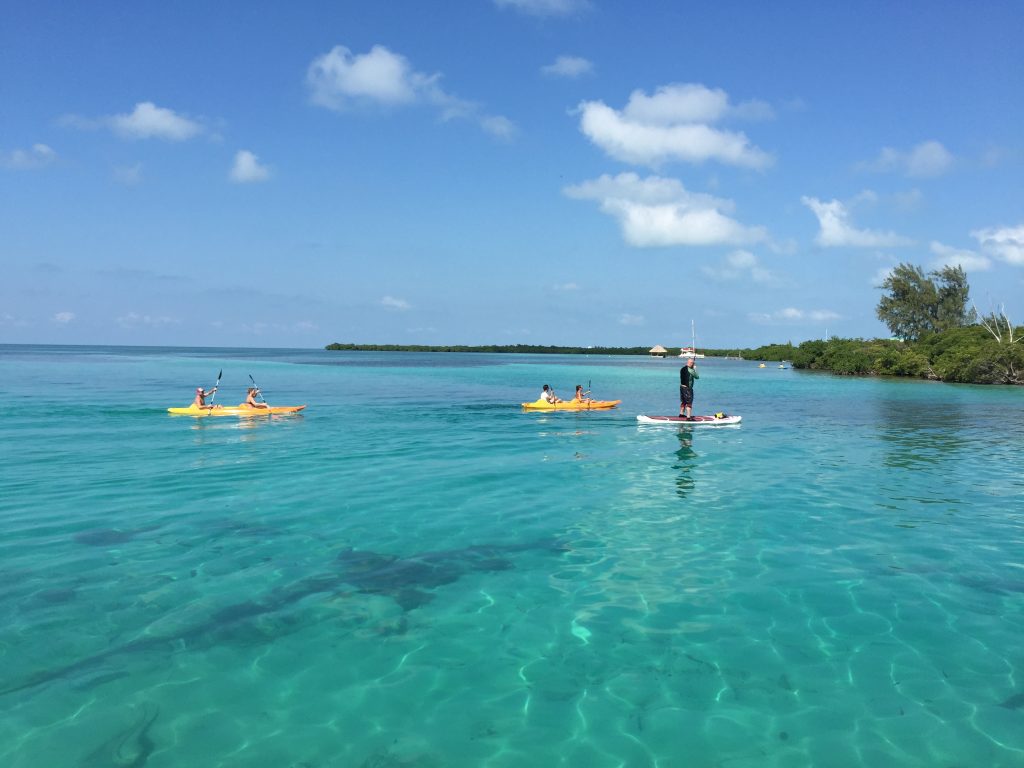 From the January to March 2016 I spent 3 months backpacking through Central America. I organised the trip independently and travelled solo; just me and my backpack.
After flying to Cancun, Mexico, I made my way overland through all 7 countries that make up the region before flying back to Cancun from Panama City to catch my return flight.
Read on for my 3 month Central America itinerary including my highlights and lowlights.
Mexico – 7 nights
Mexico is a common entry or exit point for the Central American region. Nearly everybody I met on my trip had either started, been through, or were planning to finish there. Popular holiday destinations such as Cancun means cheaper return flights, and there are excellent onward connections to other Central American cities.
Cancun – 2 nights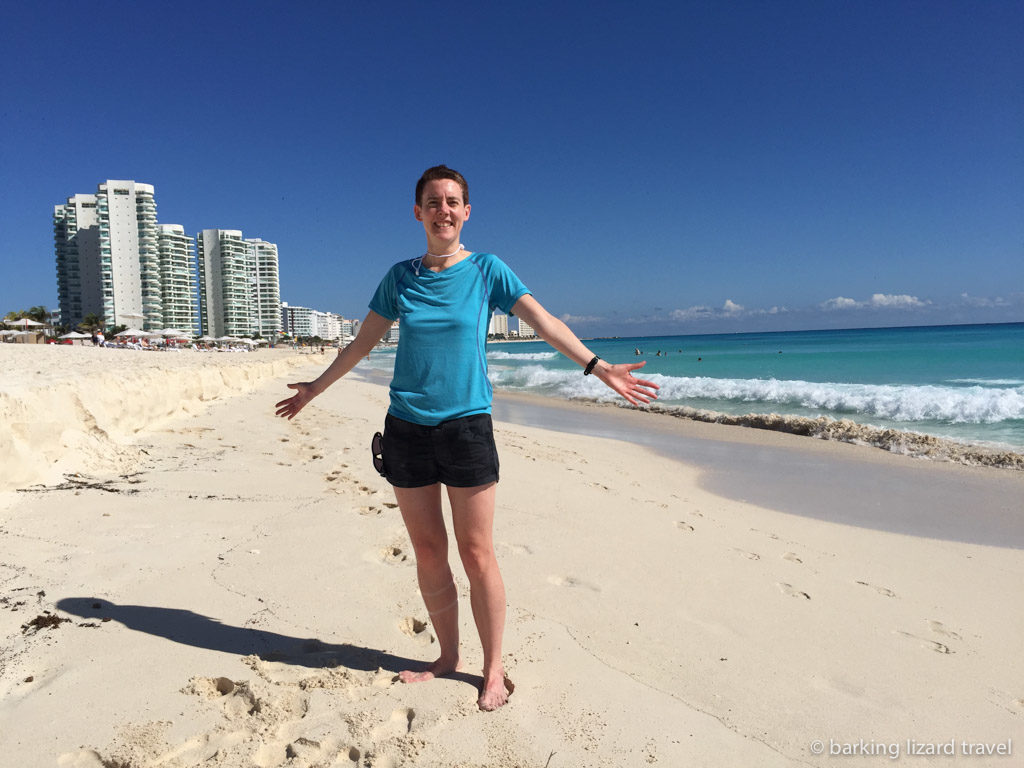 Known for its all-inclusive resorts and infamous as a spring break destination, Cancun wasn't part of my original itinerary. However as it offered the cheapest return flights to the region I decided to spend a couple of nights there.
Cancun has two very different sides. The expensive touristy Zona Hotelera, and the very ordinary workaday Cancun city. I opted to stay in the city as it had the option of budget single rooms. I didn't fancy sleeping in a hostel dorm after a long-haul flight.
I slightly regretted this decision. Although it does offer a more authentic glimpse into Mexican life, there really isn't much to see or do in the town. It's a good 15 minute bus ride to Zona Hotelera beaches, the best thing about Cancun!
I would advise splurging a little on a room in the Zona Hotelera. If you don't mind hostel dorms, there are a few there as well.
Isla Mujeres – 2 nights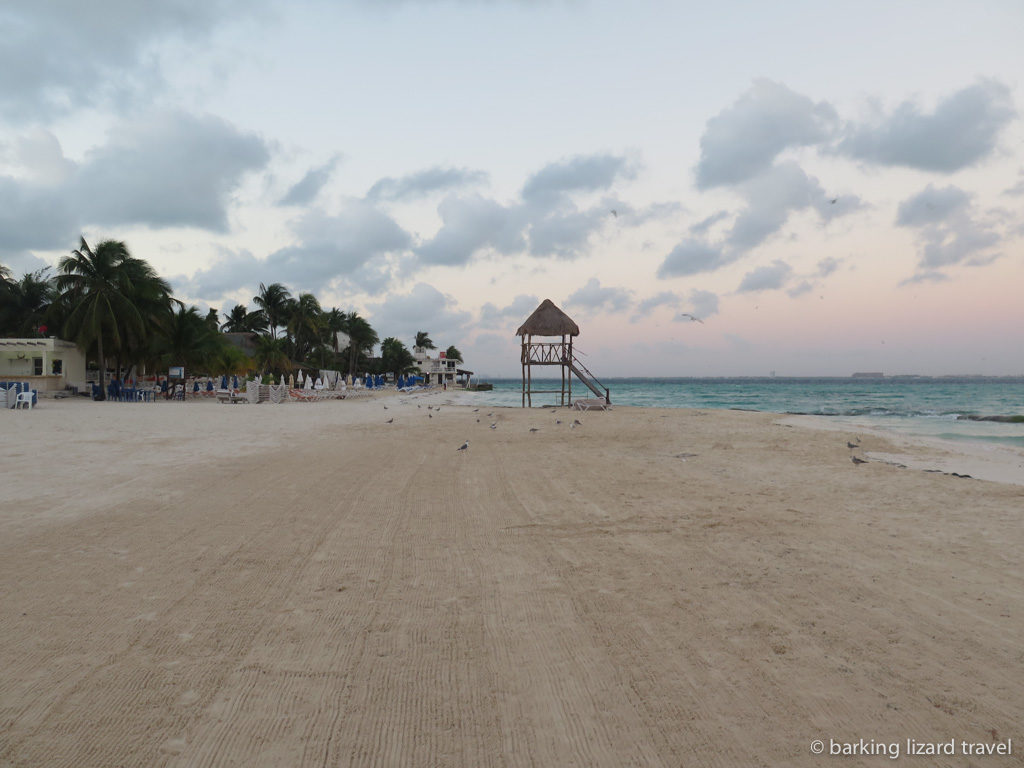 This lovely little chilled out Island, only a 15 minute boat ride from Cancun, has a very different vibe. Less touristy and more backpacker friendly and has plenty of budget accommodation. I spent my time swimming, biking, and running around the Island.
I really enjoyed my 2 nights there and could definitely have stayed longer.
Tulum – 3 nights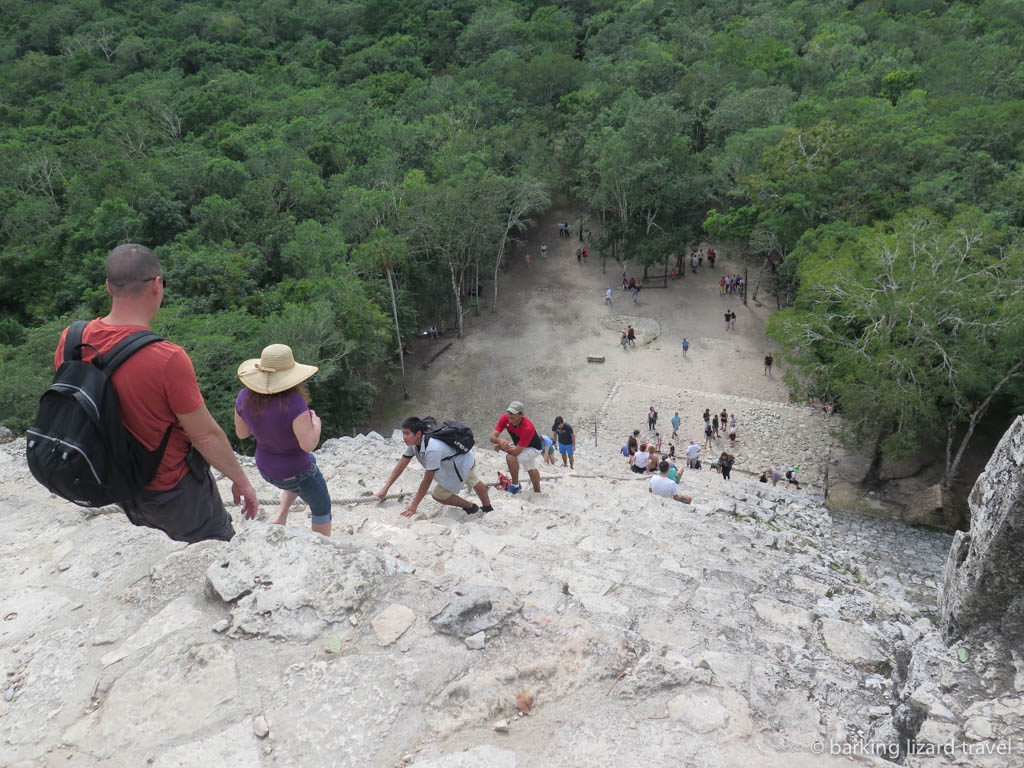 Tulum was a handy stopping off point as I headed south to Belize. Best known for its Mayan Ruins, the only ones located on the Caribbean sea. It's very touristy (Justin Bieber had been thrown out of the ruins a few days before I arrived) but less expensive than Cancun. I also visited the Mayan ruins at Coba, located less than an hour from Tulum by bus. Not as busy as the Tulum ones, their jungle setting, complete with wild Crocodiles, makes Coba worth a visit.
The stunning white sand beaches and turquoise Caribbean sea in Cancun
My Lowlight
This part of Mexico is tourist central
What surprised me…
Seeing wild crocodiles chilling out at the entrance to the Coba ruins!
My Average Price for one nights accommodation
$19
---
Belize – 6 nights
Belize is an anomaly in Central America; English speaking with a more Caribbean vibe. The lack of a language barrier makes it very easy to travel independently. One of the most expensive countries in the region, it has a well-developed tourism industry.
Belize City – 1 night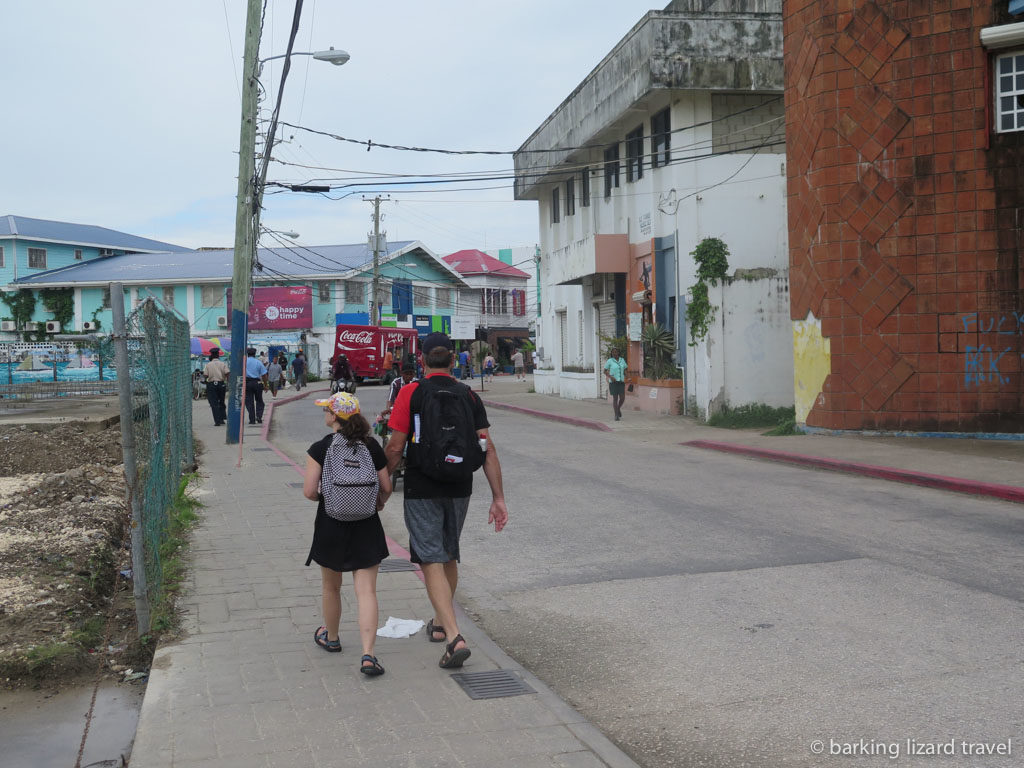 Although the country's biggest and most important city Belize City is not the capital, that honour goes to Belmopan. Even though the reviews weren't great I still wanted to check it out. It felt seedy and run down but not particularly unsafe. One day was definitely enough, there really isn't much to do or see there. If you're stuck for time, skip it.
Caye Caulker – 3 nights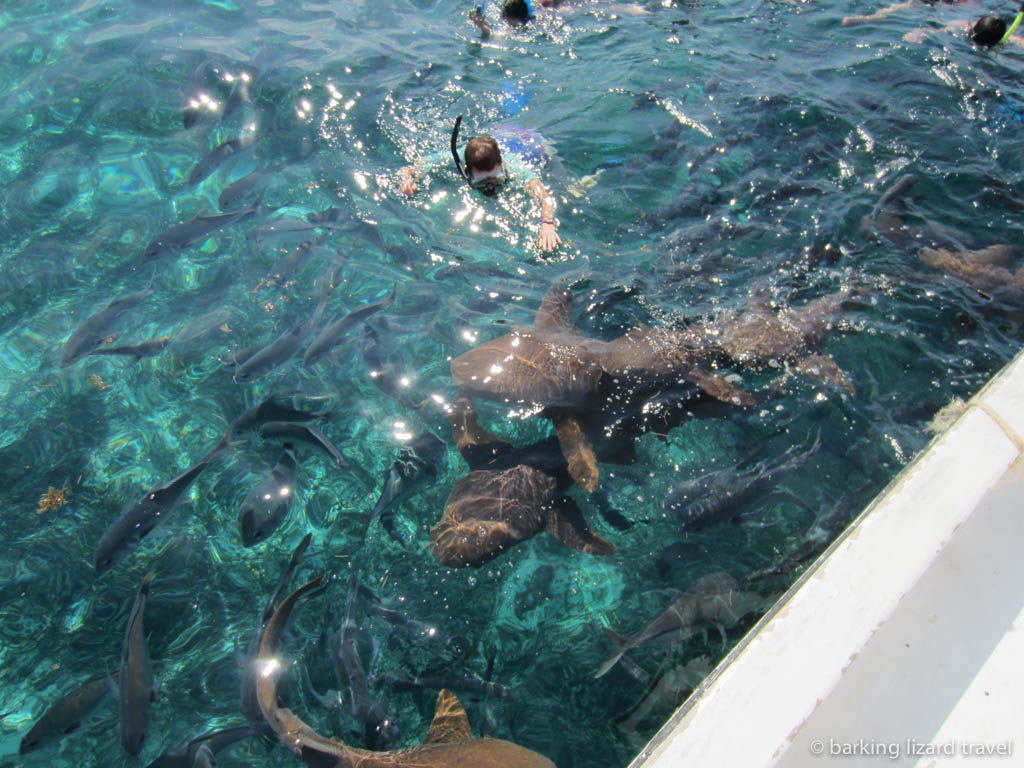 I loved Caye Caulker! This little island, a short boat ride from Belize City, is a backpacker haven. A budget destination in an otherwise (relatively) expensive country. There are no cars on the Island and it's compact enough to explore on foot.
I swam in the Split and rented a kayak to explore the, largely uninhabited, northern part of the island. There are also lots of places offering diving and snorkelling trips. I went on a full day snorkelling trip to the Hol Chan Marine Reserve with E-Z Boy Tours. It was absolutely amazing! We snorkelled with sharks, turtles, eagle rays and a ton of other marine wildlife. One of the highlights of my whole Central America trip.
San Ignacio – 2 nights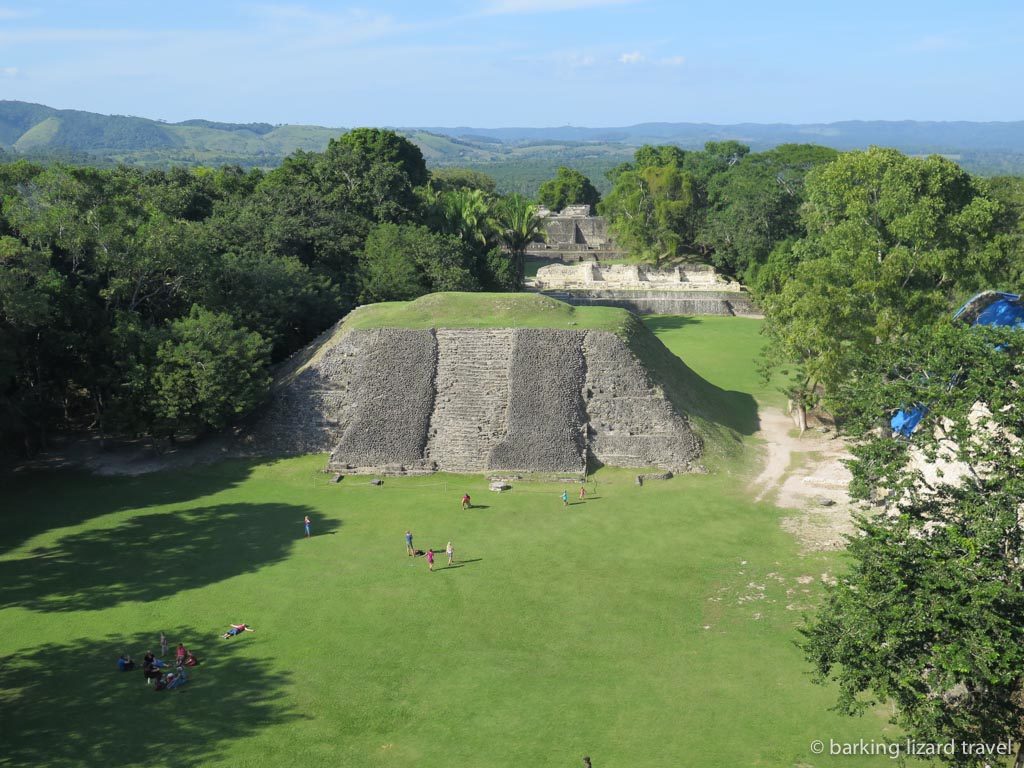 Located in the western Belize near the Guatemalan border, I really didn't know what to expect from San Ignacio. I was pleasantly surprised. This small town is surrounded by steamy jungle and the location felt really exotic. There are dozens of tour operators offering expensive trips to sights such as the ATM Caves and Caracol Mayan ruins. Instead, I hopped on a local bus to the Xunantunich Mayan Ruins, a short ride from the town. The beautiful surrounding jungle was full of noisy Howler monkeys!
My Highlight
Snorkelling with sharks in Shark Ray Alley
My Lowlight
Not having enough time to explore more of the country
What surprised me…
Just how much marine life I saw on the snorkel trip!
My Average Price for one nights accommodation
$25
---
Guatemala – 28 nights
I unintentionally spent almost a month in Guatemala. Partly because it was so inexpensive and partly because there's so much to do and see! Guatemala has a mainly indigenous Mayan or mixed Mayan population. Many of the women (and occasionally the men) continue to wear traditional dress, that gives this Central American country a distinct character.
Tikal – 1 night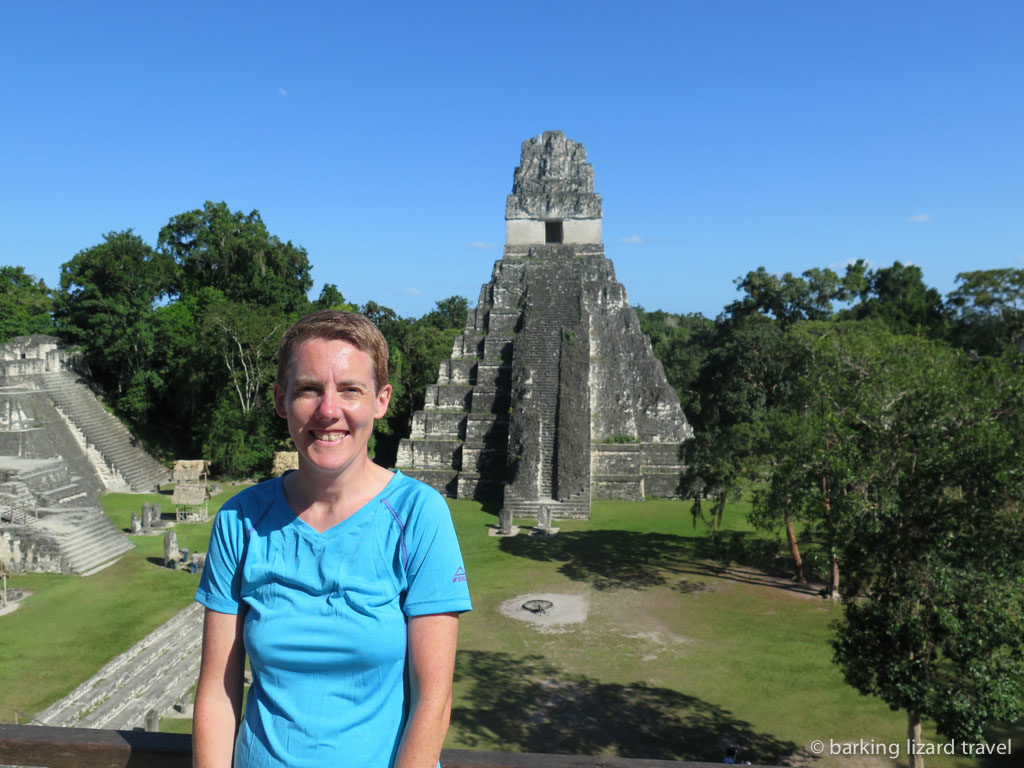 Located deep in the jungle of the tropical northern El Peten region, the Mayan Ruins of Tikal are Guatemala's number one tourist attraction. Considered one of the greatest Mayan ruins, for me, it was their stunning location that was the most impressive.
I splurged a little so I could stay in the park and it was worth it. At night the Jungle sounds are amazing. It also means you can experience the sunset and take a sunrise tour which are wonderful experiences.
El Remate – 2 nights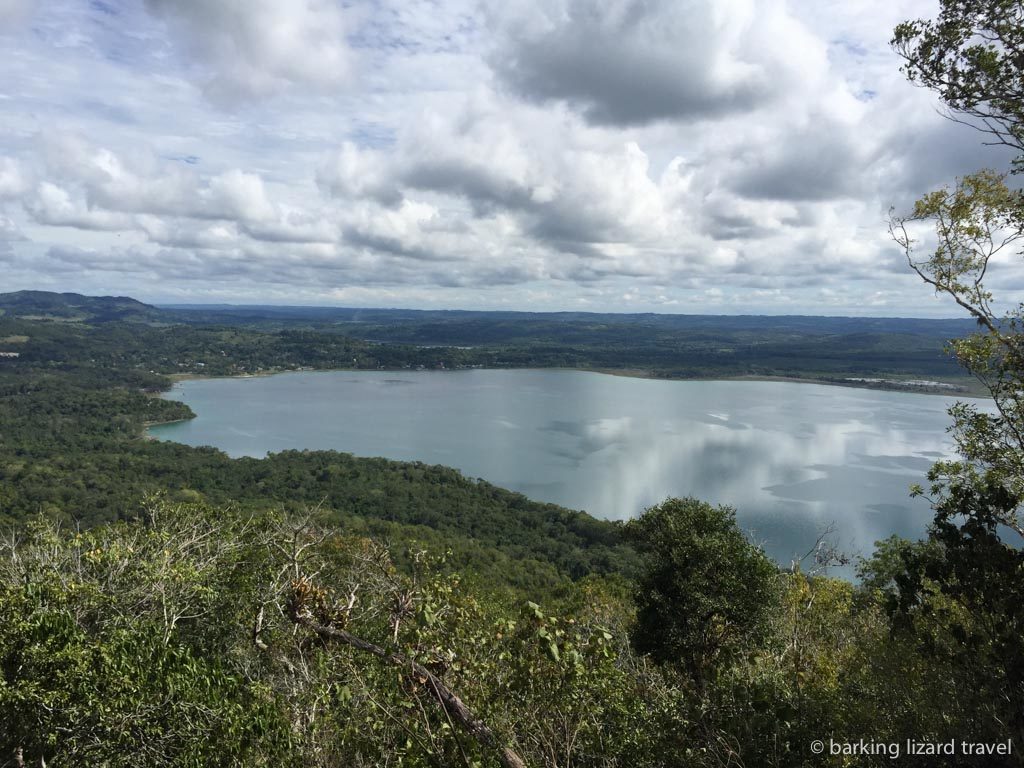 The sleepy little village of El Remate is the closest budget option to Tikal. I chose it over Flores because I wanted to stay somewhere away from the backpacker trail. There's not much to do here but the location is idyllic and it's easy to make a day trip to Flores. I did a short hike in the Biotopo Cerro Cahui, a subtropical forest nature reserve, where I caught a glimpse of a tapir!
Flores to Guatemala City overnight bus – 1 night
In general, travelling by night bus in Central America is not recommended. The Linea Dorada overnight bus from Santa Elena (beside Flores) to Guatemala City is the exception.
I had read that the air con would be on full blast and the bus would be freezing but this wasn't my experience! Instead the bus was warm and I felt a little claustrophobic and cramped at my window seat. There wasn't much leg room and my stuff was squashed around me. I didn't get much sleep. The bus also arrives in Guatemala City around 6am so make sure you have somewhere to go as the area around the bus station is not safe.
Guatemala City – 1 night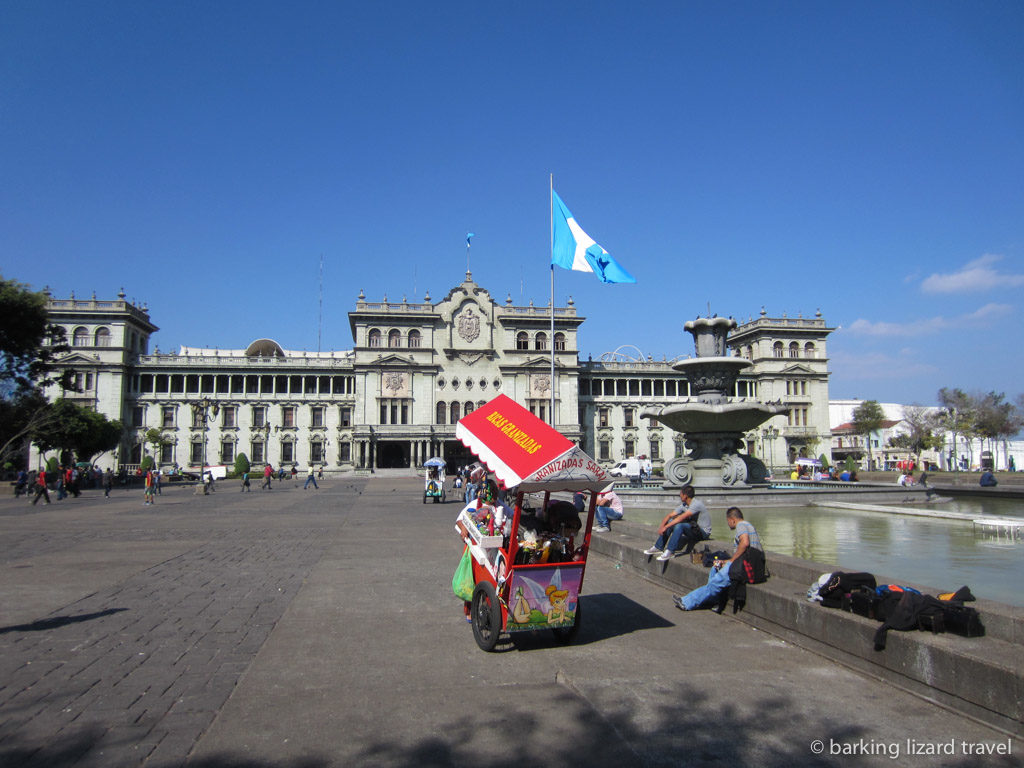 Guatemala City doesn't have a great reputation. Big, dirty and dangerous (in parts) and without much in the way of sightseeing. Despite this, as it's the capital and Guatemala's biggest city, I wanted to visit.
It didn't feel unsafe during the day. The Zona 1 area was busy and felt safe and I walked around other areas without any trouble. However, the sight of armed guards at every shop door and metal bars on all the windows was disconcerting.
Quetzaltenango (Xela) – 14 nights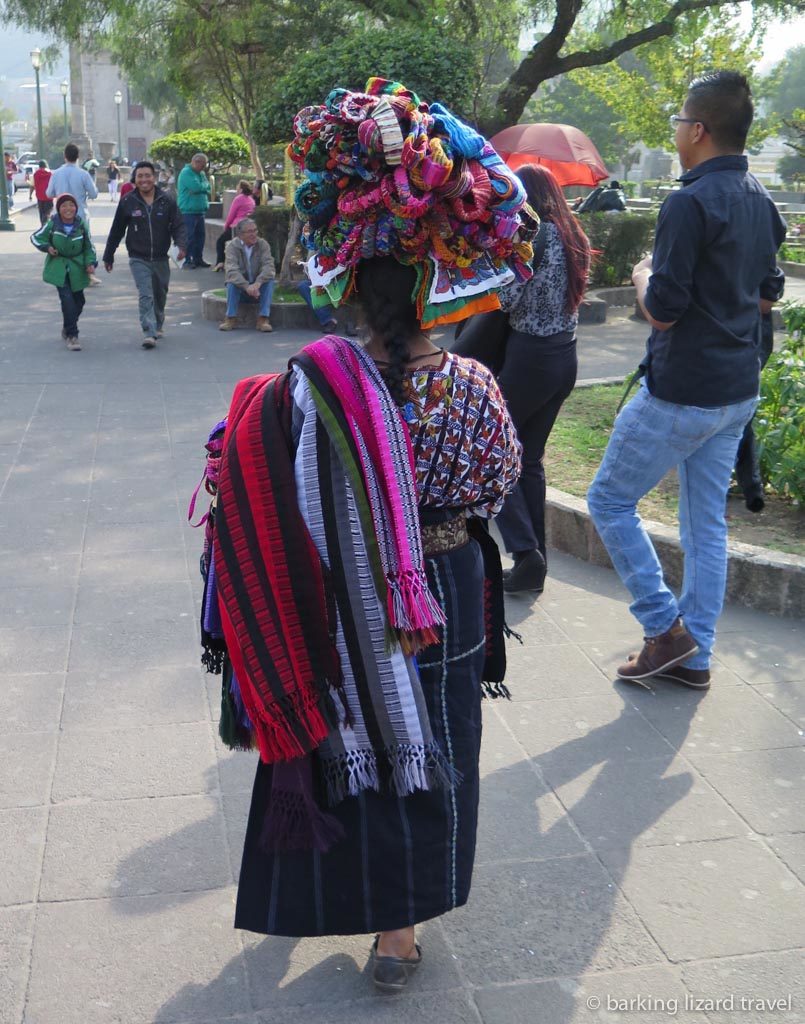 Guatemala is one of the cheapest places in Central America to study Spanish. There are numerous inexpensive schools all around the country. The two main hubs are the touristy town of Antigua, near Guatemala City, and Quetzaltenango (known locally as Xela) in the Guatemalan Highlands. As I was looking for a more authentic Guatemalan experience, I chose Xela.
The town itself, Guatemala's second biggest, doesn't offer much in the way of tourist attractions but it's a great place to get an insight into local life. Budget friendly and safe, there are good dining options (I had one of the best meals of my trip here), lively bars, and lots of exciting tours to surrounding areas.
I took a two week intensive Spanish course at Celas Maya Spanish School. The cost included full board accommodation with a local family and was really good value. The school also offers low cost or free tours. The best of which was climbing Volcan Tajumulco, the highest point in Central America.
San Marcus (Lago de Atitlan) – 5 nights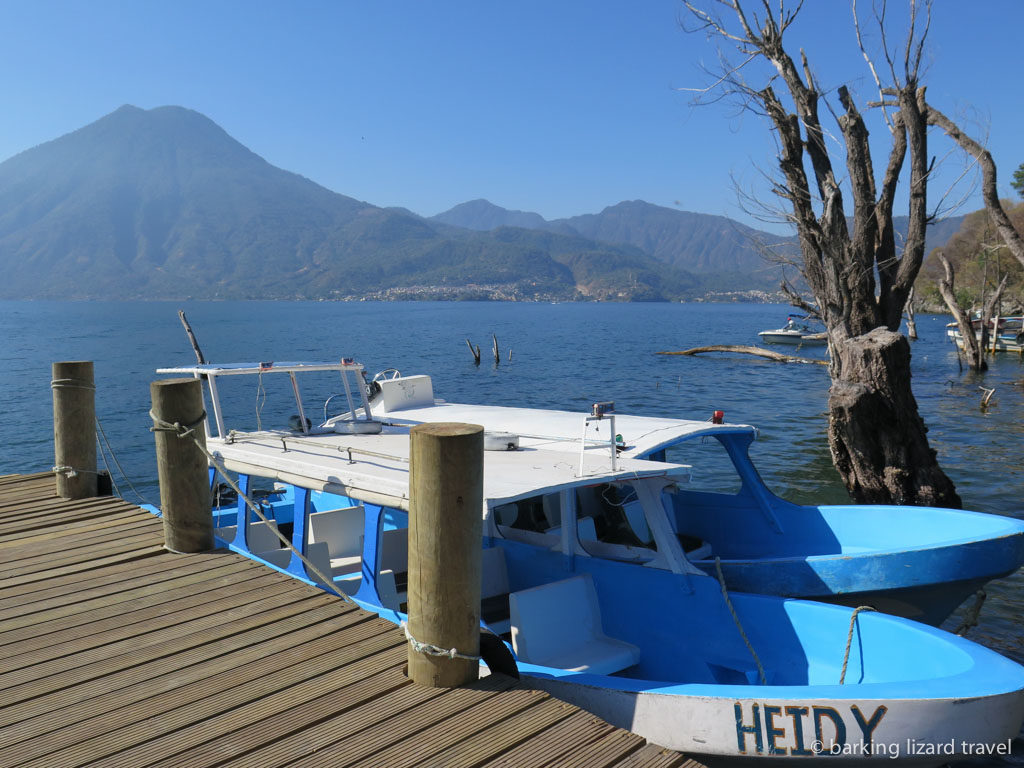 Tiny San Marcus La Laguna is on the north-western shore of beautiful Lago de Atitlan. It's a tranquil and pretty spot to explore the lake. I spent 5 nights staying with an American friend who was living there.
This region is definitely worth a visit. The lake is stunning and it's fun crossing between the villages on lanchas (small speed boats). I swam in the lake and visited busy Panajachel and the backpacker hub of San Pedro. I also went in search of the revered Guatemalan deity Maximon in Santiago Atitlan, the biggest town on the lake.
Antigua – 3 nights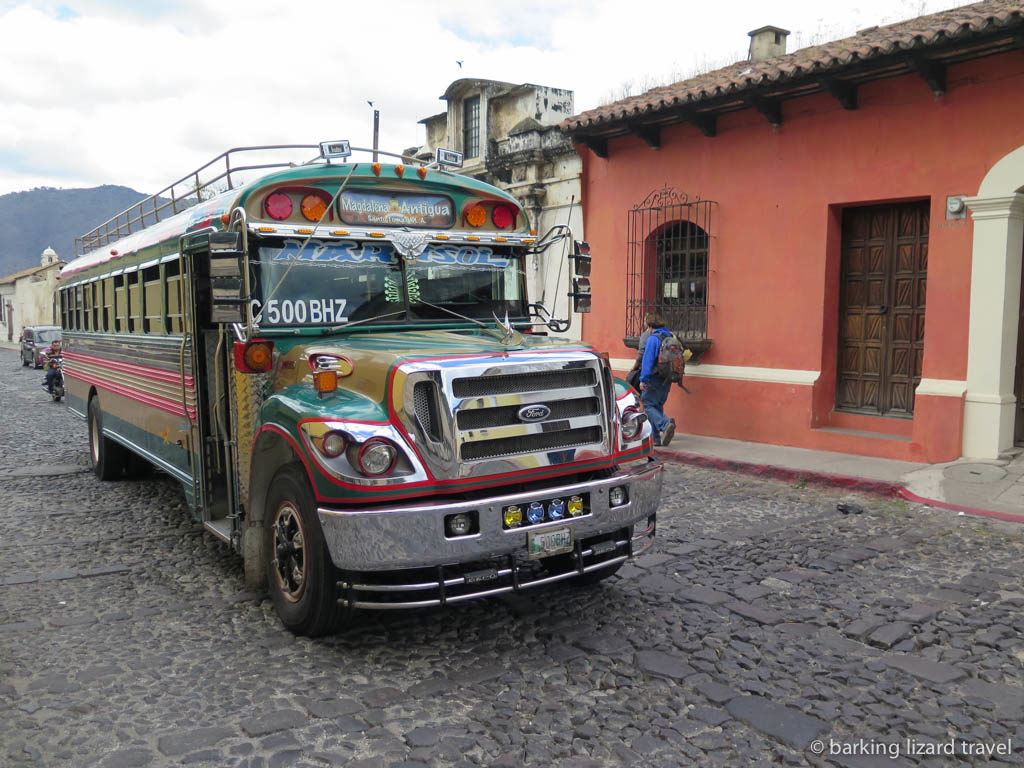 I was in two minds as to whether I should visit Antigua. This town, an hour from Guatemala city, is very much the tourism epicentre of the country. For many visitors this is the only part of Guatemala they see. In the end I was glad I did. Yes it's very touristy, but it's still a charming city to wander around.
After several weeks in small Guatemalan towns, I was delighted to have some home comforts; quality coffee and a choice of good restaurants. Unsurprisingly, It's more expensive than the rest of Guatemala but there is still plenty of budget accommodation. I took a Coffee tour with De la Gente in the nearby town of San Miguel Escobar. A fascinating and enjoyable experience that I would highly recommend to any coffee lover.
My Highlight
Climbing Volcan Tajumulco and watching the sunrise, 4200m up in the sky.
My Lowlight
The country's gun culture. Seeing so many armed security guards, police, and soldiers, was unsettling.
What surprised me…
How long I ended up spending here!
My Average Price for one nights accommodation
$20*
(*this doesn't include accommodation in Xela, as it was included in the Spanish course cost, or staying with my friend in San Marcus).
---
El Salvador – 6 nights
The smallest country in Central America, poor old El Salvador doesn't have the best reputation. It frequently vies with Honduras for the awful headline grabbing 'murder capital of the world' tag. As a result a lot of tourists skip it, which is a pity. Like most other Central America countries, violent crime rarely effects tourists and its bad rap wasn't going to stop me visiting.
What I did find were some of the friendliest, helpful and kindest people on my whole trip. The lack of tourists means that foreign visitors are welcomed with open arms. The lack of tourism means it's also really cheap to travel there. The worst thing that happened to me was a bad bout of food poisoning.
As I was short on time I decided to skip the capital San Salvador. After Guatemala City I didn't feel like visiting another big dirty city. As the country's main transport hub it's likely you will at least pass through it, as I did on the way to Suchitoto.
Santa Ana – 3 nights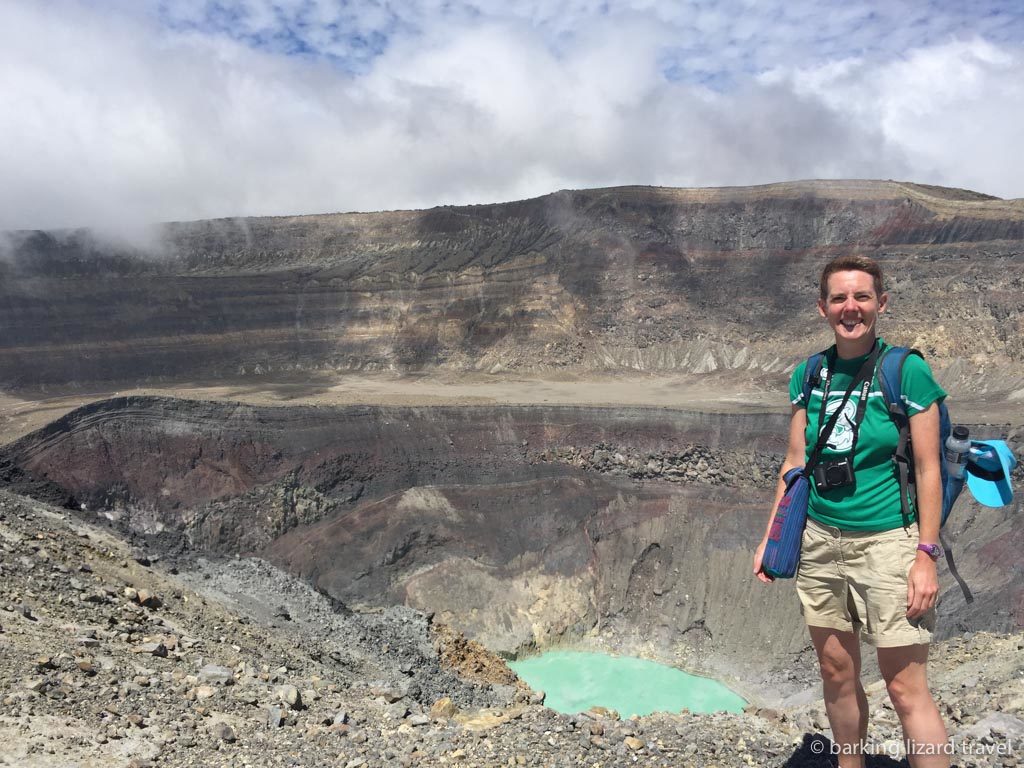 The town itself is nothing special but it offers a good base to visit the surrounding sights. I did a DIY day trip to the wonderful Parque Nacional Los Volcanes and travelled around the La Ruta de las Flores on local buses.
Suchitoto – 3 nights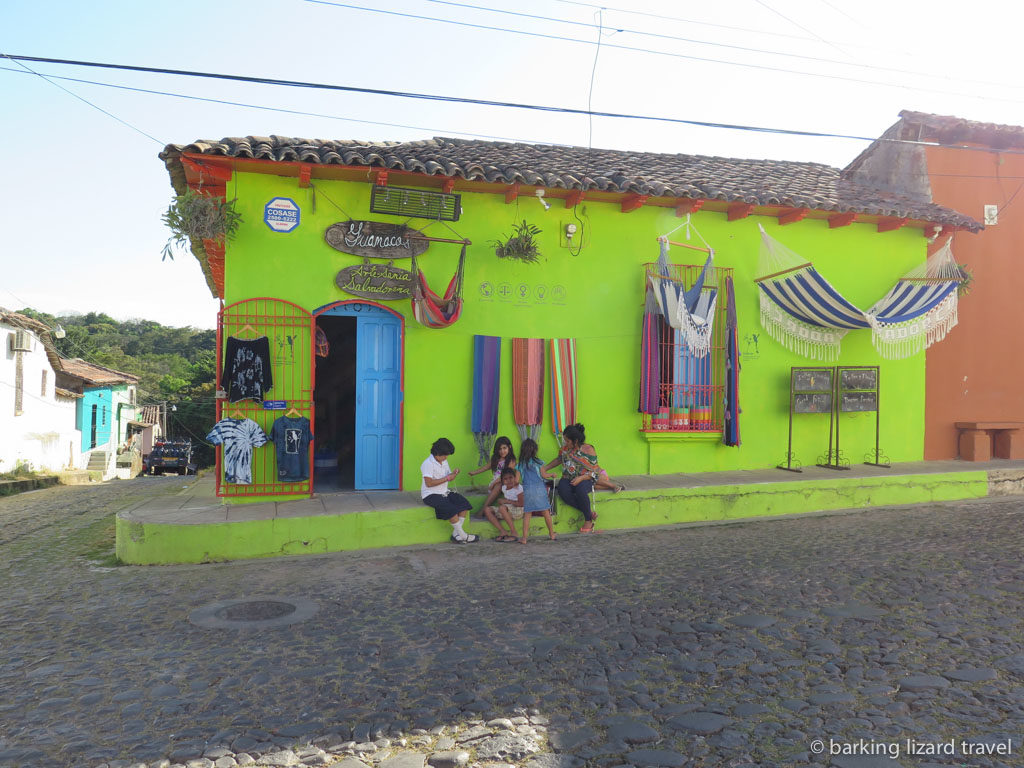 Several people I met on the trip raved about Suchitoto, the cultural capital of the country. With its well preserved multicoloured colonial architecture it's a pretty little town to spend a few days exploring. There is a gorgeous outdoor swimming pool on the banks of Lago de Suchitlan in the Centro Turistico Puerto San Juan.
Unfortunately, while here I got really ill with suspected food poisoning. I had to stay an extra night to regain some strength before travelling on to Honduras.
My Highlights
Visiting the Parque Nacional Los Volcanes with some fellow travellers. Having the pool to myself in Centro Turistico Puerto San Juan
My Lowlights
Getting really ill with food poisoning
What surprised me…
How friendly and helpful the locals were. They seemed genuinely happy to have travellers in their country
My Average Price for one nights accommodation
$12
---
Honduras – 10 nights
Like El Salvador, Honduras doesn't have a great reputation. The second biggest country in Central America, I really didn't know what to expect but I was pleasantly surprised by the beautiful scenery while travelling across the country.
Note: it's not considered safe to use local buses (chicken buses etc.) at any time here. Instead use private coach services such as Hedman Alas or tourist shuttle vans. There's no need to be paranoid but read up on the current situation before you travel and don't take any unnecessary risks just to save a few bucks.
Copán Ruinas – 1 night
I headed straight to Copán Ruinas from Suchitoto, El Salvador. The plan was to spend two nights here so I would have a full day to visit the famous Mayan ruins. However due to my illness I had to spend an extra night in El Salvador. As I had already pre-booked my bus ticket to La Ceiba online I ended up only spending one night there. Unfortunately this meant I didn't get to visit the ruins.
La Ceiba – 1 night
I spent one night in La Ceiba to break up my journey before catching the morning ferry to Utila. I arrived late in the afternoon and left early the next morning so didn't really see the city.
Utila – 8 nights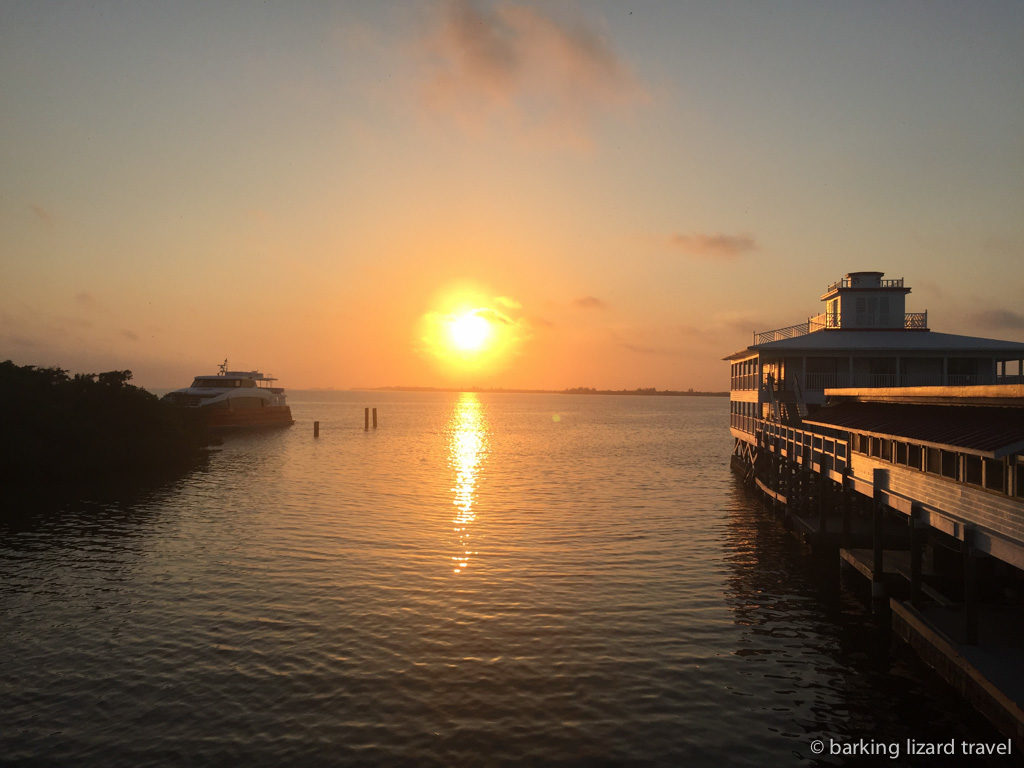 While researching my trip I found out that Utila, part of the Bay Islands, is one of the cheapest places in the world to learn to dive. I thought it would be cool to get my dive license there.
I envisaged a sweet little Caribbean island like Caye Caulker. Sadly Utila wasn't like that. The island was dirty and polluted and there were traffic jams(!!) on the main street. The beaches weren't great and there were lots of mosquitos and sand flies. While it didn't feel unsafe, there were plenty of dodgy characters hanging around.
As I was still recovering from my illness I had to postpone starting the course for a few days and stay in bed. Admittedly this may have somewhat tainted my experience of Utila!
Nonetheless, I enjoyed the diving in the end and successfully completed the Padi Open Water Diver course. There was a great diving community there and I made friends with fellow backpackers and holiday makers.
Utila – La Ceiba – Leon – 1 day crossing Honduras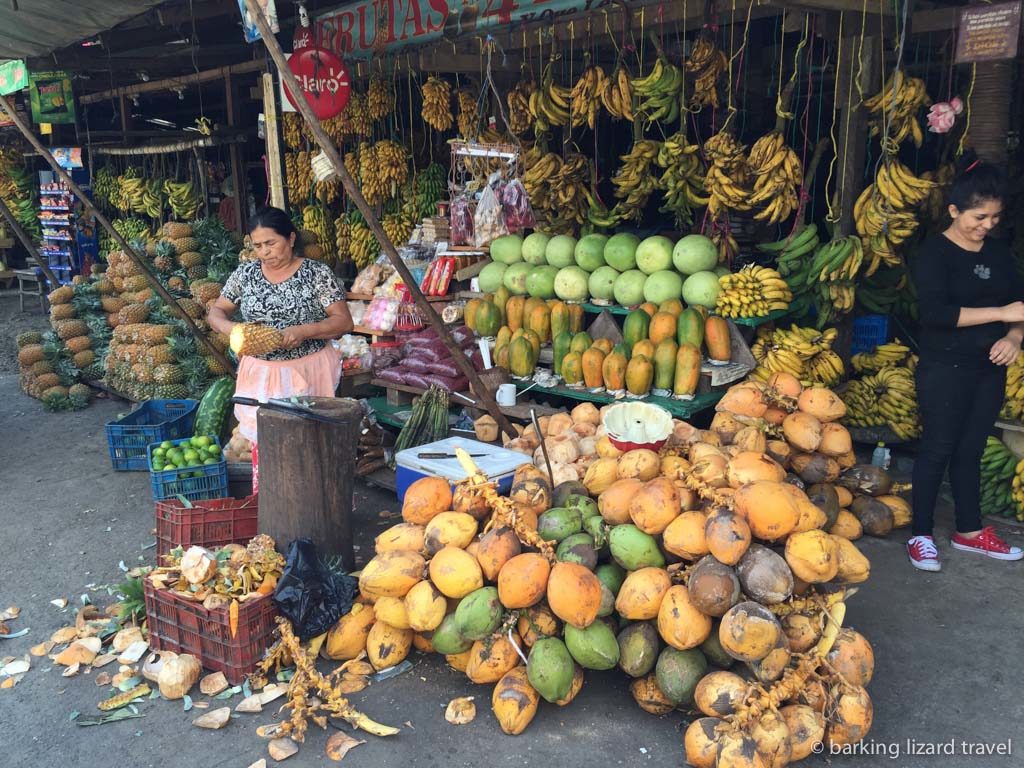 Having spent an extra few days in Utila I was now really short on time. So I opted for a tourist shuttle van to take me directly from La Ceiba to Leon in Nicaragua. The journey took over 16 hours, but the mini-van was comfortable. It had air-conditioning, working WiFi, and movies on board.
We made several pit stops along the way and it was interesting to see the Honduran countryside. Our driver helped us with the border formalities crossing into Nicaragua. We didn't arrive in Leon until 1.00am but fortunately I was still able to check-in to my pre-booked hostal!
My Highlights
Learning to scuba dive and getting my dive licence
My Lowlights
Missing out on the Copán ruins and not having more time to explore the mainland
What surprised me…
How beautiful the interior of mainland Honduras was
My Average Price for one nights accommodation
$11*
*This includes subsidised accommodation on Utila as part of the scuba diving course.
---
Nicaragua – 12 nights
León – 5 nights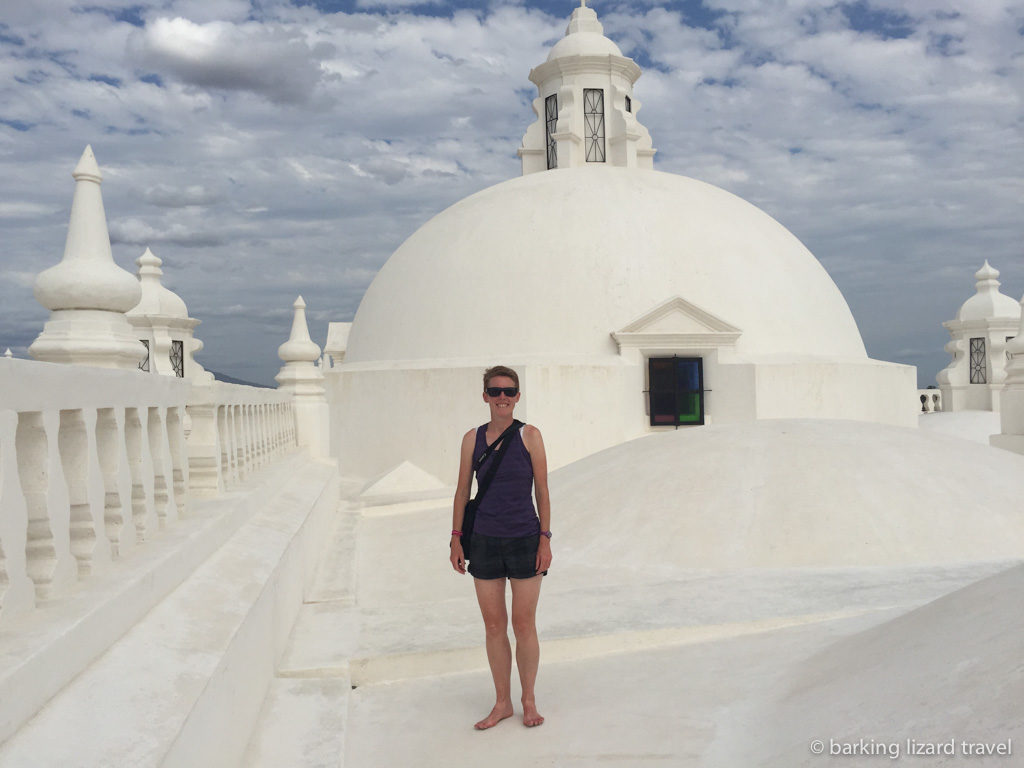 By the time I reached Nicaragua I was exhausted. The illness had taken its toll so I made the decision to spend a bit longer in León to recover properly.
Crumbling colonial León is the intellectual and cultural heart of the country. Far less touristy and polished than Granada it offers a good insight into Nicaraguan city life. It's a great little town to spend a few days in but I thought 5 nights was too long. As León is baking hot, I advise booking a room with air con if possible.
You can arrange tours to the surrounding volcanos (I went Volcano Boarding on Cerro Negro!) and beaches. Visit Leon Cathedral to get incredible views of the city from the roof. The Mueso de Arte de Fundación Ortiz Gurdián, considered the finest contemporary art museum in Central America, is well worth a visit, not least because the building is lovely and cool!
Isla de Ometepe – 3 nights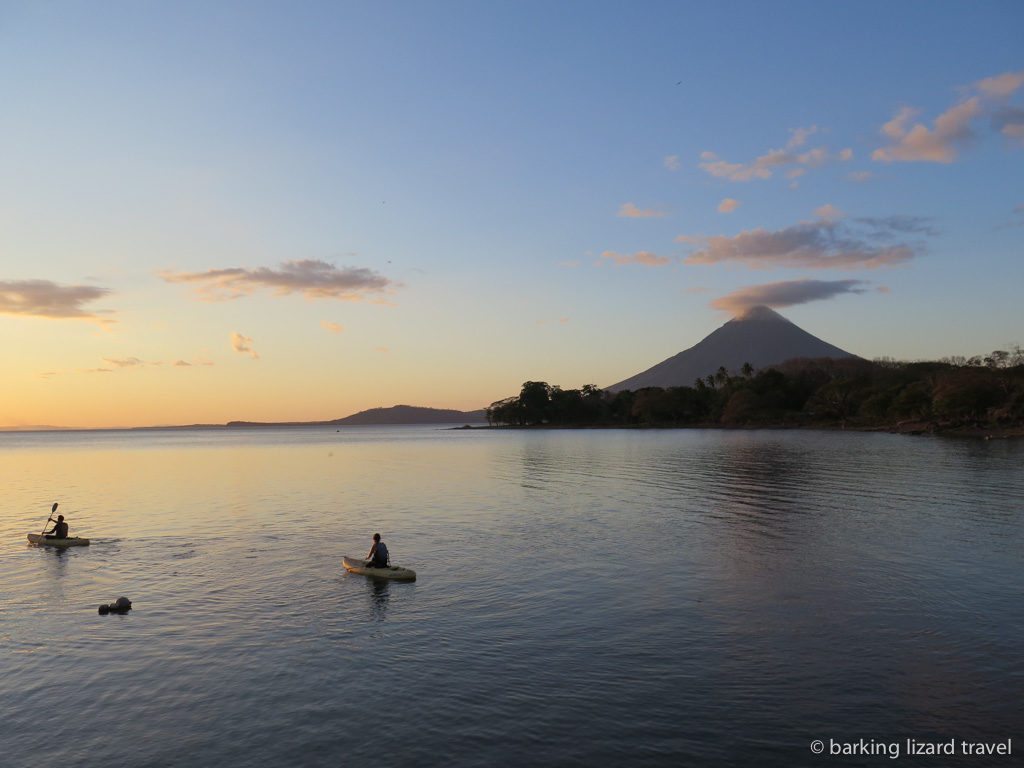 Magical and idyllic Ometepe really is a must visit destination in Nicaragua. I skipped the port town of Moyogalpa and headed straight for Merida, an hour long $30 taxi ride away. Due to the limited public transport a taxi is usually necessary. Luckily I found a couple heading that way to share the cost with on the boat over.
In Merida I spent balmy nights sitting on the banks of Lake Nicaragua. Drinking Cuba Libre with new travel buddies and watching fire flies dance around the night sky. I hiked to the San Ramon waterfall and swam in the fabulous El Ojo de Agua pools. The island felt like somewhere you could spend weeks getting lost in time.
San Juan del Sur – 4 nights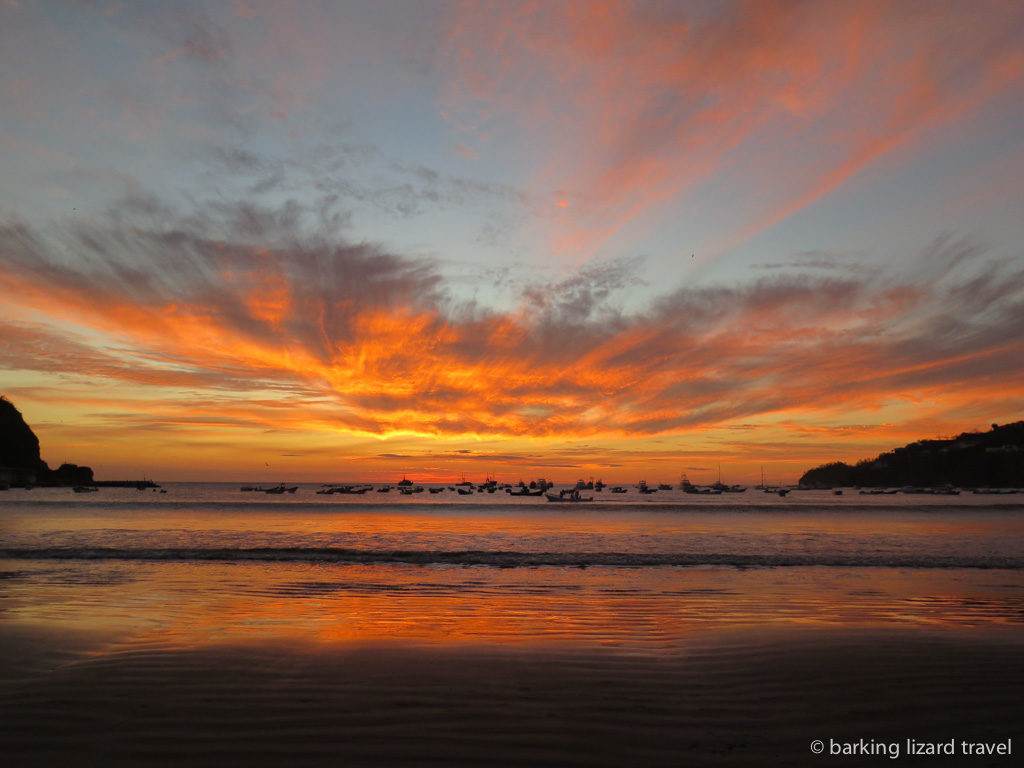 I had read mixed reports about San Juan del Sur. It's a party town and touristy by Nicaraguan standards. It attracts mainly young holidaying North American surfers and backpackers. However it's surf credentials (it's considered one of the top surf spots in Central America) were what made me want to visit as I really wanted to take surf lessons.
San Juan del Sur was much more expensive than the rest of Nicaragua. The town was a bit seedy but not unsafe. The locals were often indifferent and somethings a bit brusque, again completely at odds with the rest of my Nicaraguan encounters.
Despite all this, the city beach was lovely to stroll on and watch the fabulous sunsets. I took days trips to Playa Maderas to splash in the crashing Pacific waves and Playa Remanso for a surf lesson. The 3 hour surf lesson was one of the highlights of my entire Central America trip.
My Highlights
Learning to surf in San Juan del Sur and hanging out with new travel buddies on Ometepe Island
My Lowlights
Not having enough time to see more of this beautiful country!
What surprised me…
How magical and idyllic Ometepe Island was
My Average Price for one nights accommodation
$17
---
Costa Rica – 7 nights
Costa Rica is the second wealthiest country in Central America and this quickly became apparent after crossing the border from Nicaragua. All of a sudden there were air conditioned buses and well-maintained roads.
Costa Rica is stuffed full of stunning scenery, amazing wildlife and is peaceful and safe. As a result it's also the most visited country in Central America and has a well-developed tourism industry. It's expensive to visit; the costs were often comparable to the US or Europe but the quality and service didn't always match.
Monteverde – 3 nights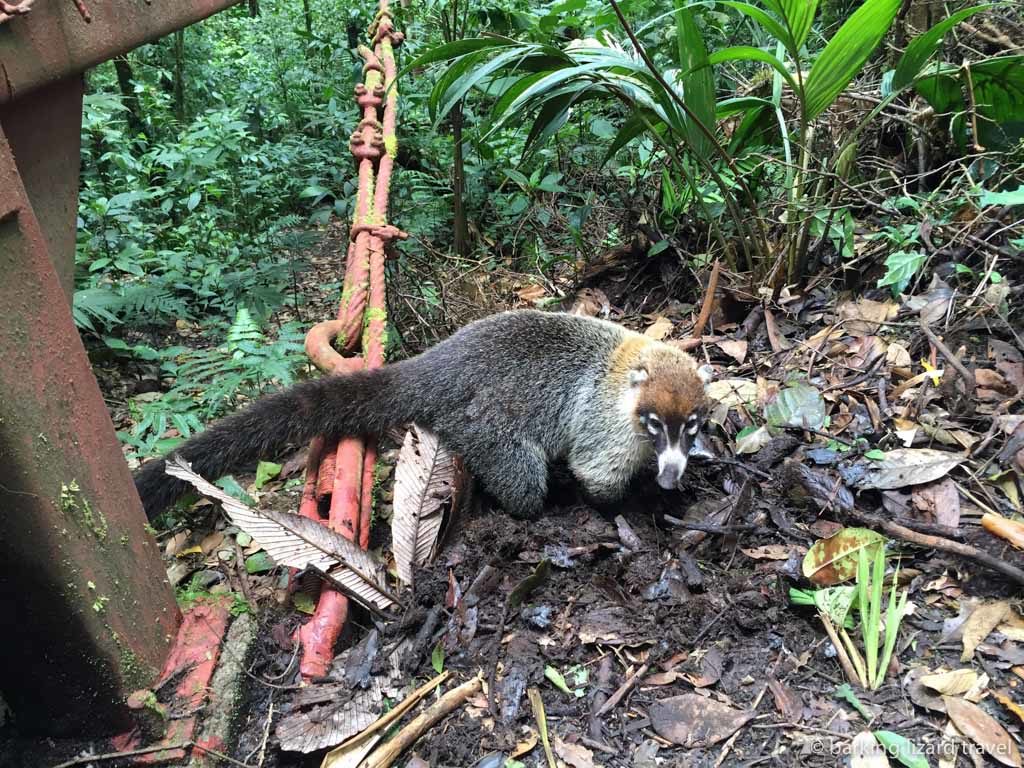 By this stage in my Central America trip my decision making skills had abandoned me. After much deliberation I settled on Monteverde. It offered something I hadn't experienced yet (cloud forest) and fit well logistically as I made my way south.
After the baking heat of Nicaragua the cooler cloud forest air was a welcome relief. Unfortunately though, it was full of mainly American tourists and everything was massively overpriced. I found the Cloud Forest Reserve a little underwhelming and the opportunities for DIY wildlife spotting were limited.
I much preferred and had more fun on the Kinkajou Night Walk where I saw host of fascinating wild animals including a bright green pit viper, tarantula, toucans, scorpions, and an armadillo.
San Jose – 1 night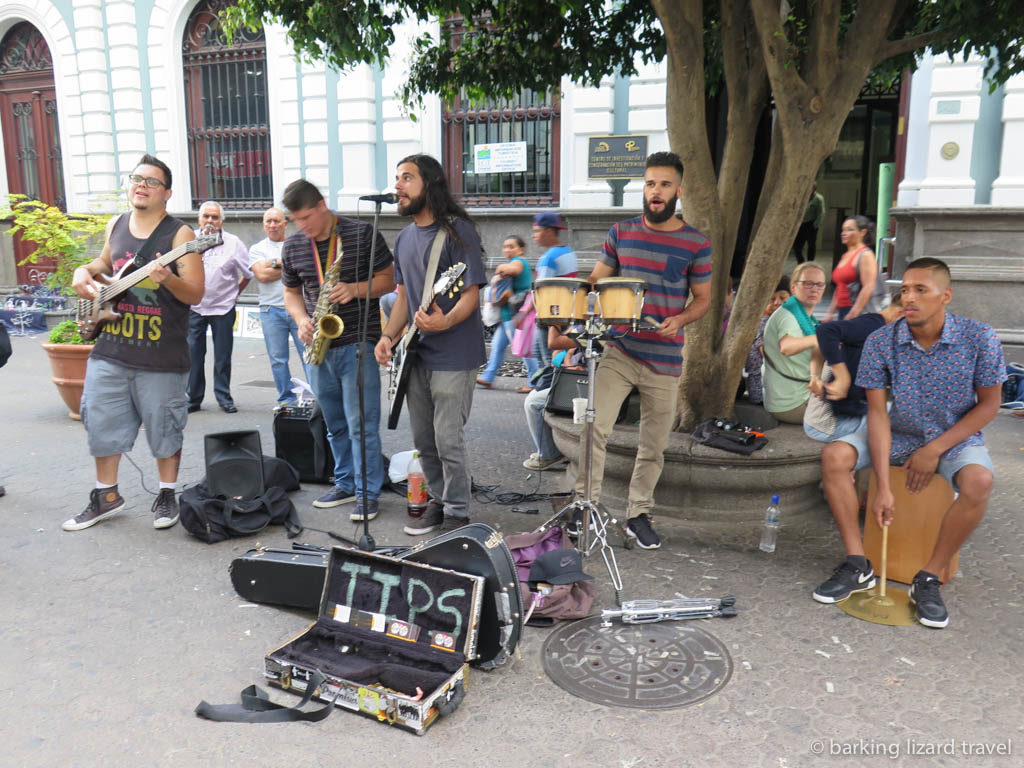 I spent a night in San Jose to break up my journey on the way down to the Osa Peninsula.
Although there isn't much to see here, I was excited to be back in a big city after weeks of staying in small towns. I enjoyed people watching and experiencing local life. There are plenty of shops to stock up on any supplies you might need.
I didn't find it unsafe and was happy enough to spend another night there when I flew back from Panama City.
Bahia Drake (Drake Bay) – 3 nights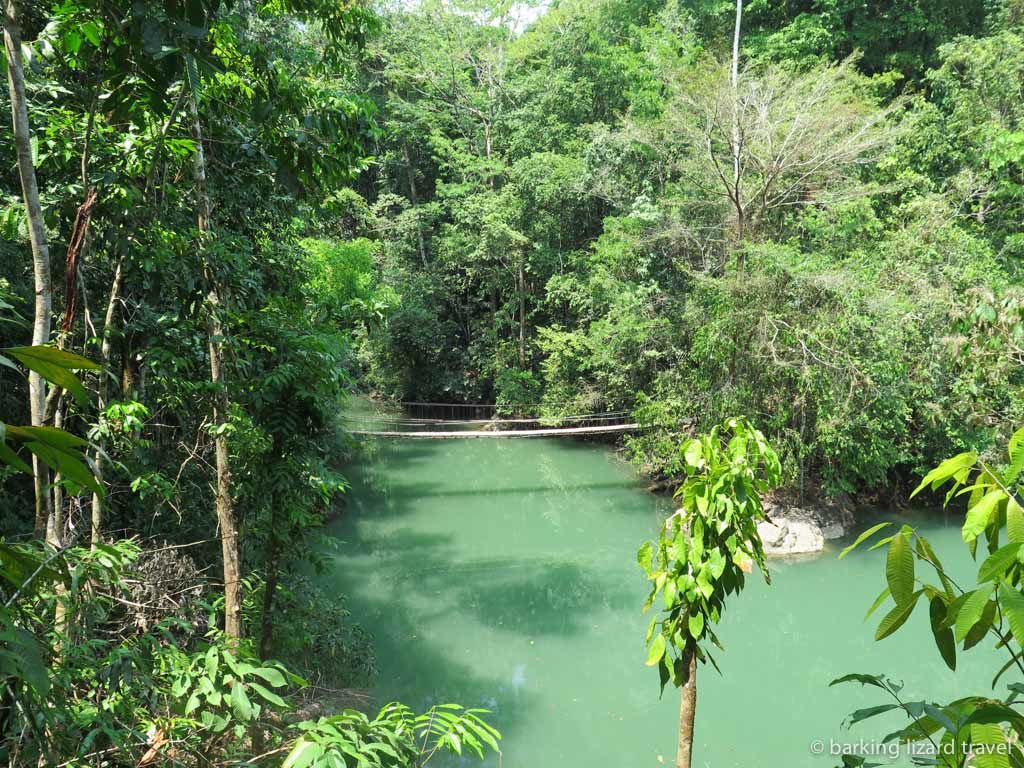 The more I read about the Osa Peninsula, the more I wanted to visit. It seemed like it was going to be tough to travel there on a budget. After lots of research, it turned out not to be that difficult. It took approximately 8 hours from San Jose by bus and boat to get to Bahia Drake but it was well worth the journey.
This sparsely populated region is absolutely stunning. The National Geographic called it "the most biologically intense place on earth" and you will have absolutely no problem spotting wildlife here. Thanks to its location in the very southwest of the country and the time needed to travel there, it's also one of the least visited regions. After touristy Monteverde and busy San Jose the tranquillity was amazing.
I went on a day trip to the amazing Corcovado National Park and horseback riding to a nearby waterfall and natural pool.
My Highlights
Visiting the stunning Osa Peninsula and Corcovado National Park
My Lowlights
Overtourism and feeling constantly ripped off in Monteverde
What surprised me…
How expensive everything was
My Average Price for one nights accommodation
$15 (I stayed mainly in Hostel dorms hence lower average cost)
---
Panama – 5 nights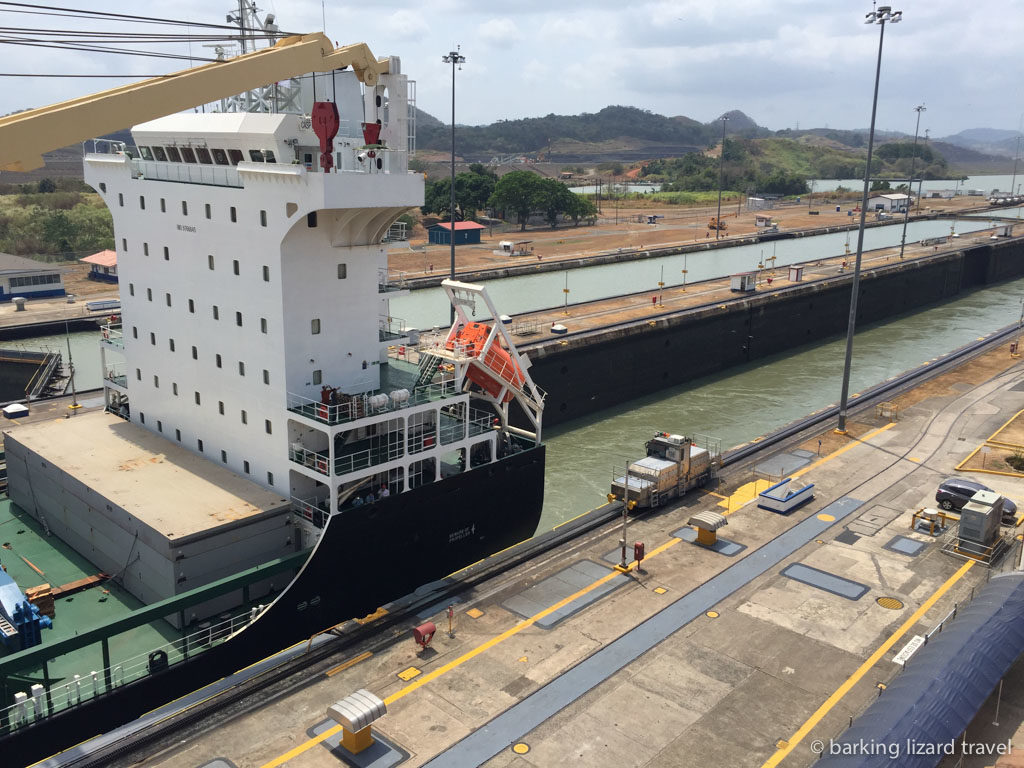 By the time I reached Panama I had been on the road for almost 3 months. I was running out of time and money so I chose to base myself in Panama City. The city seemed to offer more than enough attractions for a few days.
This was the last new country on my trip before making my way back to Cancun to catch my flight home.
David – 1 night
I travelled from Bahia Drake in Costa Rica to David, Panama, by boat, bus, and colectivo. Prosperous David is the biggest city in northern Panama and an important transport hub often used as a base to explore nearby Boquete.
Otherwise there really isn't anything to see or do there and I just spent the night to break up my journey.
Panama City – 4 nights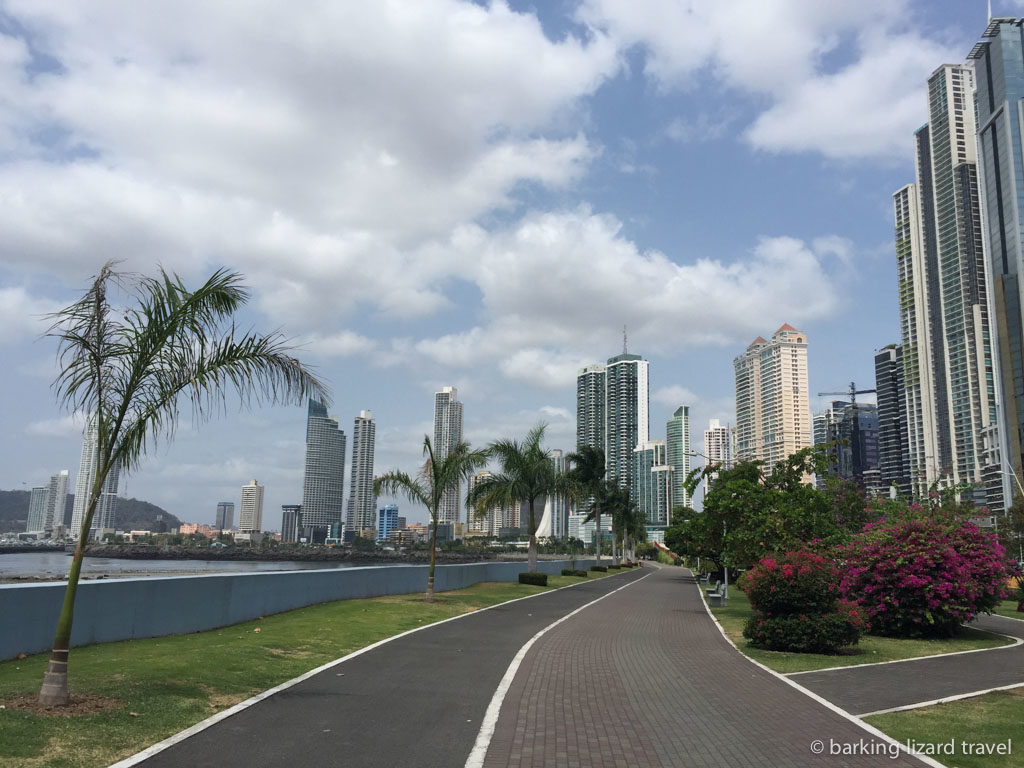 I took a direct bus from David to Panama City. Journey time was approximately 9 hours including comfort stops but the coach was comfortable and it didn't drag.
Panama City, with its glitzy skyscrapers and high rise waterfront apartments, is a complete contrast to other Central American capitals. You could easily think you were in Miami. However, walk a few blocks behind the gleaming buildings and the city reveals its gritter side; slums and poverty.
Thanks to a relatively new Metro system, the only one in Central America, and a comprehensive and cheap bus network, it's very easy to get around the city. Taxis are also ubiquitous and inexpensive.
Visiting the infamous Panama Canal and watching the canal in action from the fascinating Miraflores Locks Visitor Center was one of the highlights. As was riding from the Pacific to the Caribbean coast in an hour on the Panama Canal Railway. I enjoyed running along the beautiful Cinta Costera coastal path around the bay, even in the 27c heat!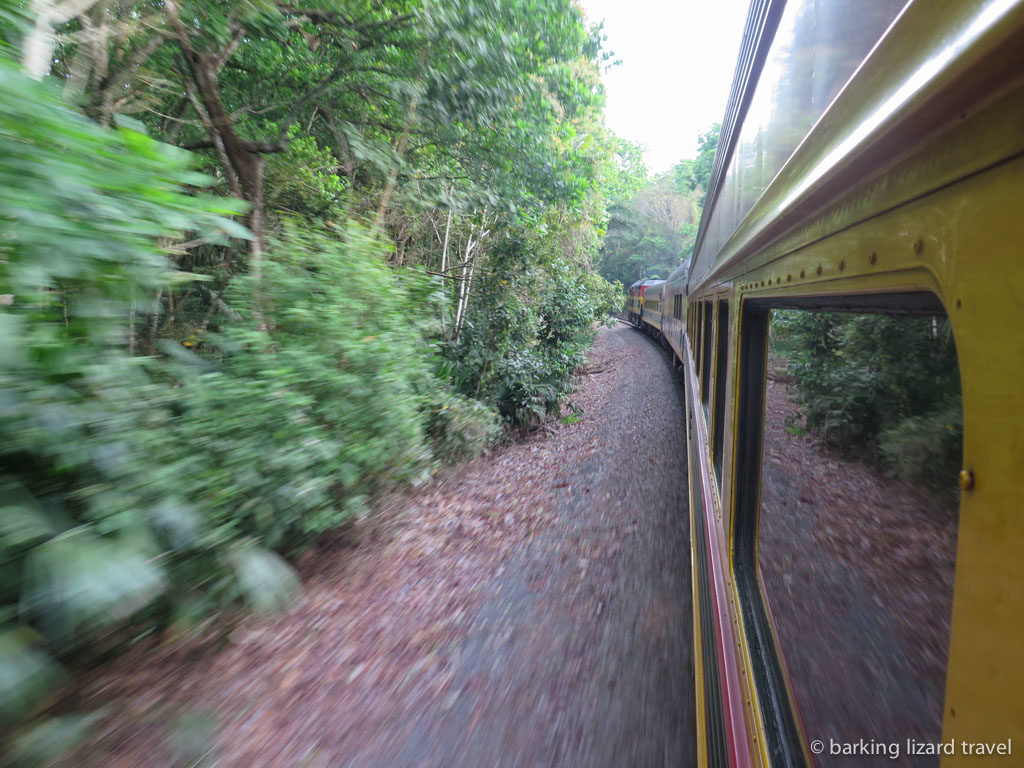 The wildlife spotting opportunities in the city were amazing; from seeing sloths in the Metropolitan Natural Park to the toucans and agoutis on Cerro Ancón. There is plenty in Panama City to keep you entertained.
My Highlights
Visiting the infamous Panama Canal
My Lowlights
The bland shopping malls and fast food outlets all over Panama City. The stark contract been the rich and poor
What surprised me…
How easy it was to spot wildlife in Panama City
My Average Price for one nights accommodation
$17
---
Making my way back to Cancun, Mexico via San Jose, Costa Rica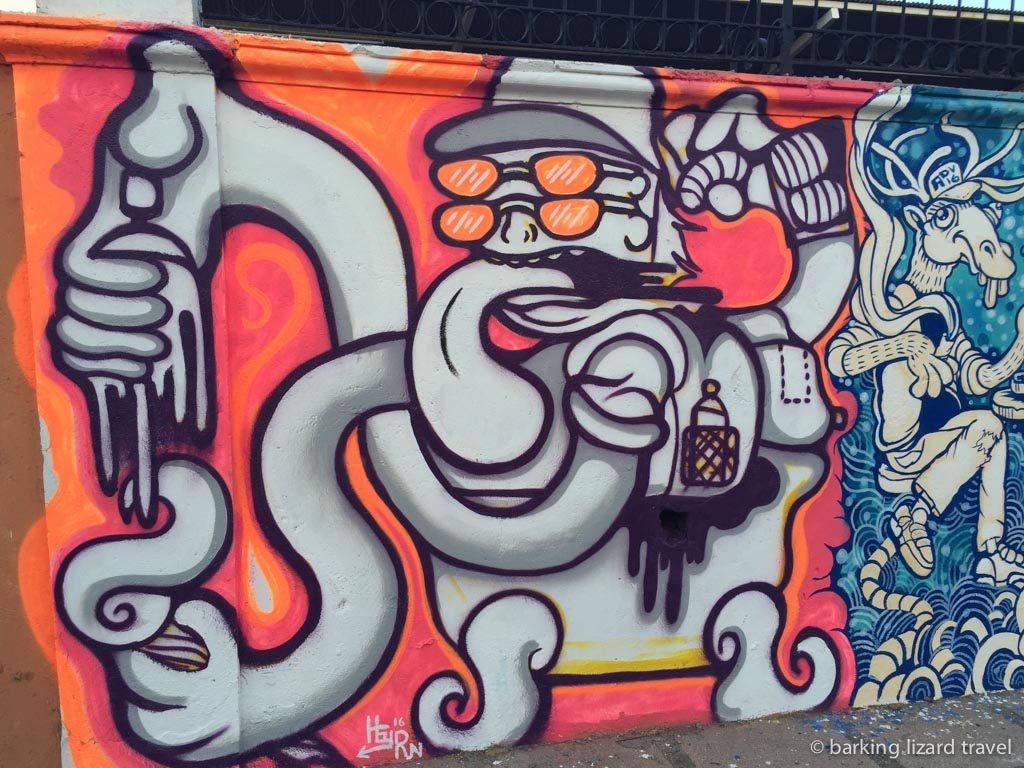 San Jose, Costa Rica – 1 night
I flew back to San Jose from Panama City and spent the night there before flying on to Cancun the next day.
Cancun, Mexico – 2 nights
After 3 months of backpacking I was really looking forward to relaxing on Cancun's beaches and swimming in the turquoise sea. I splurged a little and booked a room in the Sotavento Hotel & Yacht Club in the Zona Hotelera. It cost $50 a night but was worth it as I only had to cross the road to get to the beach.
My 3 month Central American adventure had come to an end and it was time to head home. A fascinating, amazing, and sometimes frustrating trip, Central America has given me a lifetime's worth of memories and I will be back again someday.